Convict championed by Kim Kardashian released from prison
WASHINGTON - A D.C. man sentenced to life for murder at 16-years-old walked free Monday afternoon after serving over 22 years.
Momolu Stewart's case has gotten national attention after Kim Kardashian-West wrote a letter to the judge on his behalf. He was released under a relatively new D.C. law that allows those convicted as minors of even the most egregious crimes to be freed after serving at least 15 years.
Stewart walked out into the arms of his mother and sister.
"I'm speechless. I'm thankful and blessed," Stewart told FOX 5. "I'm honored. It's a grand opportunity to be here with my family."
He said he "absolutely" believes Kardashian-West's support helped in his release. He met her while she was visiting D.C. Jail in July filming a documentary about criminal justice reform and learning about the Georgetown Prison Scholars Program.
Stewart earned college credit through the program. He was also a mentor to other inmates.
"From the minute I met Momolu while he was in jail, he always had faith," said Saymendy Lloyd, a jail volunteer who serves as a life coach to inmates. "To see him walking out today-this is why I do what I do."
Stewart and Kareem McCraney were convicted of shooting a man named Marc Rosebure. McCraney, who was released last year, said the murder followed a long running feud between himself and Rosebure. 
Rosebure's sister, Joyce Bagley, told FOX 5 she's struggling with Stewart being released. 
"You took a life, you serve your time," said Bagley. "The judge gave you a sentence, you should continue with your sentence. But that's the new law."
When asked what he would say to Bagley, Stewart simply relied, "I'm sorry."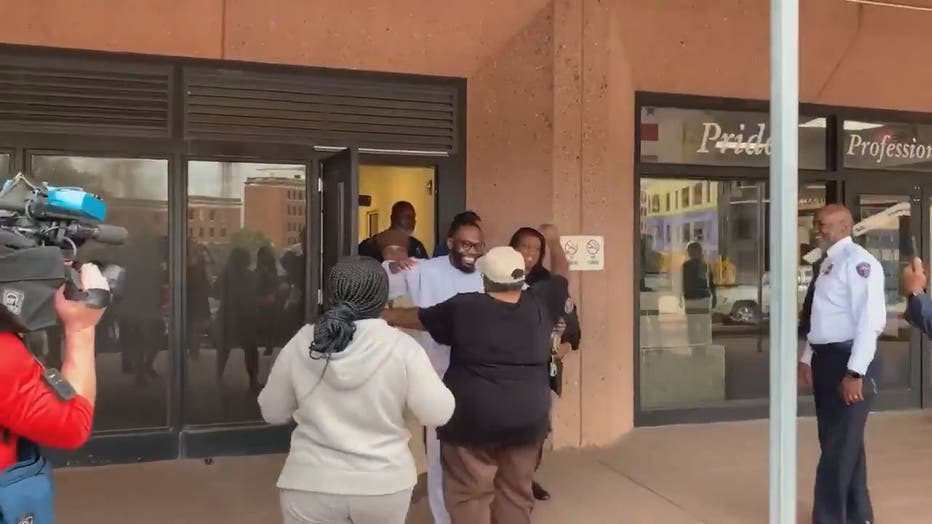 His attorney said Stewart has three job offers, including one that would allow him to continue to serve as a mentor.
"The thing that I would say to the people who worked to get me here is, it's a blessing that they can believe in humanity in spite of humanity," Stewart said. "I'm grateful and I won't let them down."
The U.S. Attorney's Office for the District says that, so far, 18 people have been released under the Incarceration Reduction Amendment Act and none have reoffended. D.C. Council is now considering expanding the law to apply to those who committed crimes when they were up to 25 years of age.