Concerns of terrorist attacks grow after pro-Palestine protest turns violent in DC
WASHINGTON - Half a dozen U.S. Capitol Police officers are recovering after being injured in a demonstration by pro-Palestinian activists outside the headquarters of the Democratic Party Wednesday night in D.C. But with violent clashes by protesters against police escalating, there's a bigger concern that terrorists could exploit the out-of-control scene to launch attacks in the national capital region. 
The goal is to make these 1st amendment demonstrations safe, but what happened Wednesday night was not safe. The Capitol Police Department said its officers were beaten and an out-of-control scene broke out.
It's exactly the kind of incident that law enforcement experts say could be exploited by someone to launch wide-scale violence.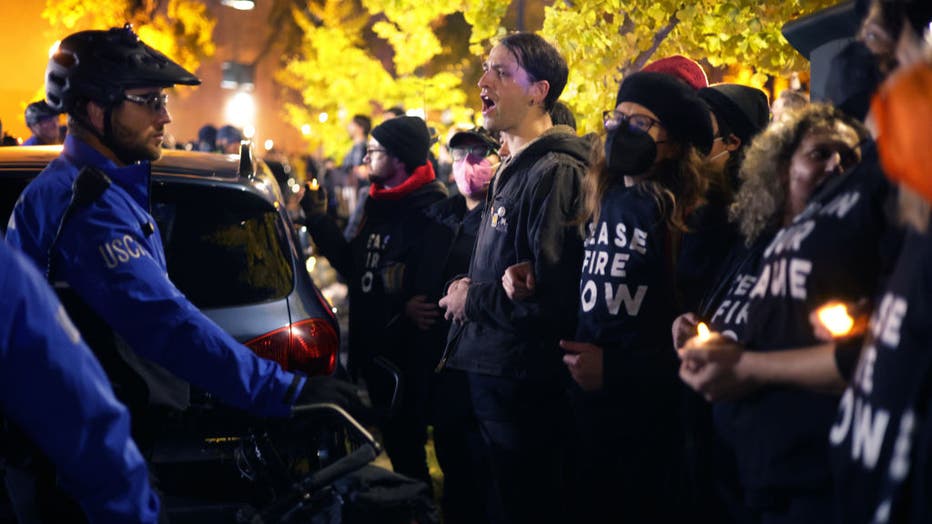 WASHINGTON, DC - NOVEMBER 15: Members of U.S. Capitol Police and protesters stand off outside the headquarters of the Democratic National Committee during a demonstration against the war between Israel and Hamas on November 15, 2023 on Capitol Hill i
U.S. Capitol Police say six officers were injured Wednesday night when 200 pro-Palestinian protesters tried to block the entrance to the Democratic National Committee headquarters. 
Jeff James, a retired U.S. Secret Service agent, says there's increasing concern foreign terrorists will try to infiltrate protest groups, and he's concerned some have crossed the U.S. southern border.
"These transnational terrorist groups are not above paying cartels to sneak sleeper cells across the border for them," James told FOX 5. "The cartels are not above taking their money, so it could be a bad mix." 
Weeks ago, pro-Palestinian protesters occupied the Canon House Office Building rotunda, clashing with police. But when hundreds of thousands of pro-Israel protesters gathered on the National Mall this week, D.C.'s Police Chief Pamela Smith praised the gathering for being peaceful. 
Senate Intelligence Committee Chairman Mark Warner told FOX 5 he's also concerned about homegrown individuals who may seek to spread violence.
"The focus, in terms of threats to the homeland, would come from a homegrown terrorist or someone that may be inspired by the activities or has sympathy for Hamas," Sen.Warner said (D-Virginia).
With the holiday travel season about to start, both Homeland Security Secretary Alejandro Myorkas and FBI Director Cristopher Wray are urging Congress to re-authorize the Federal Intelligence Surveillance Act, which allows them to track terrorist organization communications. 
Both said that ability is a vital tool in stopping attacks.