Chinese company builds first 3D-printed apartment building, mansion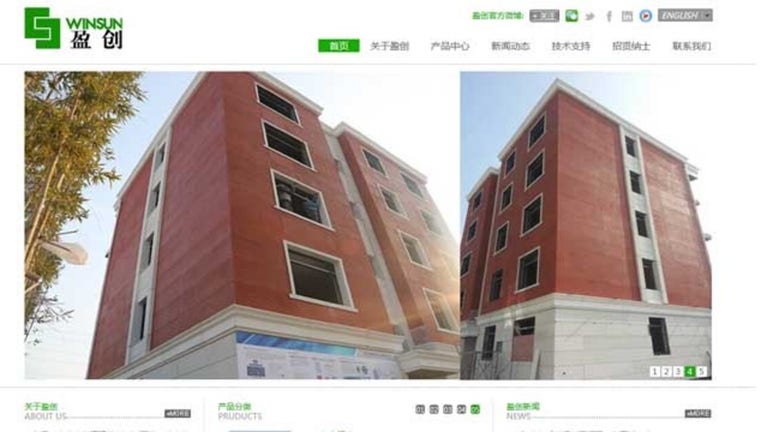 article
3D printers are everywhere. They have been used to construct everything from NASA rocket engine parts to even cremation urns, and now one Chinese company is using 3D printers in architecture. Chinese high-tech construction company WinSun has unveiled a five-storey apartment complex and an 11,840 square foot villa at the Suzhou Industrial Park in Suzhou, China. After using its 3D printing technology to help construct 10 full-sized houses in just one day, the company's latest architectural achievement marks its two largest buildings yet.
The company's 3D printer array is large – it stands 20 feet high and is 33 by 132 feet wide. The materials used by the printer consist of industrial waste and ground construction along with a cement that is mixed with a hardening agent, reports CNET.
The individual parts needed for the buildings are made in large chunks at WinSun's base. To meet standard building codes, the structures are fortified by steel reinforcements and wall insulation.
On its website, WinSun likens its construction process to how a "baker might ice a cake." The mixture of cement and construction waste needed for each building's walls is applied layer by layer. The company writes that it plans to build 100 recycling facilities throughout China to "help keep up with demand."
The company uses a Computer Aided Design (CAD) template, and a mechanical extruder arm lays down the concrete mix that is then treated with the hardening agent. Each individual piece of the structure is joined together at a construction site.
WinSun looks to eventually use this technology on larger projects like skyscrapers and bridges, according to CNET.
READ MORE: http://www.foxnews.com/tech/2015/01/20/chinese-company-builds-first-3d-printed-apartment-building-mansion/?intcmp=ob_homepage_tech&intcmp=obnetwork