Chinatown and Shaw community members decry surging crime
WASHINGTON - Residents in Chinatown and the Shaw community told city leaders and police Thursday that they are sick and tired of the rampant crime. 
Near the U Street Corridor, Councilmember Brianne Nadeau heard from a room full of community members who are fed up.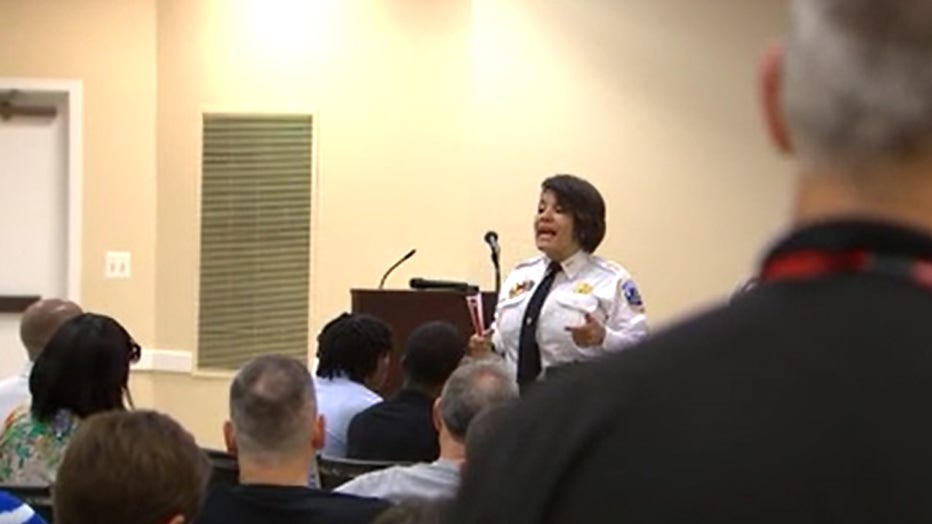 Leola Smith's grandson was robbed outside their home on 9th Street last Friday.
"They jumped out of the car, put two guns to his face, 'give me your wallet and everything you got,'" she recalled. 
Smith told FOX 5 that every weekend the U Street Corridor turns into a nightmare for people living in the area. 
"It's the wild wild west," she said. "My window has been broken out 3–4 times in the last two months." 
She believes a lot of it has to do with the liquor licenses the city hands out. 
"There is 29 bars between 9th and U and 9th and T," she explained, adding that she doesn't believe police should be blamed. Instead, she thinks the mayor and city council should take responsibility. 
"I want folks to know that we are bringing a lot of resources to U Street – not just police but other enforcement agencies – that can help us deal with these issues," Councilmember Nadeau said. 
Ward 1 Councilmember Brianne Nadeau
Councilmember Brooke Pinto, the chairwoman of the Judiciary and Public Safety Committee, hosted the meeting in Chinatown. 
"Just this week, MPD has been focused on Chinatown for added enforcement in the area," Pinto said. "People across the city are fed up. They have a right to be and it's time that we all focus on public safety." 
Both council members say public safety is their top priority – and they are fighting for residents – like Mary Anna Garimo who recently moved to the Chinatown neighborhood. 
"My catalytic converter got stolen," she said. "I had an attempted break-in, my license plate got stolen, all within the first five months."  
"I just want to feel safe walking around, bringing friends into the city, showing them this great community," she added.
"If you're riding a scooter they will rob you, they will carjack you in the daytime. D.C. is under siege," Smith said.  
These are two women – living in different communities – who decided to go to their neighborhood safety meetings on a Thursday evening to voice their concerns. 
FOX 5 reached out to the Metropolitan Police Department about the crime on U Street, and they say they are increasing their presence to address the large groups of teens fighting and disrupting on the weekend evenings.