Chevy Chase homeowner says Audi SUV stolen despite key fob in house
WASHINGTON - D.C. police are investigating after at least three high-end vehicles were confirmed stolen early Monday in Northwest. The problem with one of those thefts: the Audi owner says their keys were still inside their home!
The Audi theft, police said, happened just before 5 a.m. Monday morning along Rittenhouse Street Northwest, not far from Western Avenue Northwest.
A home surveillance video shared with FOX 5 shows a suspect vehicle pulling up to the victim's home. A suspect appears to easily get into an Audi SUV parked out front.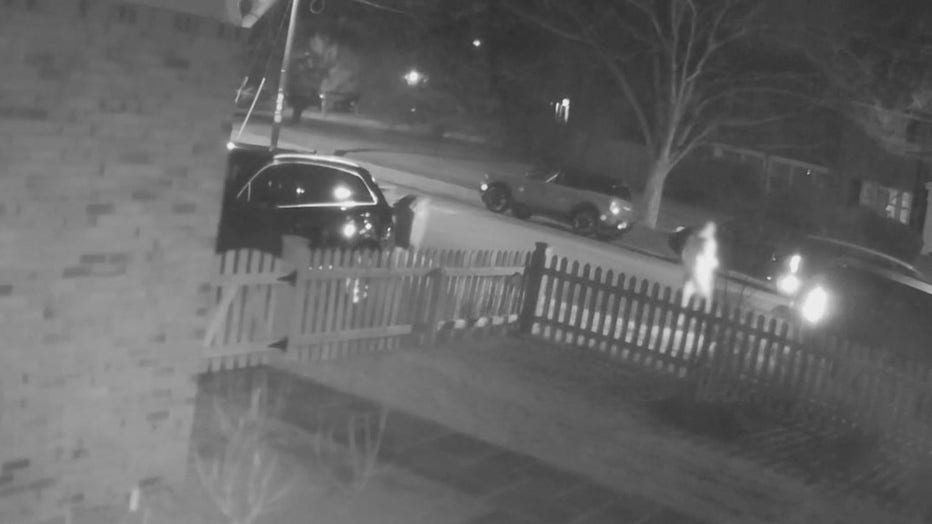 Unfortunately, the Audi owner tells FOX 5 they left the spare keys for their second vehicle, a Chevy Tahoe, inside the Audi's glovebox. The thieves can be seen on camera stealing two trucks from the same home in a matter of three minutes.
Whether the Audi was locked or not, a big question is: How were the thieves able to start the vehicle if the Audi's owners say the keys were in a mudroom, located some 40-50 feet away from their driveway?
READ MORE: DC police investigate 2 carjackings that happened hours apart
The National Insurance Crime Bureau has been warning about similar crimes for a few years now where thieves use a device that can pick up the radio signal from your key fob — even if it's inside your home.
The technology then either amplifies the signal or transfers it to another device. The thief can use that second device to trick your car into thinking the thief has the real key fob in hand.
The crime has also been called a "relay attack."
A Spokesperson with AAA told FOX 5 they have seen police warn of these types of auto thefts in Texas and Florida.
Some tips AAA shared with FOX 5 include:
·       Don't leave valuable items (purses, GPS units, shopping bags or electronics) in your car. If you must do so, make sure they are out of sight in a locked glove box or trunk
·       Park your car in a closed garage; this makes it a far less inviting target.
·       Store your key fobs (all of them) in a metal container or tin foil when not in use. The metal provides a barrier that interrupts radio signals to/from the smart fob. ·
·       Alternatively, inexpensive "RFID sleeves" and "Faraday bags" are available that have metal mesh linings that will shield a key fob from sending or receiving radio signals.
·       Do not place key fobs in a freezer or microwave oven, these methods may damage the fobs which can cost hundreds of dollars to replace and program
Police are investigating whether a "relay attack" actually happened in the case of the stolen Audi. A police spokesperson says MPD hasn't really seen this type of crime in the District before.
In addition to the Audi and the Tahoe thefts, police said a Mercedes-Benz was stolen from the driveway of a home about a mile away from Rittenhouse Street Northwest.
READ MORE: Victim of armed carjacking in NW DC speaks out
The Mercedes' owner says part of the reason the family moved to the Chevy Chase area was to get away from the property crimes they experienced living in the Capitol Hill neighborhood. The Benz owner told FOX 5 her home camera previously captured a carjacking in Capitol Hill, as well as several package thefts.
"I mean it was very unsettling," said the Benz owner who asked not to be identified. "We felt very violated. We think this is a generally quiet neighborhood, and we woke up in the morning to take our kids to school and all of a sudden our car was gone."
The vehicle owner admitted to keeping the Mercedes-Benz keys inside their SUV. When FOX 5 asked why the owner explained it was because they thought the area was safe, and it's also an easier method of transferring keys since they share their SUV with their nanny.  
The owner of the Mercedes says she's now encouraging everyone to lock up and store their key fobs in a safe location, no matter where they live. She says their truck has a tracker. FOX 5 was told the Benz SUV was found but the car seats they owned were either taken or dumped.