CDC urges early flu treatment as study shows low vaccine effectiveness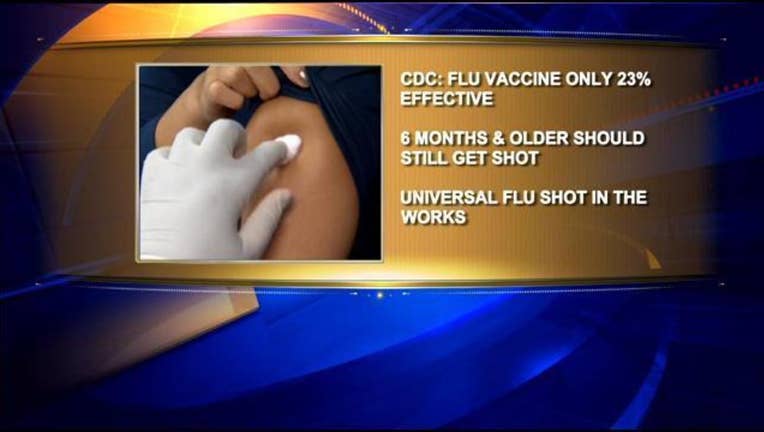 article
ATLANTA – This year's flu vaccine is only 23 percent effective, according to new estimates from the Centers for Disease Control and Prevention (CDC).
That figure is on the low side of effectiveness for flu vaccines, and confirms earlier speculation among public health officials that this season's vaccine was a poor match for the dominant viruses in circulation.
In the 10 years the CDC has been studying flu vaccine effectiveness, seasonal vaccines have ranged from 10 percent to 60 percent in their effectiveness to prevent flu-related visits to medical practices.
Federal health officials blame the vaccine's reduced effectiveness on genetic changes in this season's dominant flu strain — A (H3N2). According to the CDC, more than two-thirds of A (H3N2) viruses in circulation have "drifted" — or become genetically different — from the A (H3N2) component used in this year's vaccine.
Nevertheless, the CDC continues to recommend all persons 6 months and older get the vaccine, because of its potential to prevent at least some flu viruses, as well as reduce the number of complications and hospitalizations among those who do become ill.
Federal health officials are also urging doctors not to wait for lab tests before using antiviral medications to treat suspected cases of influenza — especially in patients at high risk for complications. Studies suggest such treatments are most effective when given within the first 48 hours of symptoms.
Drug manufacturers say they've produced ample supplies of antiviral medications to meet the increased demand. Although there is no national shortage of these meds, the CDC has received anecdotal reports of temporary spot shortages.
The agency is advising doctors and patients that they may need to contact multiple pharmacies to fill a prescription for antiviral flu treatment.
And each flu season, federal health officials remind the general public that anyone can reduce the spread of influenza through commonsense practices, such as proper hand washing, covering coughs and staying home when sick.
Jonathan Serrie joined Fox News Channel (FNC) in April 1999 and currently serves as a correspondent based in the Atlanta bureau.
READ MORE: http://www.foxnews.com/health/2015/01/16/cdc-urges-early-flu-treatment-as-study-shows-low-vaccine-effectiveness/?intcmp=latestnews