Caught on camera: Thieves steal $70K in jewelry from Kensington shop
KENSINGTON, Md. - A jewelry store in Montgomery County was robbed Tuesday, and the entire incident was caught on a security camera.
The jewelry store owner, Raffie Bardizbanian, is really upset, and he hopes this surveillance video helps police catch the suspected thieves.
Bardizbanian says he has only been robbed four times over 37 years in business.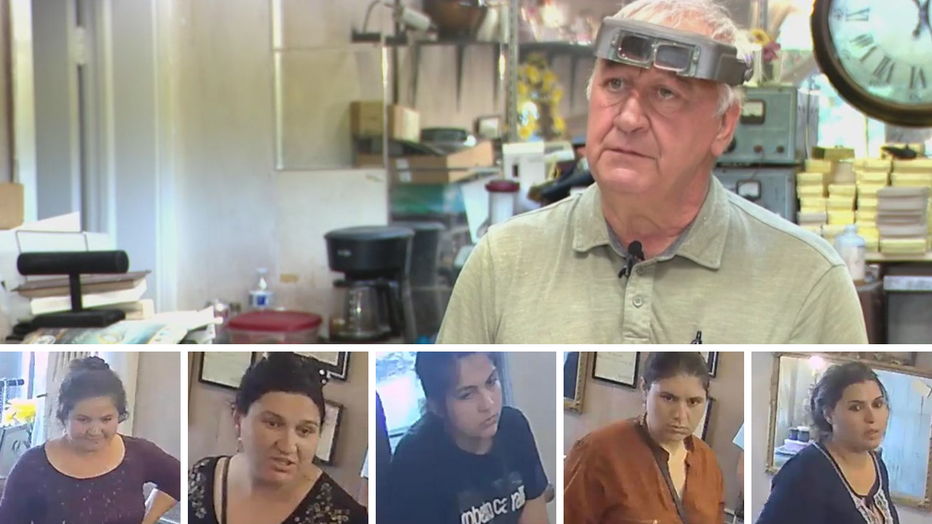 Raffie Bardizbanian pictured above the five suspects who allegedly took $70,000 worth of jewels from his store. 
But this theft was extraordinary. He says these women were methodical, professional, thieves. 
The crystal clear surveillance video appears to show four women distracting the jewelry owner as another woman is seen crawling on the ground, out of the owner's view.
The suspect grabs a box of jewelry that the owner repaired. 
He said it belonged to customers, and then she crawls behind the display case and places the jewelry under another woman's blue dress. 
The woman sits down, and then the suspects leave the store with more than $70,000 worth of jewels.
"I feel terrible. I feel so bad. It wasn't my merchandise," Bardizbanian said. "If it was my merchandise the pain would be less. But it's the customers' merchandise, so I really care about their jobs the work that I fixed for them and their property and I really feel terrible."
Montgomery County police are investigating, and they want anyone with information to give them a call.