Capital City Mambo Sauce co-owner Charles Jones dies at 46
WASHINGTON (FOX 5 DC) - Charles Jones, one of the co-owners of Capital City Mambo Sauce, has passed away at the age of 46. 
In 2011, Arsha and Charles Jones started Capital City Mambo Sauce out of the kitchen of their home. The couple had been on-the-go ever since — raising their four boys along the way.  
"He was like my wingman. When I didn't have anything to say, he was right there to jump in," said Arsha Jones. "So, now, it's just kinda on me, but I'm hoping that we're gonna make him proud."
Charles was with the couple's oldest son on a college tour at Georgia State University last Friday when he had a heart attack and passed away.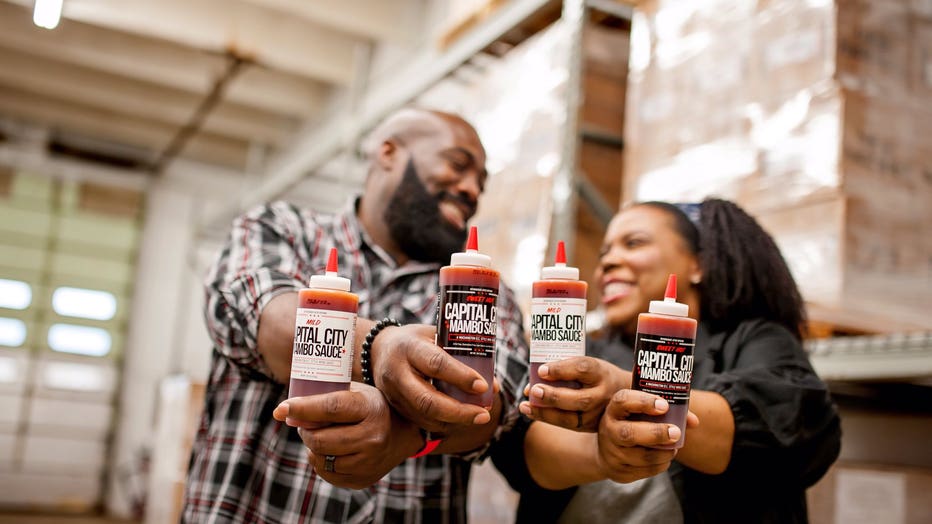 The local power couple helped D.C.'s staple sauce gain major popularity over the past few years.
"We felt like Washington, D.C. deserved the same respect as, you know, a New York cheesecake, or a New York bagel, or a Philadelphia cheesesteak, or even a Old Bay from Maryland," said Arsha Jones.
These days, the company fills orders from New York to Florida.  
"We constantly had to pinch ourselves to say, 'wow, look at what you've accomplished!' I, um, you know, today Shaq called me to tell me he was sorry to hear about Charles because we had met him through the Papa Johns partnership," said Arsha Jones.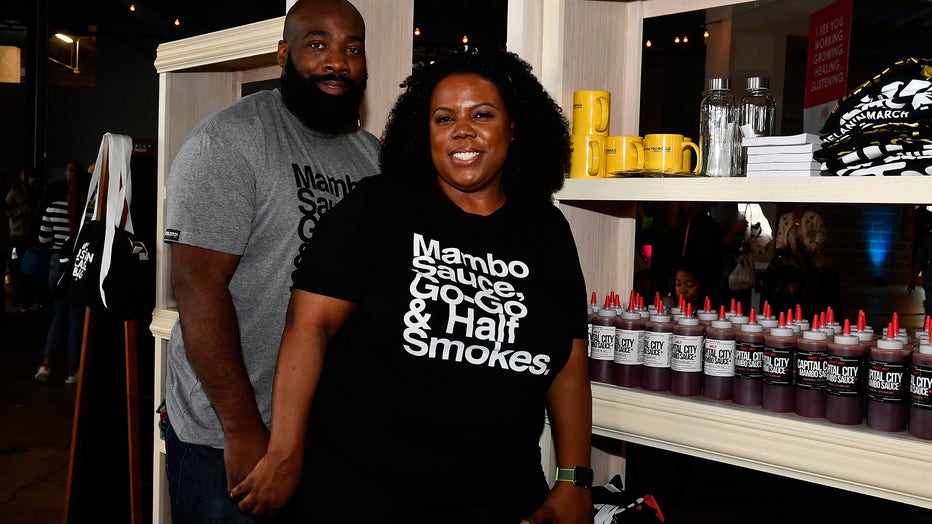 WASHINGTON, DC - MAY 19: Charles and Arsha Jones of Capital City Mambo Sauce appear at Essence and Ford "My City 4 Ways" at Union Market on May 19, 2018 in Washington, DC. (Photo by Larry French/Getty Images for Essence)
You may remember last year when Mayor Muriel Bowser set off a heated D.C. debate when she slighted mumbo sauce on social media. Of course, the mumbo masses fired back. 
The tangy condiment originated in D.C.'s African-American communities decades ago and became a big hit at Asian carryouts, as well. The delicious sauce is the perfect topper for chicken wings.
Capital City Mambo Sauce is now one of the most successful bottled products — bringing in about $2 million in sales each year. 
Arsha says her husband, business partner and best friend often stayed behind the scenes, but together they laid a foundation that is helping her now hold everything together. 
"I couldn't be standing here if he didn't give me his shoulders to be able to rest on," said Arsha Jones. "Every move we make going forward is going to be what Charles would want."