Boyfriend of Maryland woman found dead on hike says he 'didn't do anything' to hurt her
The new boyfriend of Maryland mother of five Rachel Morin, who was found dead on a hiking trail Sunday, insisted he played no role in her demise after police announced a homicide probe.
Richard Tobin, 27, who has a lengthy criminal record, took to Facebook on Sunday to shoot down rampant online speculation that he may have been behind her killing.
"I love Rachel, I would never do anything to her, let the family and I grieve. Yes, I have a past but I also have 15 months clean and have changed as a person. Please," Tobin wrote under his relationship status, which was updated Aug. 1 to reflect that Morin is his girlfriend.
Tobin has prior arrests for malicious destruction of property, criminal second-degree assault, resisting arrest, drug possession, disorderly intoxication and violating restraining orders, according to Maryland court records.
He has not been named as a suspect in his girlfriend's death or been accused of any wrongdoing.
He reported her missing Saturday at 11:30 p.m. after she didn't return home from a hike on the Ma and Pa Heritage Trail in Bel Air, Maryland – about 30 miles north of Baltimore.
She was last seen at home wearing a dark tank top, black spandex shorts and gray sneakers before heading out around 6 p.m.
Her car was located at the trailhead's Williams Street entrance and taken to the criminal investigations division for processing, police said.
The next day, a person called 911 to report finding a woman's body near the trail, which authorities believe is Morin, Harford County Sheriff Jeff Gahler said at a press conference.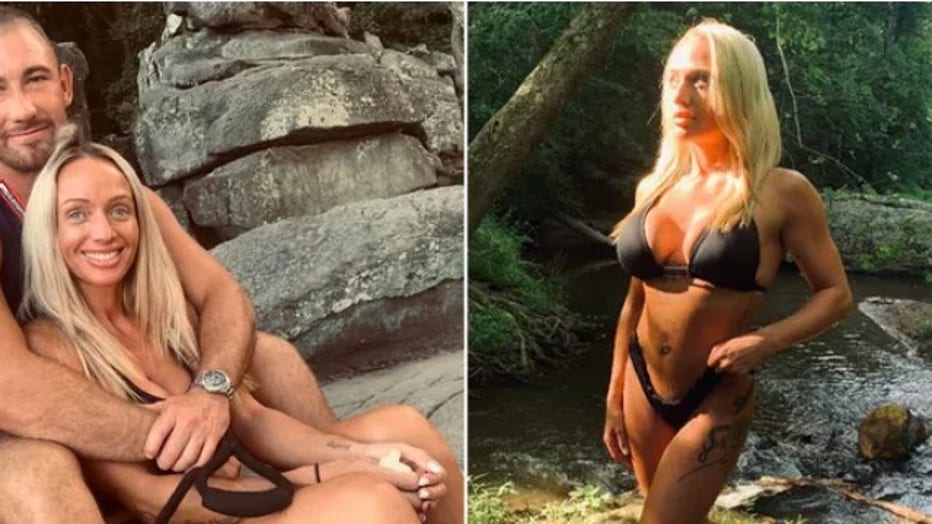 Richard Tobin denied he had any role in girlfriend Rachel Morin's death after her body was found on a Maryland hiking trail Sunday. (Facebook) via FOX News
"I'm not going to go into what, physically, they observed at the scene. But investigators believe, sadly, that it's a homicide case," Gahler added.
Authorities are awaiting the medical examiner's report for more information, including the cause of death and official confirmation that the body is Morin.
"This was not an accidental death, and she did not go willingly, and she deserves a funeral worthy of her beauty," wrote her sister, Rebekah Morin, on a GoFundMe page to raise money for her burial.
Rachel Morin didn't have life insurance, and any additional funds that are raised will go toward her children, the page says.
The sister revealed that the family had suffered another blow a week earlier when their niece, Lily Beth, died from SIDS.
Rebekah Morin urged anyone who has tips about her sister's death to call the Harford County Sheriff's Office, so the family can "get justice."
"Rachel Morin I love you and miss you so much," her sister wrote. "Save a place for me."
Richard Tobin couldn't immediately be reached for comment.
Read more via FOX News.