Best spots to see cherry blossoms in DC -- besides the Tidal Basin
The first weekend of cherry blossom peak bloom in D.C. brought plenty beauty to the city – but also plenty of traffic.
Typically, the Tidal Basin is the most popular spot to see the cherry blossoms. The trees were planted in 1912 as a gift of friendship to the United States from Japan.
However, this spot is a magnet for tourists and locals alike, and finding parking or even taking public transit can cause you to sit in traffic longer than you enjoy the blooms.
Here are 10 spots around the DMV that are just as beautiful and hopefully won't cause as much of a headache.
National Arboretum
3501 New York Ave NE
Beyond the Tidal Basin allows visitors to walk along 450 acres and explore 31 sites featuring flowering cherries. Each type has its own peak bloom time, so every journey along this three mile tour is different depending on when you visit. Click here for the complete tour booklet.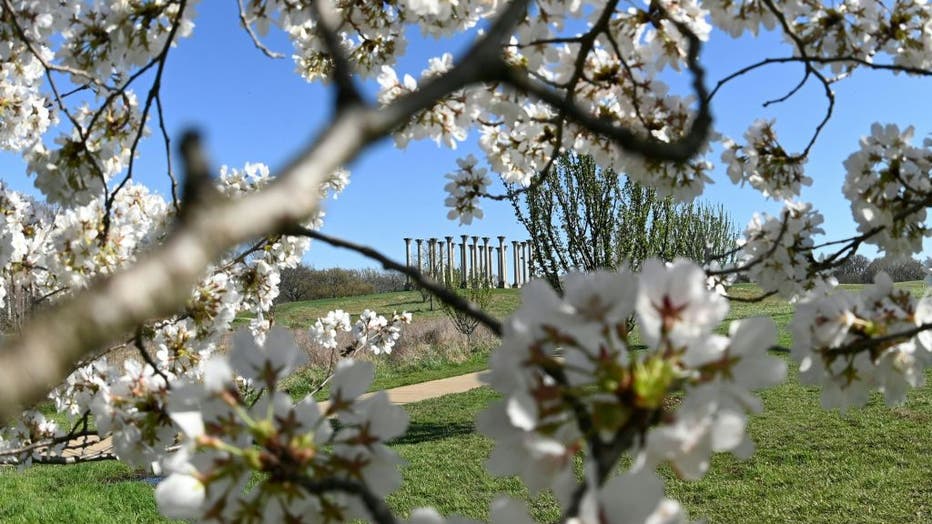 The twenty-two Corinthian columns that form the National Capitol Columns are framed by cherry blossoms at the National Arboretum in Washington, DC on March 29, 2021. - Warm weather over the last few days has led to blossoms blooming earlier than expe
The Gardens of Dumbarton Oaks
1703 32nd St NW
Dumbarton Oaks, an historic estate in Georgetown, has multiple pathways lined with cherry blossom trees. Cherry Hill at peak bloom stands out to visitors. The gardens are closed on Mondays.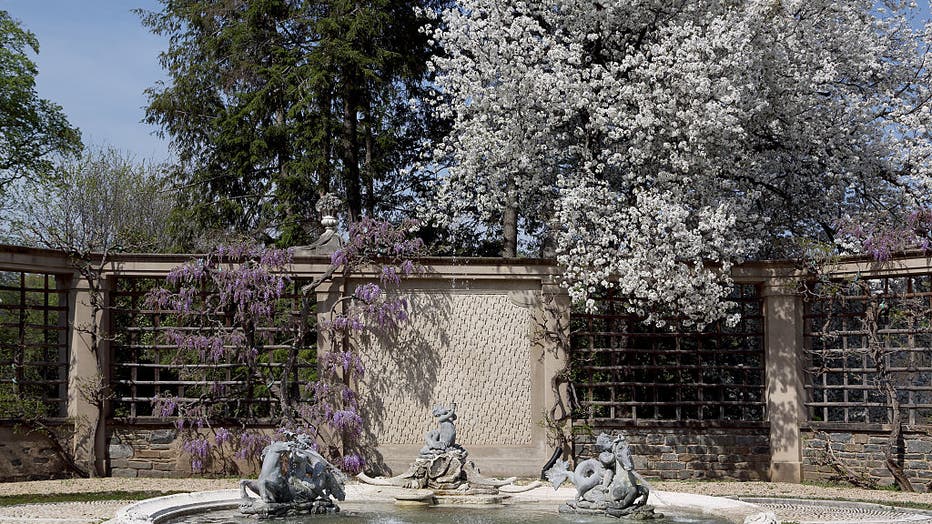 UNITED STATES - MARCH 24: Garden views at Dumbarton Oaks in the Georgetown neighborhood of Washington, D.C. (Photo by Carol M. Highsmith/Buyenlarge/Getty Images)
Hains Point Loop Trail
Ohio Dr SW
This trail is 4 miles long and offers views of the blossoms against the backdrop of the Potomac River, Anacostia River and Washington Channel. It also includes as many as 10 unique cherry blossom species.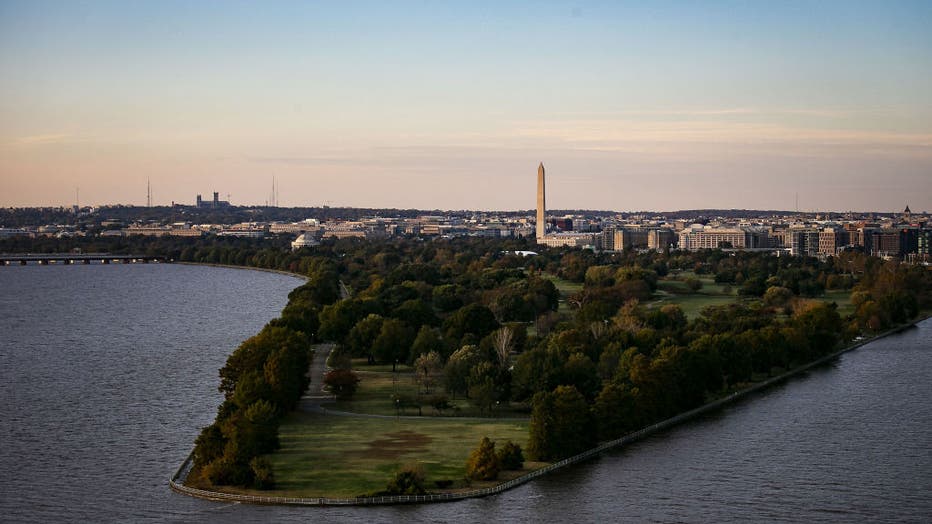 Hains Point in East Potomac Park is seen in this aerial photograph taken above Washington, D.C., U.S., on Tuesday, Nov. 4, 2019. Democrats and Republicans are at odds over whether to provide new funding for Trump's signature border wall, as well as t
The Basilica of the National Shrine of the Immaculate Conception
400 Michigan Ave NE
The largest Roman Catholic Church in North America, and the 10th largest in the world is home to more than 150 cherry blossom trees. Entry to the grounds and the Basilica is free.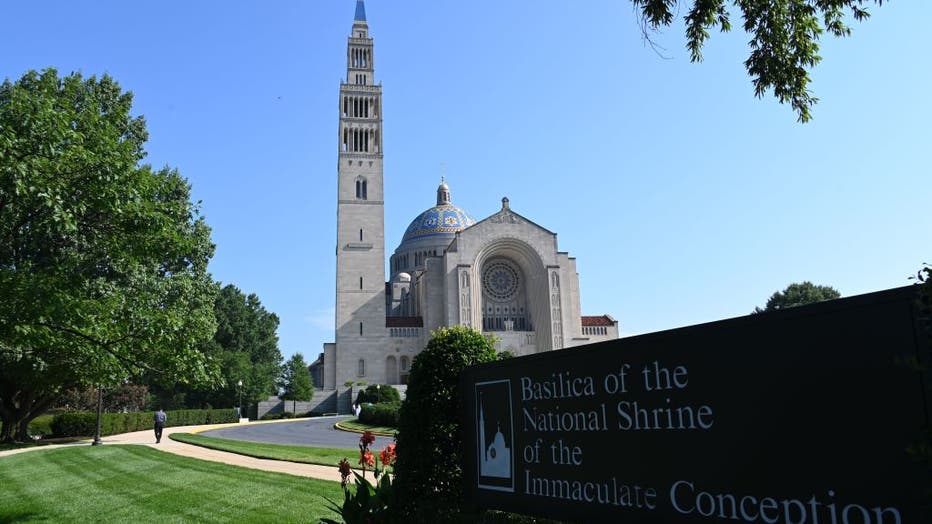 The Basilica of the National Shrine of the Immaculate Conception is viewed on July 21, 2019 in Washington,DC. - The National shrine is the largest Catholic church in the United States and in North America, and the tallest habitable building in Washin
Congressional Cemetery
1801 E St SE
Pink trees line the walkways of the historic cemetery during cherry blossom season. There is also a second bloom at the Congressional Cemetery around one to two weeks after peak bloom at the Tidal Basin.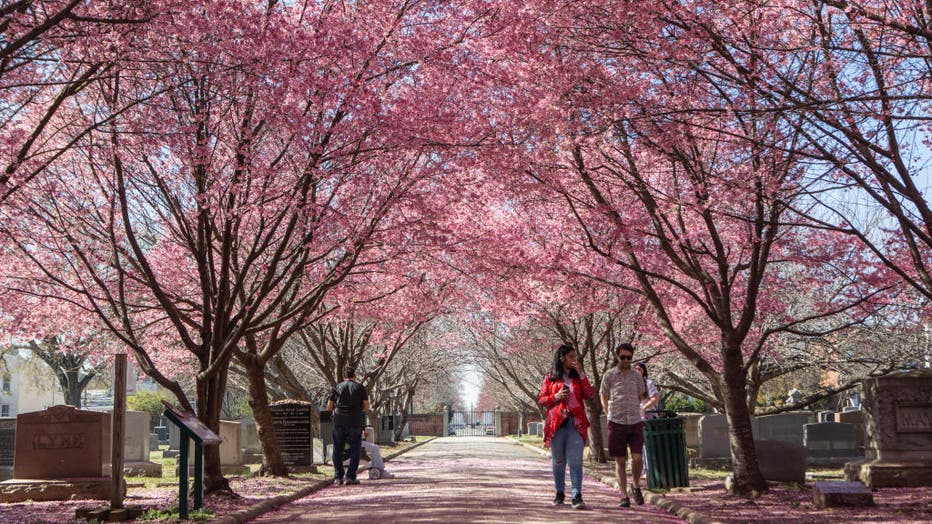 Visitors walk beneath cherry trees at the Congressional Cemetery during unseasonably warm weather in Washington, DC, US, on Thursday, Feb. 23, 2023. Pushed along by climate change and forces across the Pacific Ocean, spring has arrived weeks early in
Stanton Park
Between the 200 block of 4th St and 6th St NE
This hidden gem is tucked away in D.C.'s Capitol Hill neighborhood just a few blocks away from Union Station. It's the perfect place for families to bring kids, enjoy a picnic and take photos of the beautiful blooms.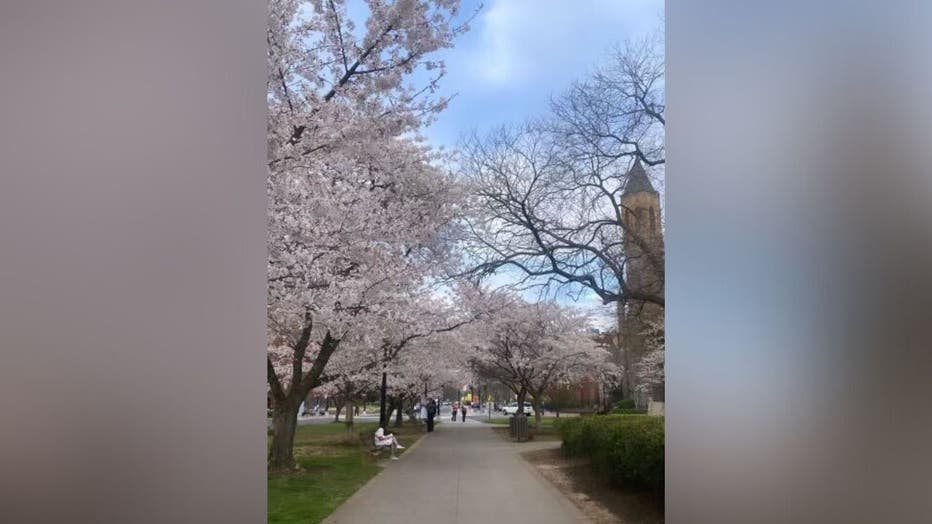 Meadowlark Botanical Gardens
9750 Meadowlark Gardens Ct, Vienna, VA
Cherry trees can be seen at these expansive gardens in March and April. You can even arrange a tour of the grounds and check out all the rest of the nature this area has to offer.
Mount Vernon Trail
Theodore Roosevelt Island to Navy and Marine Memorial
This 17-mile trail offers across-the-river views of D.C. and the cherry blossoms. Why not take a stroll down to Mount Vernon while you're at it?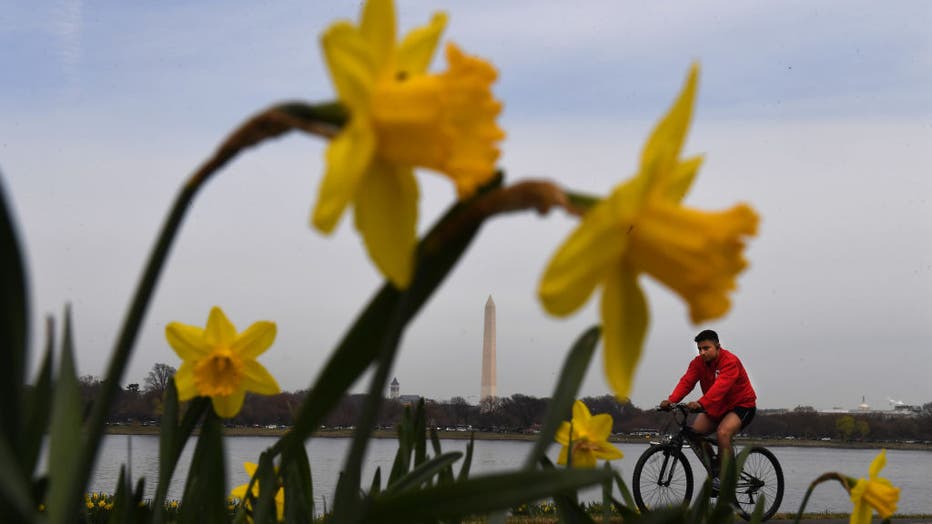 WASHINGTON, DC - MARCH 29: Daffodils frame a bicyclist while traveling along the Mount Vernon Trail on Thursday March 29, 2018 in Washington, DC. (Photo by Matt McClain/The Washington Post via Getty Images)
Glenstone
12100 Glen Rd, Potomac, MD
Stop in to this contemporary art museum that strives to incorporate nature into its attractions. Along with cherry blossoms, you can take a look inside at the art exhibits or admire the architecture throughout the grounds.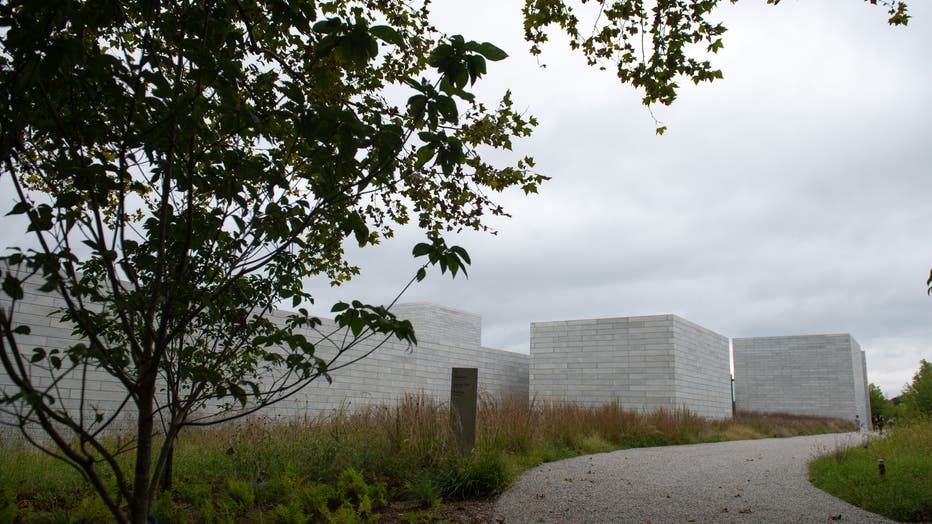 A view of the Pavilions, a new building at the Glenstone Museum, combining art, architecture and landscape, during a media preview in Potomac, Maryland, September 21, 2018. - It may be the greatest art collection you've never heard of -- until now. W
Brookside Gardens
1800 Glenallan Ave, Wheaton, MD
Enjoy 50 acres of roses, azaleas and, of course, cherry blossoms. Officials say cherry blossom trees are in bloom in April and admission is free.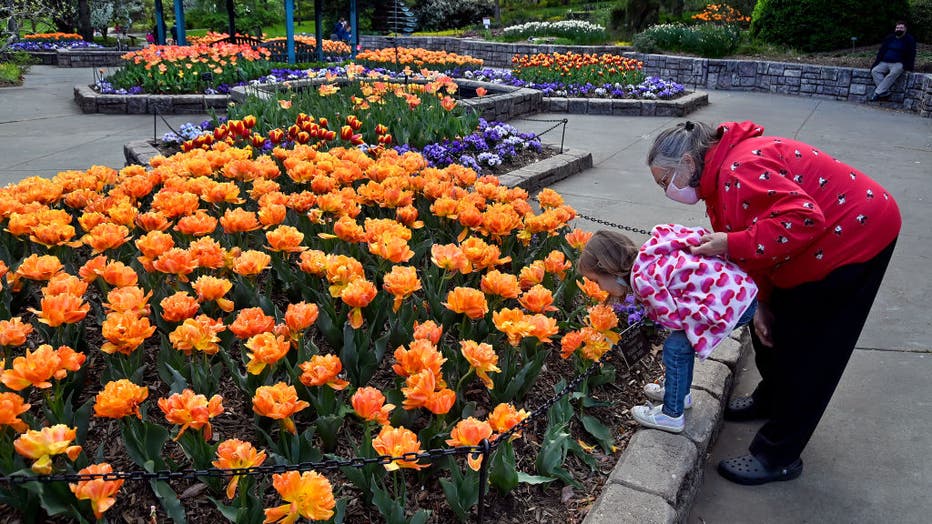 WHEATON, MD- APR 21: (L) Linda Weaver helps her grand daughter Lily Weaver (age 4) get a close look at the flowers in full bloom at Brookside Gardens in Wheaton, Maryland on April 21, 2021. The cooler than normal weather of late kept crowds small but