Arrests made in robbery, officer-involved shooting in Springfield, Va.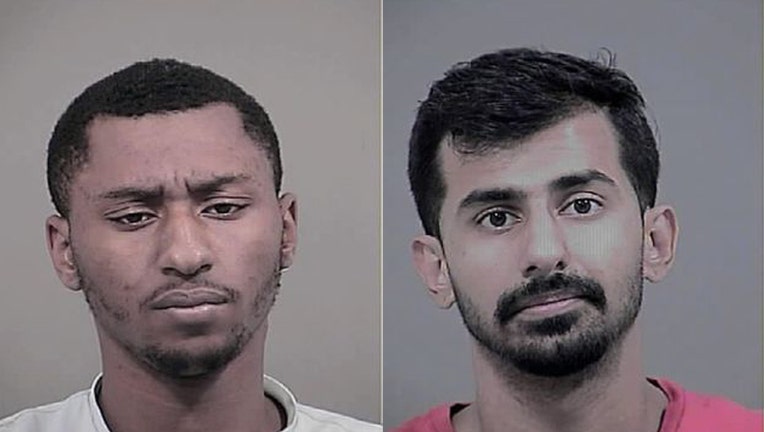 SPRINGFIELD, Va. - Two men have been arrested after being on the run since Saturday. They were involved in an officer-Involved Shooting and Carjacking that started at Brookfield Plaza.
William Timothy Franklin, 24, of Waldorf, Maryland was arrested at his home on Monday, May 23 around 9 p.m. around the same time, Jasminder Sethi, 26, also of Waldorf was arrested at an airport in Newark, New Jersey.
Felony warrants have been obtained charging Franklin with Robbery and Use of a Firearm in the Commission of a Felony. A felony warrant has been obtained charging Sethi with Robbery. Both arrestees are awaiting extradition back to Fairfax County.
The investigation is still in progress.
During the event, a teenager came face-to-face with the dangerous gunman.
Andrew Greer and his father, Kevin, had no idea who they were dealing with when they stopped to help a driver who veered off the road in the 7600 block of Hooes Road.
"He went up and over an embankment and I immediately got on the phone with 911, Kevin Greer said. "At that point, I had asked my son to go over and make sure this individual was all right."
It turns out the man had just robbed the Dubai Jewelry store in the Brookfield Plaza shopping center on Backlick Road. Police said when an officer responded, the suspect opened fire and got in a gun battle with the officer in the parking lot. Police said the officer wasn't hurt, but a passing motorist was shot by the suspect. That person is expected to survive.
From there, police said the suspect took off in a getaway car, crashed that vehicle not too far from the shopping center, then carjacked a driver. It was when the suspect crashed that stolen car that Kevin and Andrew spotted him.
Andrew said he walked over and asked if the man was OK.
"He wasn't making eye contact," Andrew said. "He wasn't really saying anything too loud. He was trying to avoid the conversation.
He said he didn't even get a good look at the man.
"It was all very sudden," Andrew said. "I was only over there maybe 30 seconds, and of that 30 seconds, I only saw him for about three before he turned around and started getting his stuff."
He said the man grabbed a bag, and took off. Just minutes later, police arrived.
The Greers said even though what happened was chilling, they won't let it stop them from being Good Samaritans I. The future.
"I would do the same," Kevin said. "I would always help those in need."