ACLU files lawsuit against DC Police Department for failure to release stop and frisk data
WASHINGTON - The American Civil Liberties Union is suing Metropolitan Police for failure to release stop and frisk data. The ACLU says it's been nearly a year since MPD released new information regarding traffic stops.
Download the FOX 5 DC News App for Local Breaking News and Weather
The ACLU filed the lawsuit last Tuesday. The ACLU says MPD missed the deadline to respond to a FOIA request asking for the stop and frisk data and the organization wants a judge to order it to be released.
Under the Neighborhood Engagement Achieves Results Act or the NEAR Act, passed by the Council of the District in 2016, MPD must record all traffic stop data, including age, race and reason for the stop.
A separate lawsuit filed by the ACLU and Black Lives Matter in 2019 alleged the department failed to collect any of that information. The suit was dropped after MPD promised to not only record the data but release it twice a year.
In the current lawsuit the ACLU writes, "Near act data is vital to the ongoing debate about policing in the district. Mass protests against police brutality swept the district in 2020 after police killings of George Floyd and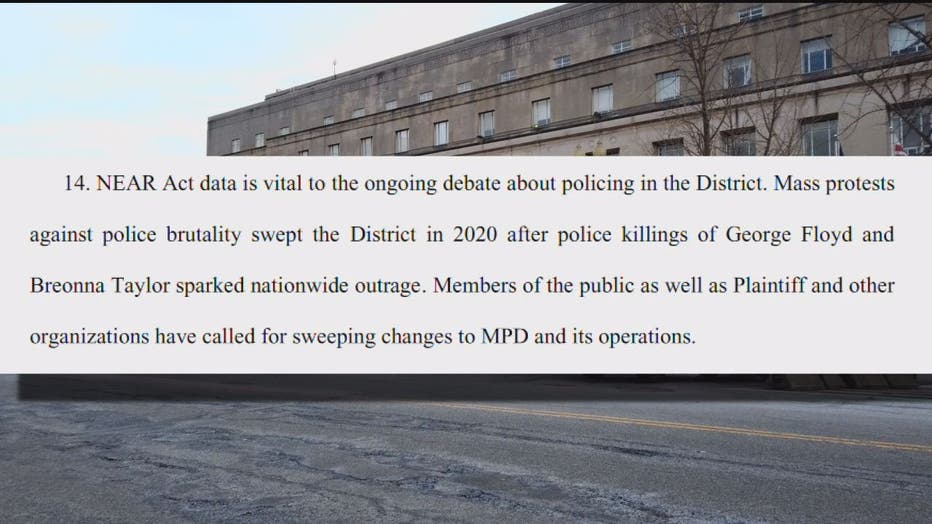 Breonna Taylor sparked nationwide outrage. Members of the public as well as plaintiff and other organizations have called for sweeping changes to MPD and its operations."
According to the ACLU, the most recent data is from a six month period in 2019. It was released by MPD last March and showed major racial discrepancies in policing.
The ACLU says 72 percent of people stopped by District police were black, while black people only make up 47 percent of D.C.'s population.
Out of the number of traffic stops that did not lead to a warning ticket or arrest, 86% were of black people.
And 91 percent of the searches that did not lead to a warning ticket or arrest were of black people.
The ACLU says new data is crucial ahead of the spring when the council is set to conduct a performance and oversight hearing on the police department.
FOX 5 reached out to MPD for comment but has not heard back.