911 calls released in deadly Annapolis mansion fire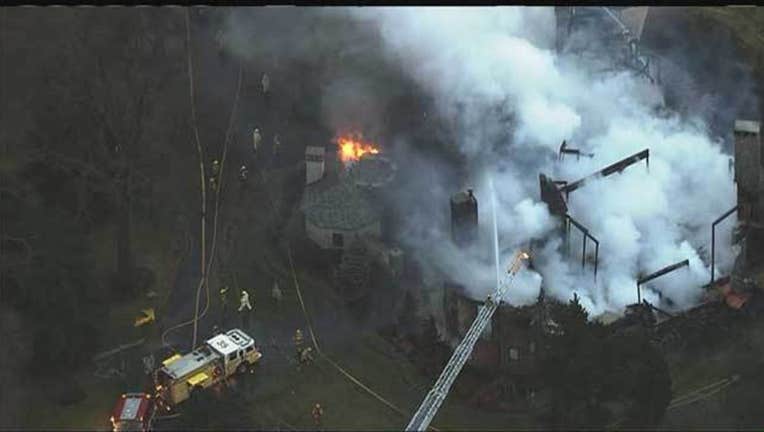 article
A day after investigators released the cause of the January 19th deadly mansion fire in Annapolis that killed a couple and their four grandchildren, 911 calls from the morning have been released by authorities.
Investigators announced a faulty electrical outlet powering the Christmas tree lights ignited the tree skirt and then the tree itself.
The 15-foot tree was set up in the home's great room that had 19-foot ceilings. When you add the tree stand, the tree was very close to the ceiling.
Investigators say the tree lights were kept on 24 hours a day and the tree had been cut about two months earlier, so this was likely a very dry tree.
The great room was connected to the sleeping and living areas where the victims were all in bed.
One of the 911 calls was made by a neighbor. Just two minutes earlier from that call, the alarm company called 911 saying the fire alarms had been activated on all levels of the house.
Dispatcher: "Fire and ambulance. What is the exact location of the emergency?"
Caller: "Uh, it's my neighbor's house … their house is on fire. I happened to look outside and the flames, I don't know if anybody has called, but the whole house is on fire."
Dispatcher: "Okay."
The neighbor then gives the location to the 911 dispatcher.
Caller: "I mean, the whole house is engulfed."
Dispatcher: "Is anybody inside?"
Caller: "I have no idea."
Dispatcher: "Okay. We're on our way. We got an alarm company, they called it in, but it is on fire."
Caller: "Oh my God. I'm getting ready to call my neighbor next door."
Dispatcher: "Okay. We're on our way, ma'am. Keep everybody away and if you can find out if anybody is in the house, let us know okay?
Caller: "Okay, thank you."
The homeowners, Don and Sandra Pyle, were killed in the fire along with four of their grandchildren, 8-year-old Lexi Boone, 7-year-old Katie Boone, 8-year-old Charlotte Boone and 6-year-old Wes Boone.