5 ways to stay warm, and safe, in bitter cold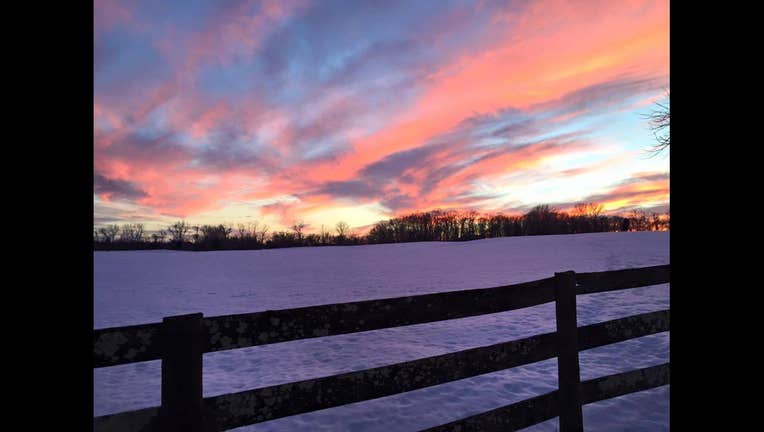 article
WASHINGTON - An arctic blast is slamming the Washington area this weekend, bringing bitter temperatures and high winds with it.
Temperatures in the region are expected to be 20 degrees below average on both Saturday and Sunday, which means protecting yourself, your pets and your home and car from the cold will be essential.
Here are five ways you can cope with the cold, and stay safe in freezing temperatures, this weekend.
1. If you must go outside, bundle up
It might seem obvious, but adding extra layers under warm winter jackets is essential if you need to go outside, even for a short time, in freezing temperatures. Try layering with both long and short-sleeved shirts so you can remove layers as needed without compromising on warmth.
For the ladies, try swapping out your regular leggings with long underwear, or slipping a pair under jeans. Many hiking companies offer long underwear options that are designed to both keep your body warm and wick away sweat.
If you need to be outside for an extended period of time, make sure your outermost layers and shoes are waterproof. An overnight dusting left some snow accumulation on vehicles, grass and streets, which could dampen clothing.
2. Speaking of being outside, watch out for your four-legged friends
Even with their thick coats, dogs, cats and other mammals are susceptible to the dangers cold temperatures, too. Just like people, animals can get frostbite and hypothermia, so it is crucial to avoid letting your pet outside for long periods of time in below-freezing temperatures.
Check out the ASPCA's tips for keeping pets safe in freezing temperatures for more information.
3. Protect your home
Freezing pipes, space-heater dangers and monitoring your fireplace should all be on your mind when freezing weather hits.
If you have pipes that tend to freeze, take preventative action. Keep your garage door closed if there are water supply lines in the garage, open kitchen and bathroom cabinet doors to promote warm air circulation and let cold water drip from faucets.
Using space-heaters can be vital to keeping your home warm, but always keep the "three-feet rule" in mind-- make sure your heater is at least three-feet away from anything flammable, including drapes, carpets, blankets, shoes and bedding.
And if you choose to heat your home with a good, old-fashioned fireplace, make sure to monitor embers closely. Do not leave the house or move to another floor until all of the embers have been fully extinguished.
4. Prepare your vehicle
In the event of an emergency, having a car emergency kit prepared can be not only helpful, but lifesaving. Check the CDC's website for a checklist and assemble a kit for each of your family's vehicles.
Speaking of cars, it can be tempting to start vehicles up to let them warm before heading out the door, but doing so puts you at risk for vehicle theft or damage. Try waiting in the vehicle in "shifts" with a family member instead. One person can sit in the car as it warms while the other gets ready for work or school, then switch when they are finished. This keeps the vehicle monitored at all times and significantly decreases its chance of being broken into.
5. Look out for people who are most exposed to the cold
Be on the lookout for homeless people who are most exposed to the freezing temperatures and know who to call when you see someone at-risk for hypothermia.
If you see someone in need of shelter, please refer to the following resources:
In Washington:
Call the 24-hour Shelter Hotline at 1-800-7252.
Log on to the Homeless Shelter Directory and search your local shelter by city. A list of shelter locations and telephone numbers that coincide with your location will appear.