2 arrested after Southeast DC assault leads to officer-involved shooting
WASHINGTON - Two men have been arrested and charged after an assault led to an officer-involved shooting on Friday morning in Southeast D.C.
Metropolitan Police Department officials say they received a call around 10 a.m. Friday regarding a woman who being assaulted in the 1300 block of Good Hope Road.
Officers responded to the call and discovered a woman suffering from non-life-threatening injuries. As officers were investigating the assault, they learned that the victim and the suspect had gotten into an argument, and during that time, the suspect hit the woman with a metal box.
The suspect then fled the scene before police arrived.
READ MORE: Police investigating officer-involved shooting in Southeast DC, one man transported to hospital
Investigators said as officers were canvassing the area searching for the suspect, they witnessed a man get into the passenger side of a four-door burgundy-colored Jeep SUV. According to police, an officer attempted to stop the person believing that he was the suspect wanted for the assault.
The officer gave several commanders for the man to exit the vehicle, but police said, he refused and started reaching for his waistband. That is when the officer fired his gun once, hitting the man.
The man was taken to a local hospital for treatment after the shooting. Police said while he was being treated, police discovered suspected cocaine in possession of the man.
That man, identified as 38-year-old Steven Shaw, of Northeast, D.C., was arrested and charged with possession with intent to distribute cocaine.
Police said the suspect in the assault was taken into custody later on Friday. The suspect, identified as 59-year-old Wallace Lewis, of Southeast, D.C., is charged with assault with significant bodily injury and threats to do bodily harm.
The unidentified officer involved in the shooting has been placed on administrative leave per MPD policy, according to police.
Investigators said body worn camera footage of the incident remains under review.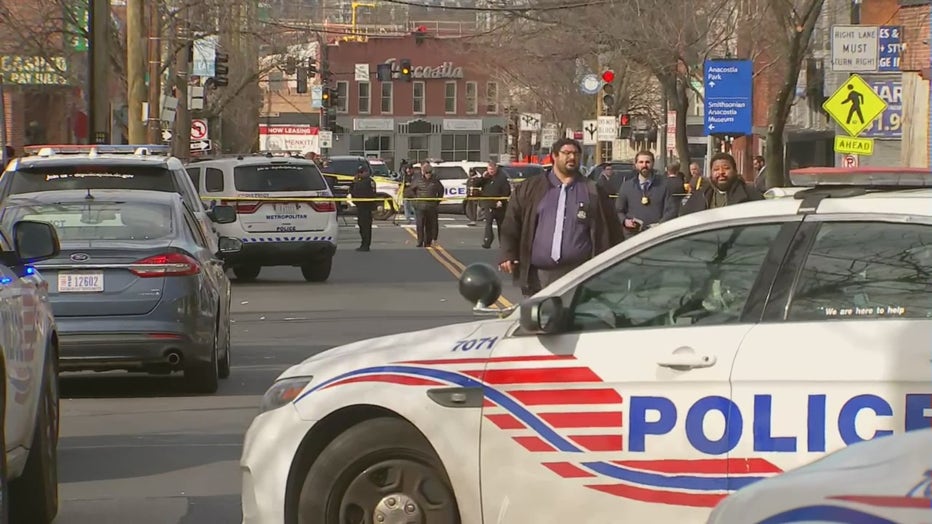 According to D.C. law, the city now has five business days from the day of the shooting to release officer information and body-worn camera video connected to this police-involved shooting. Family can object to the release of the video. The Mayor has the authority to override that decision if the public demands the video be released. 
In this case, officials say the man shot will likely be able to decide on whether the video is released.