DC snow drought may end overnight, but snow lovers will be far from satisfied
The magic number is 0.1, that is all we need to end the 325-day snowless streak here in Washington, D.C. 
The city last saw measurable snow when 0.4" fell on March 12th, 2022. Could the streak finally end tonight?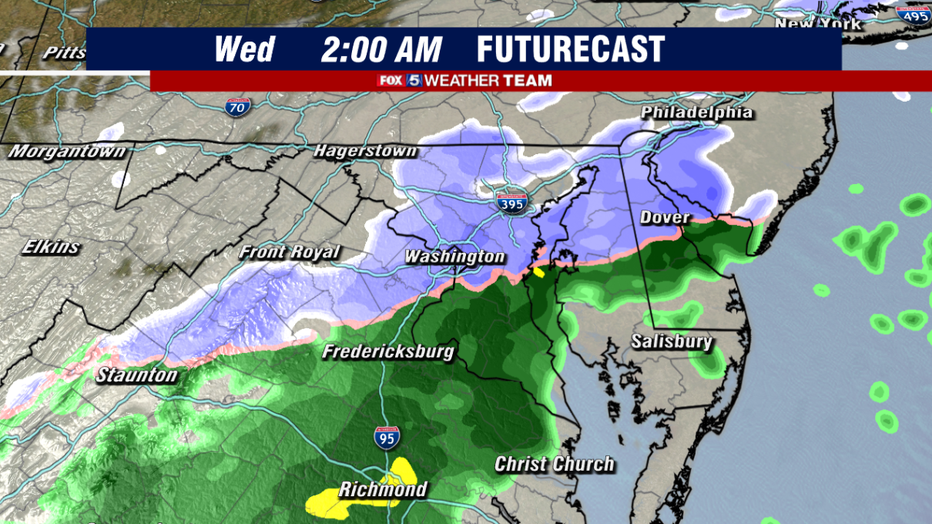 I'm going to gamble and say "yes." I do actually think there is a legitimate chance the city could break that streak overnight. But how we do it is likely not going to be of much consolation to those in the region who are hoping for a snow day or something to play in. 
READ MORE: A timeline of the snowiest blizzards in DC, Maryland and Virginia history
The snow comes as a wave of low-pressure rides along a cold front that passed through early this morning. This is a relatively weak and fast-moving storm system compared to others that have passed us by this winter. As a result, while parts of our region are likely to see some snow, it is likely to be very brief.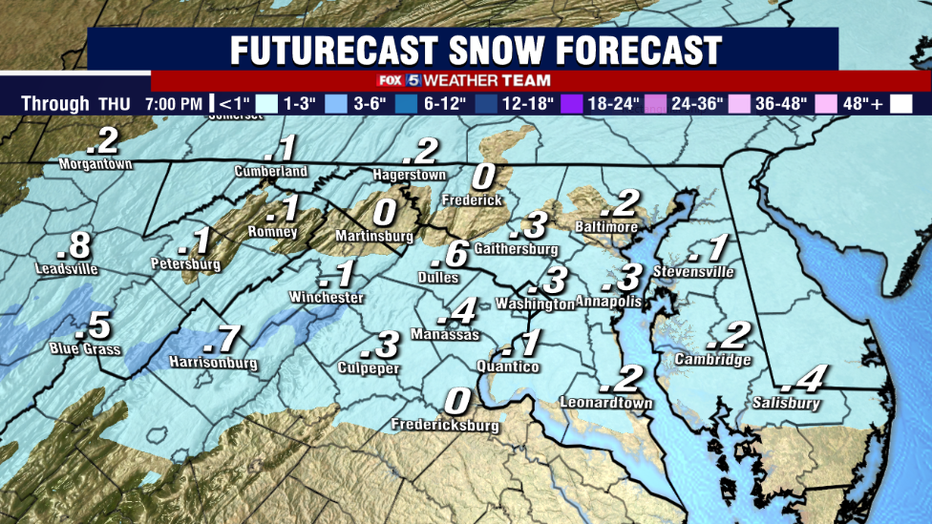 Due to the fast-moving nature of this storm, it is not likely to leave that much behind on the ground. Most models show less than 1" of snow. This is also likely to all happen while you are sleeping, with snow most likely between the hours of 1 a.m. and 4 a.m. The vast majority of model guidance gets the system out of here by the time the morning commute begins.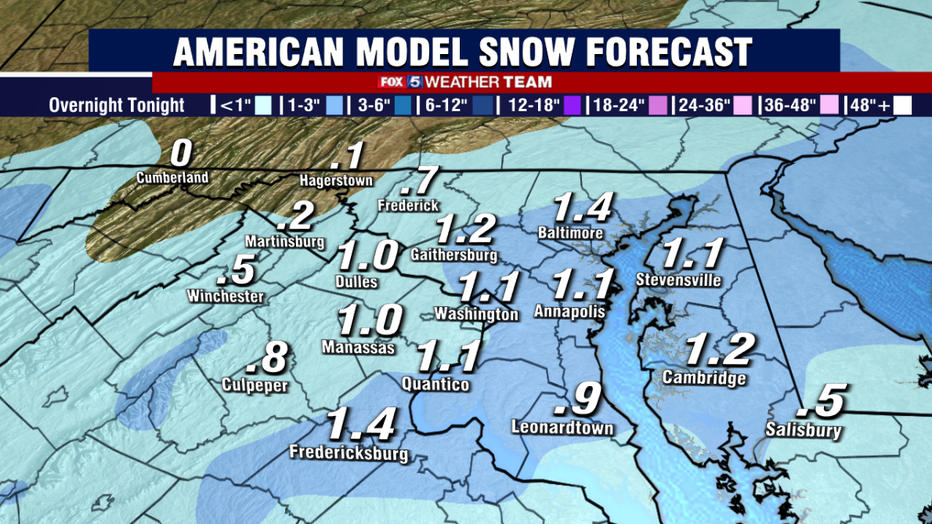 Now, is there any chance that we could see more snow than expected, often called a "boom"? Sure! 
But even if the most extreme guidance is correct, the area would still only be looking at 1-2" of snow. This would still not be much, but it would be enough to perhaps warrant a few school delays in our region. 
However, with the vast majority of guidance expecting significantly less than this, and mostly showing accumulations on the grass, as things currently stand we are not expecting major issues on the roads Wednesday morning. This means we think any impact on schools will be minimal in the region. 
But you can always check with our Fox 5 Closings page for updated information.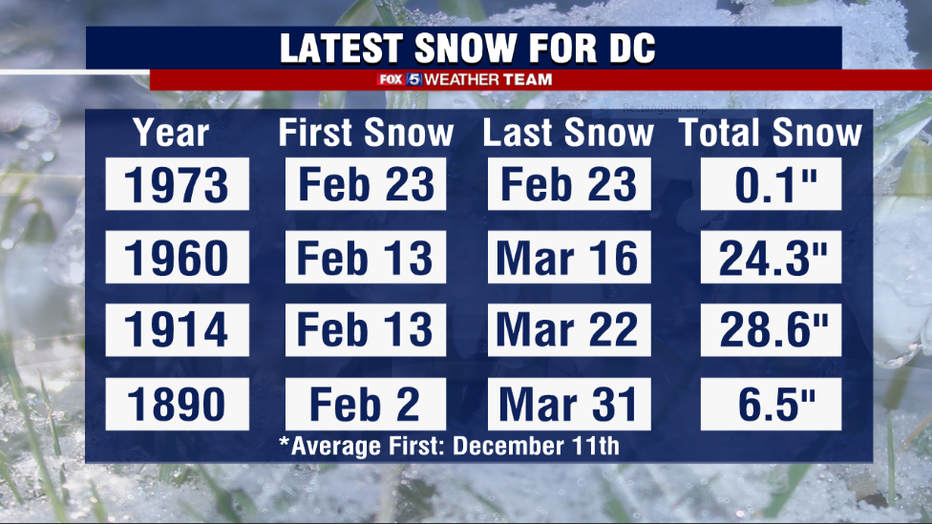 Should we finally get something measurable (remember, snow falling … recorded as a "trace" officially, does not count as measurable) to fall at Reagan National Airport, which is the official National Weather Service recording station for D.C. it would be the 5th latest snow in recorded D.C. history. 
Only four other times have D.C. area residents waited until February for the first snow of the season to fall. The last time this happened was also the latest on record, back on February 23rd, 1973, in the middle of a strong El Niño winter. By comparison, this winter remains firmly in the grasp of a La Niña. Interestingly enough, three of the four years saw their warm patterns flip to cold during early spring, with two of them seeing some significant March snow events.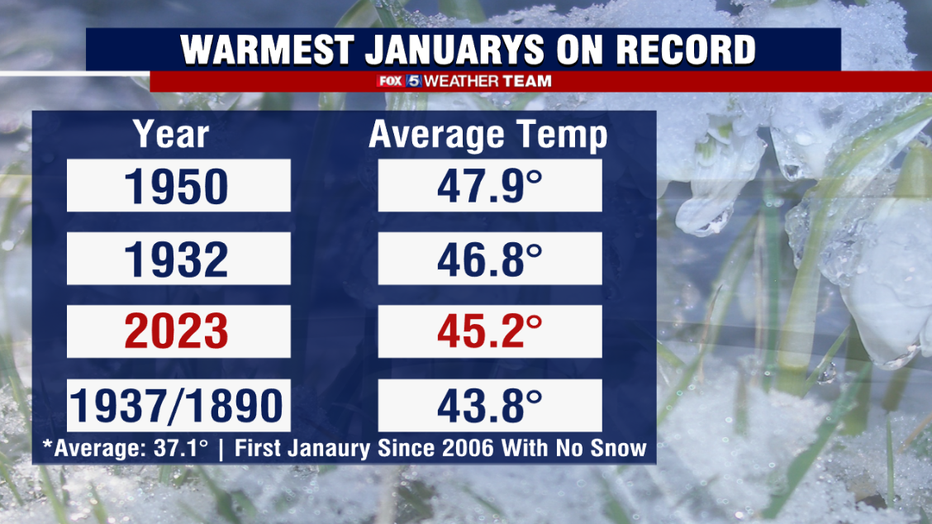 Whether we will see any additional snow remains to be seen. One thing that becomes official Tuesday is just how warm January was. We ended the month more than 8 °F above average for the month – warm enough to be the third-warmest on record for Washington, D.C. 
It was our warmest January in 73 years and the first without any measurable snow in 17 years. After a cold November and chilly December, winter has certainly taken a more spring-like turn for the first month of the new year.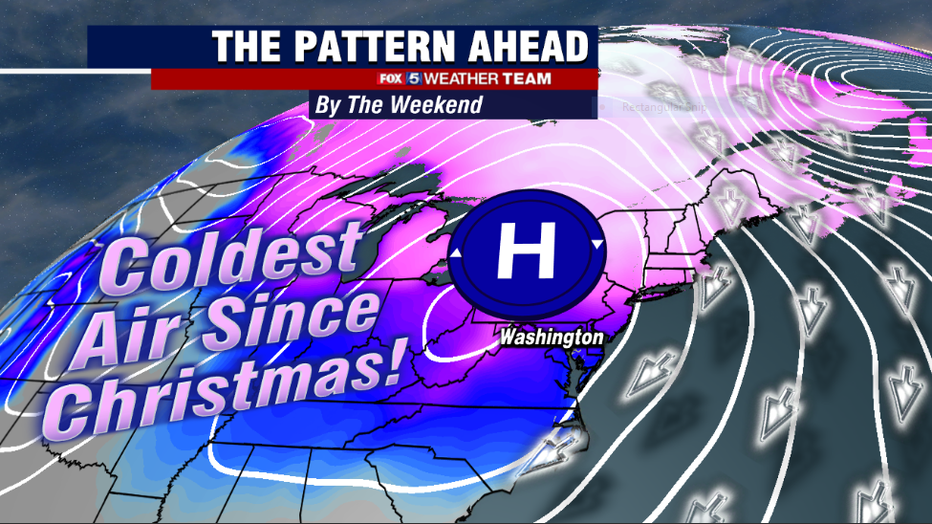 That does not mean the winter is done with us just yet though. In fact, by the weekend, we are in for quite the blast of winter cold. Gusty winds on Friday will drop temperatures most of the afternoon, with many falling through the 20s by sunset. By sunrise, Saturday, teens and single digits are possible across much of the region making for our coldest day in D.C. since Christmas Eve! 
Highs for many will not climb out of the 20s on Saturday afternoon. 
The good news is that much like the Christmas outbreak, it will be a short-lived cold outbreak with temperatures expected to return to the 50s and perhaps even some 60s by the middle of next week.