Washington Capitals become first NHL team to launch Free Little Library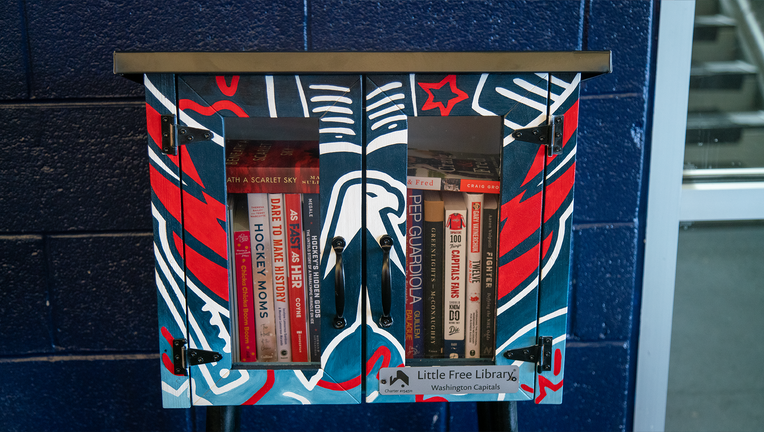 article
ARLINGTON, Va. (FOX 5 DC) - The Washington Capitals have launched a Little Free Library book-sharing box in the lobby at MedStar Capitals Iceplex (MCI) in Arlington with various hockey titles as well as books identified by select Capitals players as a recent read or favorite book. 
It also includes titles written by Capitals alumni. Part of the organization's Caps in School program, the library includes books for all age ranges.
Fans are encouraged to take books from the library with the knowledge that the exact book does not need to be returned. In order to keep the Little Free Library full of selections, fans are encouraged to share books in the library each time they take a book.
Hockey titles included in the Capitals Little Free Library launch include:
As Fast As Her: Dream Big, Break Barriers, Achieve Success by Kendall Coyne  
Game Change: The Life and Death of Steve Montador, and the Future of Hockey by Ken Dryden
The Bulliest Dozer by Capitals alumnus Eric Fehr 
Dare to Make History: Chasing a Dream and Fighting for Equity by Jocelyne Lamoureux-Davidson and Monique Lamoureux-Morando
Hockey Moms: The Heart of the Game by Theresa Bailey and Terry Marcotte
The Unforgettable Story of Hockey's Forgotten 60-Goal Man by Capitals alumnus Dennis Maruk 
Hockey's Hidden Gods: The Untold Story of a Paralympic Miracle on Ice by S.C. Megale
Z is for Zamboni: A Hockey Alphabet by Matt Napier
NHL Mascots and Friends by Holly Preston 
100 Things Capitals Fans Should Know & Do Before They Die: Stanley Cup Edition by Capitals radio host Ben Raby, featuring foreword by Capitals alumnus Craig Laughlin 
Brady Brady: All-Star Hockey Collection by Mary Shaw
FIGHTER: Defying the NHL Odds by Capitals alumnus Aaron Volpatti 
Hockey is for Everybody: Anthony's Goal by Anthony Walsh  
Initial player selections that will be included in the Capitals Little Free Library launch are:
Eleven Rings: The Soul of Success by Phil Jackson – selected by Connor Brown 
The Rainbow Fish by Marcus Pfister – selected by Nic Dowd, last read to his son
Factfulness: Ten Reasons We're Wrong About the World – and Why Things are Better Than You Think - by Hans Rosling – selected by Lars Eller 
Twelve and a Half: Leveraging the Emotional Ingredients Necessary for Business Success by Gary Vaynerchuk – selected by Carl Hagelin
The Gruffalo by Julia Donaldson – selected by Garnet Hathaway, last read to his son
Beneath a Scarlet Sky by Mark Sullivan – selected by Darcy Kuemper
Wins Losses and Lessons: An Autobiography by Lou Holtz – selected by Charlie Lindgren  
Greenlights by Matthew McConaughey – selected by T.J. Oshie
Chicka Chicka Boom Boom by Bill Martin Jr. and John Archambault – selected by Trevor van Riemsdyk, last read to his niece 
Prisoners of Geography: Ten Maps That Explain Everything About the World by Tim Marshall – selected by Joe Snively
Goodnight Moon by Margaret Wise Brown, selected by Dylan Strome, last read to his daughter
A Marine, a Stray Dog, and Now they Rescued Each Other by Craig Grossi – selected by Tom Wilson
The Capitals Little Free Library was painted by Washington, D.C., based artist Taylor Kampa Olson.
Little Free Library is a nonprofit organization that expands book access for all through a network of volunteer-led Little Free Libraries. There are more than 150,000 registered LFL book-sharing boxes worldwide in all 50 states, 115 countries and seven continents. Through them, over 300 million books have been shared since 2009. 
The Capitals are the first NHL team to launch a Little Free Library. The Little Free Library is an extension of the Caps in School Reading Program, which is designed to encourage students to add more reading to their daily activity. 
More information on LFL can be found here. To learn more about Caps in School, click here.