Virginia Congressman Don McEachin dies after battle with cancer
Congressman Aston Don McEachin, the community leader, lawyer and U.S. Representative for Virginia's fourth district, died Monday according to his staff. He was 61 years old. 
Tara Rountree, McEachin's chief of staff, said the revered congressman died Monday after a long battle with colorectal cancer. 
"We are all devastated at the passing of our boss and friend, Congressman Donald McEachin. Valiantly, for years now, we have watched him fight and triumph over the secondary effects of his colorectal cancer from 2013," Rountree said in a statement. "Tonight, he lost that battle, and the people of Virginia's Fourth Congressional District lost a hero who always, always fought for them and put them first."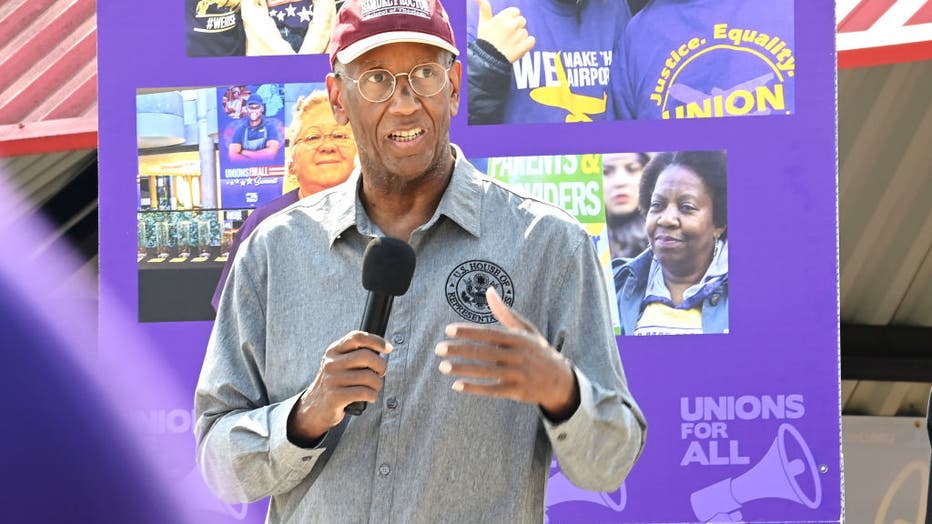 RICHMOND, VIRGINIA - SEPTEMBER 17: U.S. Representative Donald McEachin joins Virginia SEIU members and workers from across industries demand good union jobs, investments in care for working families, and a democracy that works for all at a roundtable
Rountree said McEachin's office will remain open and continue to serve constituents until a new representative is elected. 
The Democratic congressman leaves behind his wife, Colette McEachin, and their three children. The family is asking for privacy at 
this time. Arrangements are expected to be announced over the next few days.
President Joe Biden and Vice President Kamala Harris issued statements Tuesday celebrating Rep. McEachin's legacy. 
"I got to know Don after he was elected to Congress in 2016," Biden said in the statement. "I will always be grateful for his friendship, and his early and fierce support when I ran for President. Don was a fighter. He fought for justice, for civil rights, and for communities that are often left behind. Thanks to Don's leadership and tireless advocacy, we passed historic legislation to combat the climate crisis and advance environmental justice."
"Congressman Donald McEachin was a relentless advocate for his community, a dedicated colleague, and loving husband, father, and grandfather," Vice President Harris said in the statement. "In Virginia's General Assembly and the United States Congress, he was tireless in the fight for justice. We were elected to Congress and joined the Congressional Black Caucus the same year, and worked together to advance critical issues on behalf of the American people. I was particularly honored to partner with him on legislation to advance environmental justice and secure a cleaner, healthier, and more fair future for all. I will miss his friendship and his advocacy and passion for improving our world for generations to come."
The White House also 
Governor Glenn Youngkin paid tribute as well. 
"A valiant fighter until the end, he admirably served Virginia and worked tirelessly to improve the lives of his constituents and Americans," Youngkin tweeted. The governor also ordered all flags in Virginia be flown at half-staff on all state and local buildings and grounds in memory and respect of the congressman. 
Rep. Nancy Pelosi issued the following statement: 
"It is with great sadness that I join Virginians tonight in mourning the loss of Congressman Donald McEachin: a tireless champion for Virginia families and a force for economic opportunity and environmental justice," she stated.