Georgia election interference special grand jury report released
ATLANTA - The full report compiled by a special grand jury investigating former President Donald Trump and 18 of his allies reveals the jury recommended dozens of people including former Georgia Sens. David Perdue and Kelly Loeffler and current South Carolina Sen. Lindsay Graham be indicted for alleged illegal interference in the 2020 presidential election.
In the seven months that it was convened, the special grand jury heard from some 75 witnesses before completing a report in December with recommendations for Willis on charges related to attempts to overturn the 2020 presidential election in Georgia. District Attorney Fani Willis had said she needed the panel's subpoena power to compel the testimony of witnesses who might otherwise not have been willing to appear.
Many of those indicted — including former New York mayor and Trump attorney Rudy Giuliani and Trump White House chief of staff Mark Meadows — are known to have testified before the special grand jury. Trump himself was never called and did not appear before the panel.
JUDGE DECLINES MARK MEADOWS' REQUEST TO MOVE HIS GEORGIA ELECTION CASE TO FEDERAL COURT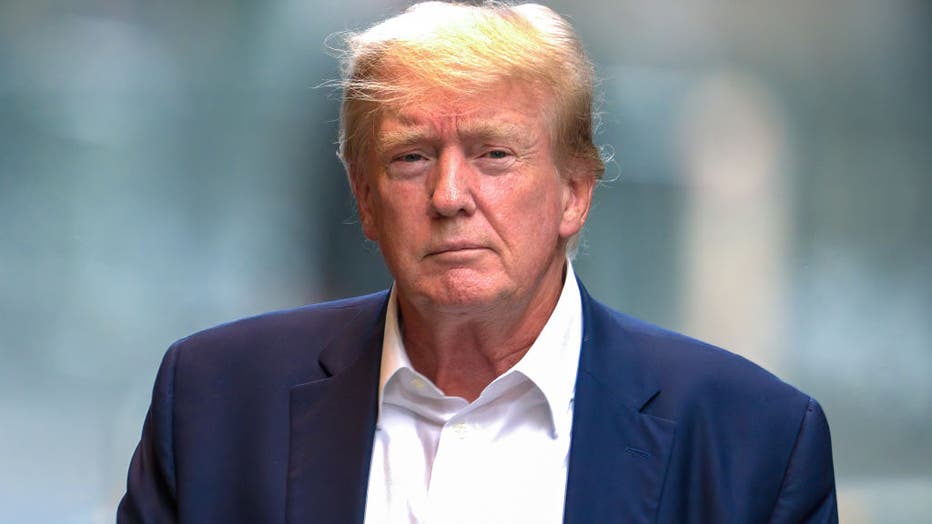 Former U.S. President Donald Trump arrives at Trump Tower on September 4, 2023 in New York City. (Photo by James Devaney/GC Images)
While most of the intrigue in the inner workings of the case has diminished with the filing of charges, the special grand jury report still gives a look at how closely the indictment tracks with the panel's recommendations on who should be indicted.
GEORGIA ELECTION PROBE TIMELINE: FROM NOVEMBER 2020 TO NOW
Grand jury recommends high-profile indictments
While Willis ended up indicting 19 people as part of her case, the newly-released report reveals the grand jury recommended over 30 people be indicted - many of whom are high-profile politicians.
While no votes were unanimous, the grand jury recommended a total of 39 people be indicted for violating Georgia's RICO law. Those included in the report but not in the eventual indictment include South Carolina Sen. Lindsay Graham, former Georgia U.S. Senators Kelly Loeffler and David Perdue, former national security adviser Michael Flynn, and attorney Lin Wood.
TRUMP TRIAL: MAJOR PROCEEDINGS IN GEORGIA ELECTION INTERFERENCE CASE WILL BE LIVE STREAMED, JUDGE SAYS
Also included in the list of suggested indictments were Trump strategic advisor Boris Epshteyn, former Georgia state Sen. William Ligon, current Georgia Soil and Water Conversation Commission Vice Chairwoman Vikki Consiglio, former Georgia Republican Party treasurer Joseph Brannan, and Georgia attorneys Kurt Hilbert and Alex Kaufman.
Sixteen out of 18 members of the grand jury recommended indicting former Sen. David Perdue for "false statements and writings, concealment of facts, and fraudulent documents."
The jury also recommended Lt. Gov. Burt Jones be one of 20 people indicted who tried to meet secretly at the Georgia Capitol on Dec. 14, 2020. Three of those electors, Shawn Still, Cathy Latham, and David Shafer, were part of the Fulton County indictment, accused of forgery, false statements and impersonating a public officer among other crimes. The FOX 5 I-Team had previously identified Jones as "Unindicted Co-Conspirator Individual Number 8" in Willis' indictment.
Because of a conflict of interest, a judge ordered Willis not to include Jones in any possible prosecution.
In a statement, Jones said the grand jury's report "demonstrates that this political circus has been done in pursuit of Fani Willis' personal gain."
"Fani is obviously focused on what's best for her political career, I'm focused on what's best for Georgia," he said.
Of the 19 people ultimately indicted, only one was not included in the special grand jury's recommendations. A former White House aide who served as the director of Trump's election day operations, Michael Roman, was involved in efforts to put forth a set of fake electors after the 2020 election.
The release of the identities of people recommended for indictment is a departure from ordinary grand jury protocol, which dictates that prosecutors do not disclose the names of individuals investigated but not charged so as to prevent potentially innocent subjects from being unduly maligned.
You can read the full report by the special grand jury below:
Previous sections of Fulton County grand jury report released
Fulton County Superior Court Judge Robert McBurney had ordered the partial release of the report in February but declined to immediately release the panel's recommendations on who should or should not be prosecuted. The judge said at the time that he wanted to protect people's due process rights.
In that partial release, which included its introduction and conclusion, the grand jurors expressed concerns that one or more witnesses may have lied under oath and urged prosecutors to seek charges for perjury. The panel's foreperson had said in news interviews that the special grand jurors had recommended that numerous people be indicted.
OTHER STORIES
The grand jury also unanimously concluded there was no widespread voter fraud in Georgia in 2020 that could have overturned the election.
The special grand jury's report is based on the testimony of the witnesses prosecutors called and the evidence they presented over the second half of last year. In their report, the grand jurors made clear that the panel "contained no election law experts or criminal lawyers."
"The majority of this Grand Jury used their collective best efforts, however, to attend every session, listen to every witness, and attempt to understand the facts as presented and the laws as explained," the report continues.
McBurney said in a new order filed in late August that the due process concerns were moot since a regular grand jury has indicted Trump and 18 other people under the state's anti-racketeering law. All have pleaded not guilty.
Legal experts weigh in on release of Fulton County grand jury report 
"[The special purpose grand jury] recommended more people than she is prosecuting, which also tells you, I think, that she's exercising professional discretion," said Clark D. Cunningham, Professor of Law at Georgia State University. 
He explains one possible reason why Fulton County DA Fani Willis didn't indict three of the most high-profile people recommended by the Special Purpose Grand Jury: Senator Lindsay Graham, and Former Senators David Perdue and Kelly Loeffler. 
"The vote margin was much narrower on those three names. It was quite narrow for Lindsey Graham, a bare majority that would suggest to the District Attorney, perhaps if a third or more of the special grand jurors didn't even see probable cause, persuading the jury beyond a reasonable doubt to return a unanimous verdict might be a challenge," Cunningham explained. 
You can see what he's talking about in the report. 
For at least two of the charges against Former President Donald Trump (O.C.G.A 16-10-93/20) 21 special jurors voted 'yes' and only one voted 'no.'
Now compare that to the charge against Sen. Graham, where 13 voted 'yes' and 7 voted 'no.' 
Fellow GSU Professor of Law Eric Segall says there's another good reason DA Willis may not have chosen to indict those three high-profile politicians. 
"The senators would have had extremely hard to navigate immunity claims because members of congress have immunity under the Speech and Debate clause for pretty much anything they do while they're a congressperson," Segall explained. 
The Associated Press contributed to this report.