Trump rips Boeing for cost overruns on new Air Force One, says 'cancel order'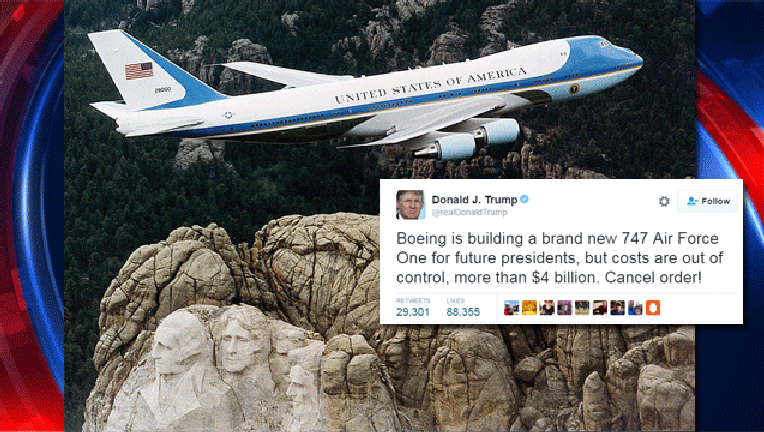 article
President-elect Donald Trump blasted Boeing on Tuesday for alleged cost overruns on a new fleet of Air Force One planes and called for the government to cancel the contract, saying the project price tag is "out of control."
The president-elect took aim at Boeing's Air Force One work in a Tuesday morning tweet, and reiterated his concerns to reporters minutes later at Trump Tower.
The government has contracted with Boeing to build two or more new 747 planes, which would replace the current aging Reagan-era aircraft and go into service around 2024. That means Trump wouldn't fly on the new planes, which carry U.S. presidents around the globe, unless he pursued and won a second term. But the Air Force has pressed for a faster schedule, saying the current planes are becoming too expensive to repair and keep in good flying shape.
The contract for the planes was projected at about $3 billion, but costs have been reported to be rising. The Air Force had previously earmarked $1.65 billion for two new jets, but hadn't detailed costs beyond that. Boeing was the sole builder to bid on the planes, The Wall Street Journal reported.
"The plane is totally out of control," Trump told reporters later Tuesday inside Trump Tower. "It's going to be over $4 billion for Air Force One program and I think it's ridiculous. I think Boeing is doing a little bit of a number. We want Boeing to make a lot of money, but not that much money."
Read more on FOX NEWS.