Tom Brady says he and Bill Belichick have great relationship: 'very fortunate' to play for him
From the outside looking in, the relationship between Tom Brady and Bill Belichick looks like it turned sour in recent years.
However, the legendary quarterback insists that's not the case.
In a recent interview, Brady said he and his longtime head coach have a great relationship.
The duo spent 20 seasons together with the New England Patriots in what not only became the greatest dynasty of all-time, but it built both of their resumes as perhaps the greatest quarterback and coach, respectively, in the history of football.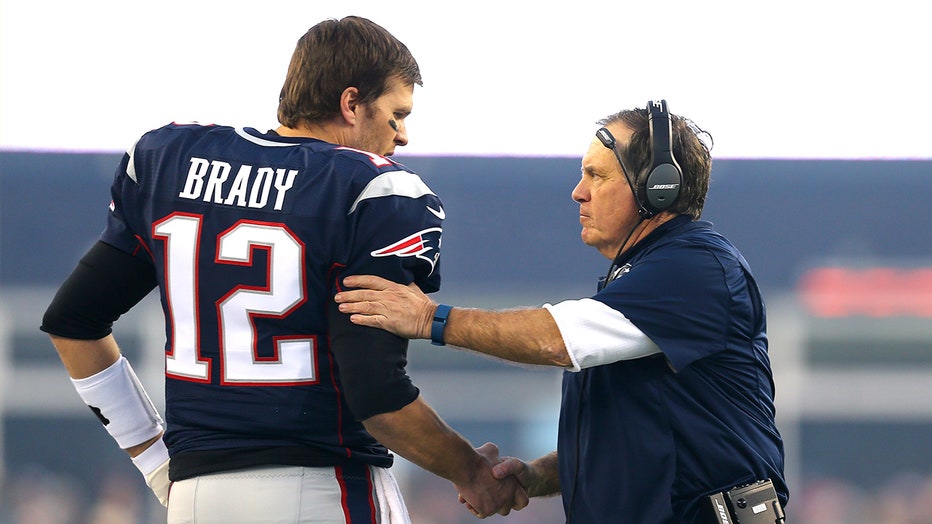 om Brady #12 and head coach Bill Belichick of the New England Patriots shake hands at the start of the AFC Divisional Playoff Game against the Kansas City Chiefs at Gillette Stadium on January 16, 2016 in Foxboro, Massachusetts. (Photo by Maddie Meye
The two won six Super Bowls together, but Brady has a seventh with the Tampa Bay Buccaneers.
Brady revealed that Belichick "was one of the first people to text me after we won the Super Bowl in Tampa."
After 20 years and six Super Bowl victories together, it's impossible to not be tied together forever. But their on-field success was a matter of trust, Brady says.
"He very much trusted what I was out there doing in the field, and it went both ways," Brady said in an interview to ESPN. "Ultimately our success was because so many people in the organization, as coach Belichick always said, 'Do your job,' and I did as quarterback and leader."
RELATED: Tom Brady buying part of Las Vegas Raiders
Brady added that he "learned so much" from Belichick and is "very fortunate" to have played for him.
Brady will be honored in a ceremony at his former home, Gillette Stadium, when the Patriots open up the 2023 season against the defending NFC champion Philadelphia Eagles on Sept. 10.