Taylor Swift security guard speaks out after getting fired following Minneapolis concert
MINNEAPOLIS (FOX 9) - What started as a love story has turned into a cruel summer for Calvin Denker. 
For two years, he worked as a part-time security guard with Best Crowd Management, patrolling everything from sporting events to weddings and of course, concerts. 
As a massive Taylor Swift fan, he jumped at the opportunity to work at both nights of her shows at U.S. Bank Stadium in late June. 
"It wasn't even in our schedule yet, but they said, 'Hey, be aware of this because this is going to be an all-hands-on deck situation,'" said Denker. 
Walking into the stadium, Denker had no idea he would be assigned to guard the front row, even undergoing an additional background check from Swift's security team. 
He wanted to remember the experience but couldn't take any photos himself or turn around at any point. 
"I knew how close she was getting to me, and I needed something to document it. I needed a memory from that night," said Denker. 
So, he got creative not to break the rules, passing out laminated notes to some nearby concert-goers. 
"It says,'Hi I'm not allowed to use my phone at any point tonight. Can you please take a photo of me with Taylor Swift behind me and text it to my phone number?'" said Denker. 
His fellow Swifties delivered with incredible pictures and videos.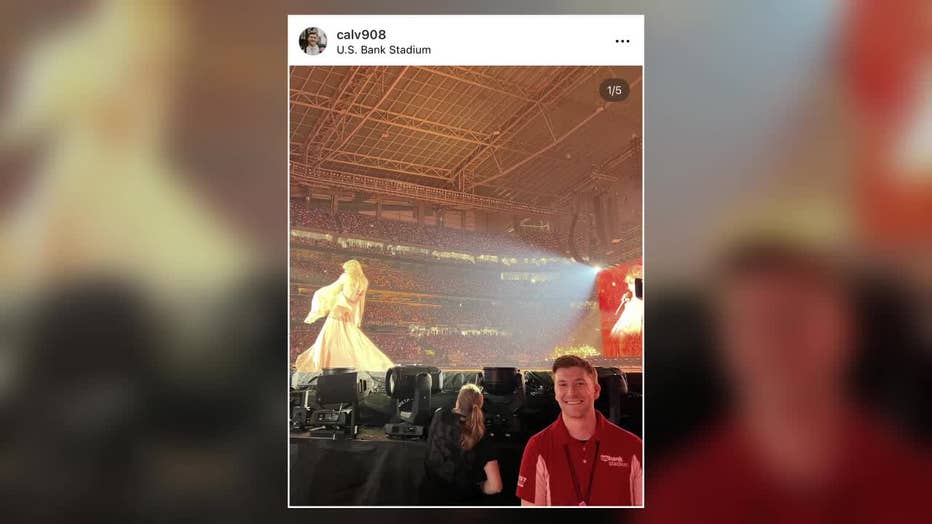 Taylor swift security guard fired
But after a video of Denker singing along to "Cruel Summer" went viral on social media, he got a call from the security company's Human Resources department. He says he got a talking to but wasn't officially fired. 
A month and a half later, he was assigned to work at the Ed Sheeran concert and was seven hours into his shift there when he got pulled off the floor and was talked to again by Human Resources.
"I handed in my polo and was escorted out of the stadium," said Denker. 
FOX 9 reached out to Best Crowd Management. The company sent the following statement: 
The individual in question is no longer employed by BEST Crowd Management. We have clear company policies to which our staff are expected to adhere. These policies and codes of conduct are in place to ensure smooth, undisturbed operations for our clients and deliver secure, large-scale event experiences for attendees.
Denker does have a full-time job, so the loss of this gig hasn't been financially devastating, but it has been very disappointing. 
"I wouldn't do it again if I was given the opportunity, but I do have no regrets about what I did that night," said Denker.