Search underway for owner of 2 dogs who attacked man and his dog in Frederick
FREDERICK, Md. (FOX 5 DC) - Frederick County health officials are searching for the owners of two dogs who attacked a smaller dog and its owner at a dog park. The incident happened on Tuesday at the Ballenger Creek dog park in Frederick.
Signs put up at the park say the health department is looking for a man in his 70's who was with a black lab/pitbull mix and a couple, a man in his 80's and a woman in her 60's who were with a reddish-brown Australian Shepherd mix. They aren't facing charges but could have life-saving information.
Mike Pagliaro tells FOX 5 he never expected his little 4-year-old Bichon Frise Daisy to be brutally attacked and almost killed after a fun day at the dog park.
"Everyone was having a great time, it was a beautiful day, the tails were wagging and the dogs were chasing each other around and around," he says.
This was Tuesday afternoon when he, Daisy and the Goldendoodle named Gump were about to leave the dog park after an hour of romping, when all of a sudden two large dogs went in for the attack on Daisy, causing a commotion.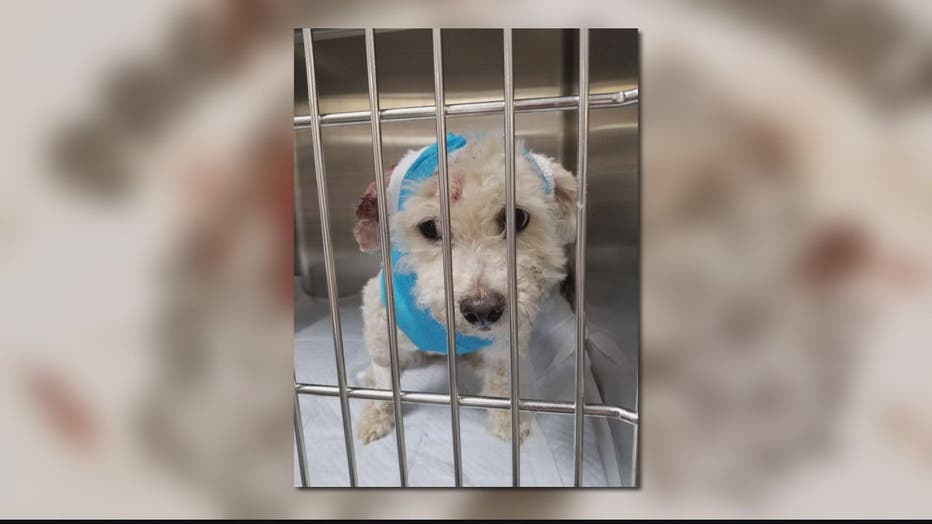 "One had the front of her and one had the back of her. So I just dropped everything, got to my knees and started pulling the dogs off. They had very powerful heads, I tried to get them loose, the fur was flying and it's as quite a thing. I think if I had hesitated at all, even five seconds, the dog would be dead now," says Mike.
Pictures after the attack show a bloody scene with more than 20 puncture wounds on Daisy's body, including her neck and head.
Even worse, when Mike tried to break things up, he was bitten three times in his arm, which puts him at risk of contracting rabies if either of the dogs have been exposed.
According to Barry Glotfelty of the Frederick County Department of Health, "We are concerned because of rabies. If you contract rabies and begin to show symptoms of rabies, you are likely not going to survive the disease. We are not in any way trying to confiscate the dogs or take testing, we are just trying to make sure the dogs are healthy after 10 days so someone could avoid post-exposure rabies treatment."
Even if no one comes forward, Mike will have to undergo that treatment anyway, out of an abundance of caution and that involves at least four vaccines given over a two-week period where he will be closely monitored for any symptoms.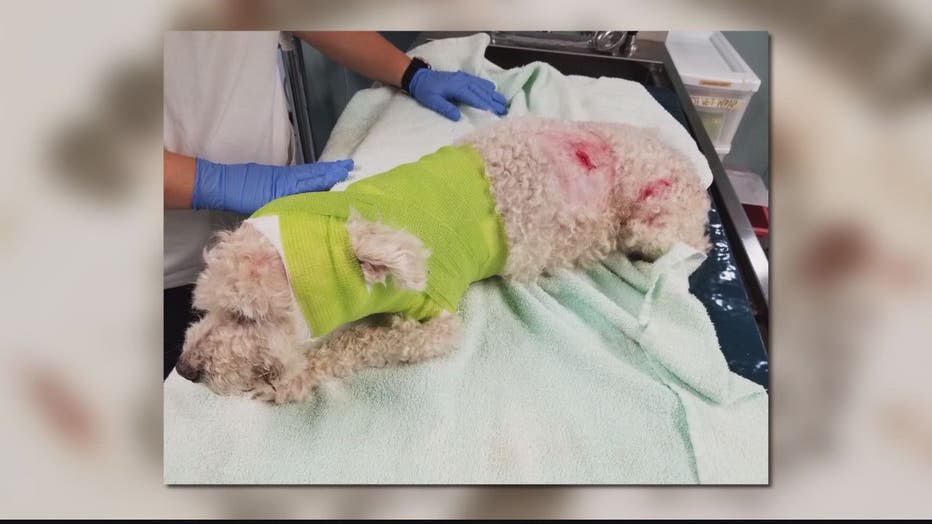 "Everyone who gets rabies dies if they don't get the vaccine so I'm fine getting the vaccines because it's such a high prices to pay but I would prefer not to. If whoever owns these dogs would just let us know what the immunization records are, they could spare me that inconvenience," says Mike.
As of now, Daisy is expected to survive her injuries and she has already had the rabies vaccine, but if no one comes forward by Thursday, her owner will have to begin that inconvienent, pricey and sometimes painful treatment.
Anyone with information is urged to contact the Frederick County Health Department.