Search underway for car used in string of crimes across DC: police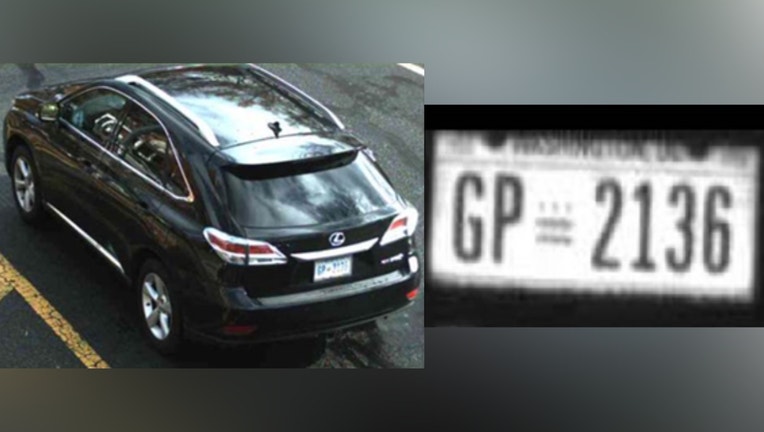 article
WASHINGTON - Police are searching for a car that is believed to have been used in a series of crimes across D.C. after being stolen in Woodley Park.
The Metropolitan Police Department said the car was stolen on Friday around 10:00 a.m. in the 2700 block of Calvert Street, Northwest. Investigators said multiple suspects took the car after they found it left running unattended.
According to police, the car, described as a black Lexus RX, was then used in connection with four crimes that happened withing two hours on Tuesday morning.
The first happened around 5:59 a.m. in the Unit block of 4th Street, Northeast. Police said the suspects were driving in the area when they noticed the victim walking in the area. The suspects then got out of car stole the victim's property and money, and field the scene in the Lexus.
About seven minutes later, the suspects approached a victim sitting outside in the 100 block of N Street, Southeast, pulled out a gun, and started assaulting the victim while demanding property. The victim told police the black Lexus SUV pulled up near him, three people got out and demanded his wallet and his cellphone. When he refused, he told police they pushed him to the ground and began to fight him.
Investigators say several of the man's co-workers saw the fight and came to his aid, with one of the workers telling police he threw a safety helmet at the attackers causing them to run back to their vehicle. The victim was taken to an area hospital with non-life-threatening injuries.
The police report says the attackers wore black jackets with the 'CIA' logo on the right sleeves. They also wore black ski masks and black pants.
Then around 7:14 a.m., police claim that the suspect tried to rob a victim who was walking at the corner of K and 3rd Streets in Northwest. Police said the suspect got out the car, pointed a gun at the victim, and demanded their property. Police said the suspects then fled the scene without obtaining any property.
READ MORE: Suspects wearing 'CIA' jackets assault man during robbery attempt near Nationals Park: police
The final incident happened not long after that in the 100 block of Division Avenue, Northeast. Police said the suspects again, pulled out a gun on a victim while demanding property. The suspects then fled the scene, but police did not indicate if they stole anything from the victim.
Police said the Lexus was last seen with DC tag of GP 2136.
Anyone with information on the suspects or the vehicle involved is asked to call MPD at 202-727-9099 or send a text message tip to 50411. A reward of up to $10,000 is being offered for information that leads to arrests and convictions in the case.