Sean and Leigh Anne Tuohy seek to end conservatorship for Michael Oher, lawyer says
MEMPHIS, Tenn. (AP) - A prominent Memphis couple with a longstanding relationship to former NFL player Michael Oher want to end a conservatorship that he's challenging in court, their lawyers said.
Sean and Leigh Anne Tuohy intend to enter into a consent order to end the conservatorship, lawyer Randall Fishman told reporters on Wednesday.
Oher filed a petition Monday in a Tennessee probate court accusing the Tuohys of lying to him by having him sign papers making them his conservators rather than his adoptive parents nearly two decades ago.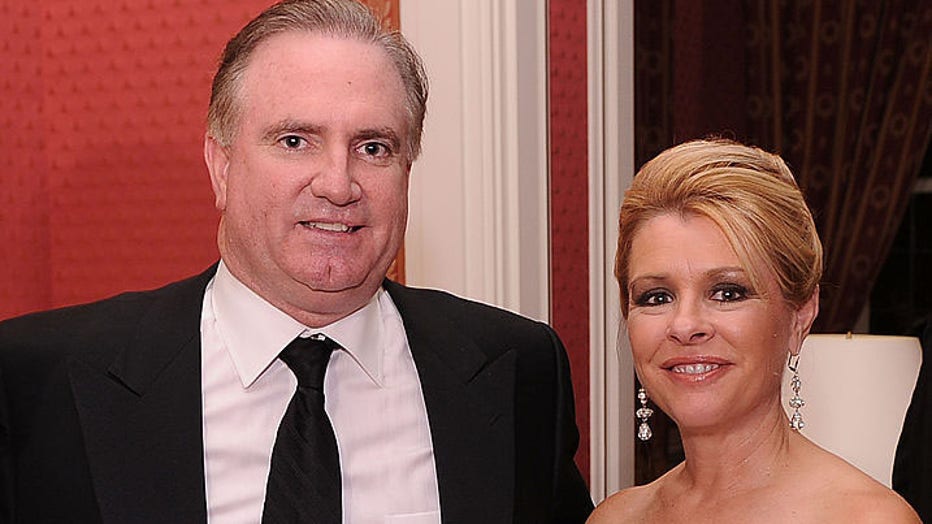 WASHINGTON - MAY 01: Sean Tuohy and Leigh Anne Tuohy attend the Bloomberg/Vanity Fair party following the 2010 White House Correspondents' Association Dinner at the residence of the Frenc, h Ambassador on May 1, 2010 in Washington, DC. (Photo by Dimi
Oher, now 37, wants a full accounting of assets considering his life story produced millions of dollars, though he says he received nothing from the Oscar-nominated movie "The Blind Side." He accuses the Tuohys of falsely representing themselves as his adoptive parents, saying that he discovered in February 2023 that the conservatorship was not the arrangement he thought it was — and that it provided him no familial relationship to the Tuohys.
RELATED: Conservatorship: What you should know about the controversial legal arrangement
But the Tuohys' attorneys said Oher knew very well that he had not been adopted. Fishman said Oher mentioned the Tuohys being conservators for him three times in "I Beat The Odds: From Homeless, To The Blind Side," Oher's first book in 2011.
The couple's attorneys also said that the Tuohys and Oher have been estranged for about a decade. Steve Farese said Oher has become "more and more vocal and more and more threatening" over the past decade or so, and this is "devastating for the family."
The Tuohys have called the allegations a ridiculous shakedown attempt, and "a court of law is no place to play," Fishman said. In a statement released by their lawyers Tuesday, the Tuohys said Oher had threatened before the court filing to plant a negative news story about them unless they paid him $15 million.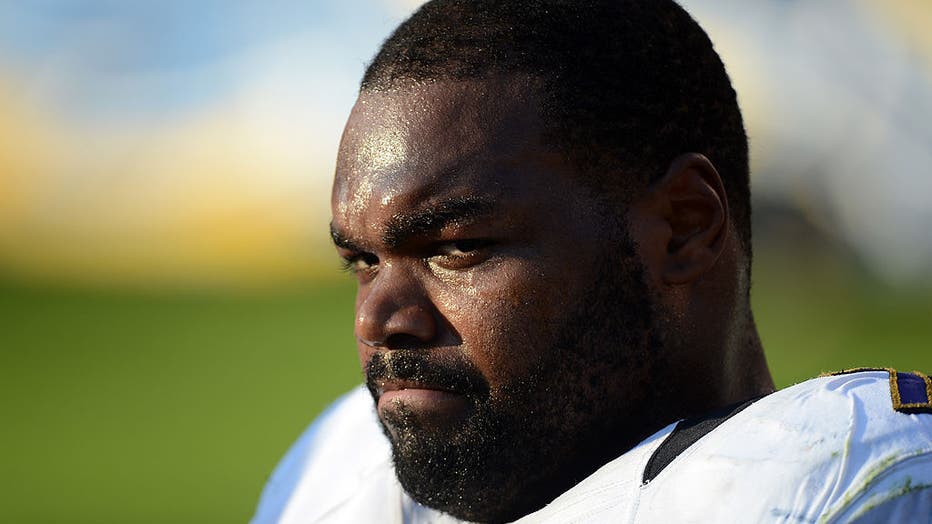 A portrait of Michael Oher #74 of the Baltimore Ravens during the game against the San Diego Chargers at Qualcomm Stadium on November 25, 2012 in San Diego, California. (Photo by Harry How/Getty Images)
Oher's lawyers did not immediately return messages seeking comment.
The conservatorship paperwork was filed months after Oher turned 18 in May 2004. Oher accuses the Tuohys of never taking legal action to assume custody from the Tennessee Department of Human Services before he turned 18, though he was told to call them "Mom" and "Dad."
RELATED: Michael Oher, profiled in 'The Blind Side,' says inspirational movie was based on lie
Oher alleges the Tuohys had him sign paperwork almost immediately after he moved in as part of the adoption process. Oher says he was "falsely advised" that it would be called a conservatorship because he was already 18, but that adoption was the intent.
The couple didn't simply adopt Oher, Fishman said, because the conservatorship was the fastest way to satisfy the NCAA's concerns that the Tuohys weren't simply steering a talented athlete to Mississippi, their alma mater where Oher later attended.
Oher, who has never been a fan of the movie about his life, asks that the Tuohys be sanctioned and required by the probate court to pay damages. He asks to be paid what he is due, along with interest.
Agents negotiated a small advance for the Tuohys from the production company for "The Blind Side," based on a book written by Sean Tuohy's friend Michael Lewis, the couple said. That included "a tiny percentage of net profits" divided equally among a group that included Oher, they said in their statement.
The attorneys said they estimated each of the Tuohys and Oher received $100,000 apiece, and the couple paid taxes on Oher's portion for him. "Michael got every dime, every dime he had coming," Fishman said.
SHARED: Michael Oher's adoption revelation faces pushback from Tuohy family members
"They don't need his money," Farese said. "They've never needed his money. Mr. Tuohy sold his company for $220 million."
Martin Singer, an attorney for the Tuohys, said that profit participation checks and studio accounting statements support their assertions. The movie won Sandra Bullock an Oscar for her portrayal of Leigh Anne Tuohy.
When Oher refused to cash the checks, the statement said, the Tuohys deposited Oher's share into a trust account.
The Tuohys said that they set up the conservatorship to help Oher with health insurance, a driver's license and being admitted to college.
Oher was the 23rd overall pick in the 2009 draft out of Mississippi, and he spent his first five seasons with the Baltimore Ravens where he won a Super Bowl. He played 110 games over eight NFL seasons, including 2014 when he started 11 games for the Tennessee Titans. Oher finished his career with two years in Carolina.
He last played in 2016 and was released in 2017 by Carolina. He is on a book tour for "When Your Back's Against the Wall: Fame, Football, and Lessons Learned Through a Lifetime of Adversity."