Report: Reagan National Airport set passenger record in 2022
ARLINGTON, Va. - In 2022, a lot of people in D.C., Maryland, and Virginia just could not wait to get away.
"I've probably traveled 15, 20 times in the last six months," said Shayne Sullivan, fresh off a flight.
The Metropolitan Washington Airports Authority released new numbers Wednesday, showing that Reagan National Airport set a passenger record for 2022, edging above 2019, which was before the pandemic. 
Over at Dulles International Airport, they didn't quite hit 2019 levels, but the airport did have more passengers than officials expected.
"This is a trend that we've seen nationwide," explained travel expert Troy Petenbrink, who added he's not surprised. "These numbers are a good indication that travelers said they wanted to hit the road, and they certainly are."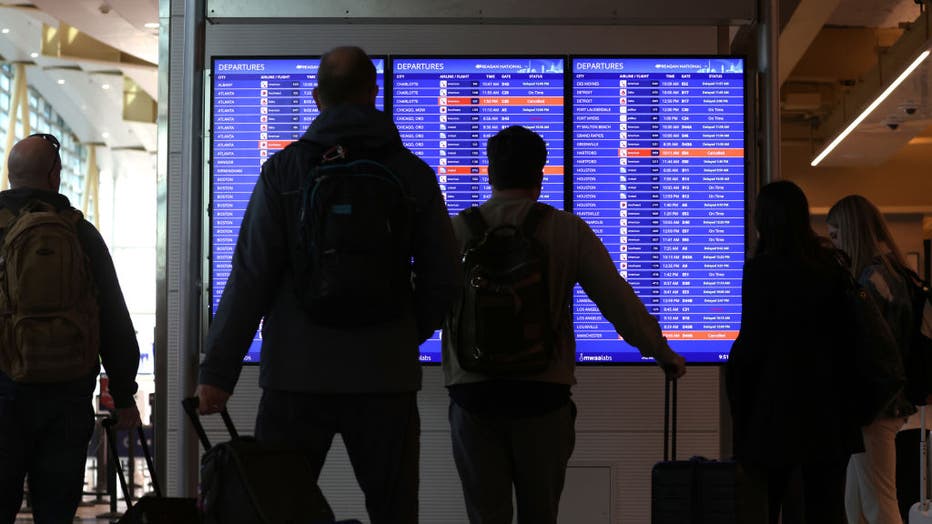 ARLINGTON, VIRGINIA - JANUARY 11: Travelers looks at a flight information board at Ronald Reagan Washington National Airport on January 11, 2023 in Arlington, Virginia. The FAA said it is gradually resuming flights around the country after an outage
Petenbrink said he expects even stronger numbers for 2023, pointing to a recent Forbes article that found 49 percent of Americans plan to travel more, despite "continuing inflation, mass layoffs, and a potential recession."
Frequent flyers who spoke with FOX 5 Wednesday night at Reagan said the numbers sound about right to them.
READ MORE: Frontier Airlines launches 'all you can fly' summer pass for $399
"Compared to 2020 during the pandemic, things are much busier," said Josh Griffin, who flies about three times per week for work.
"A month ago, I was in Las Vegas for a meeting, now we're here, next month we go to Florida, and then we go to Aruba for an incentive trip in April," added Rhonda Ostwald.