Prince William County police officer rescues father, son while on vacation
WASHINGTON (FOX 5 DC) - It's no surprise that police officers have a dangerous job. But it may surprise you to learn that sometimes their vacations can be high-risk, too. 
Just ask Joe Allen, a Marine Corps veteran, a Prince William County police officer, and now, according to a grateful father and son who nearly drowned at a Florida beach Tuesday – a hero.
Allen was at St. Augustine Beach on vacation with his wife, Lauren, when he heard screams coming from the ocean.
"I could hear people yelling, and as I got closer, I could hear it sounded like they were calling for help," he said Thursday.
It was 14-year-old Ethan Martin and his dad, Andrew, in the water and struggling to survive.
"It was absolutely terrifying being out there," Ethan told Action News Jax. "I was so scared I couldn't cry because I thought that was going to be the end for me out there."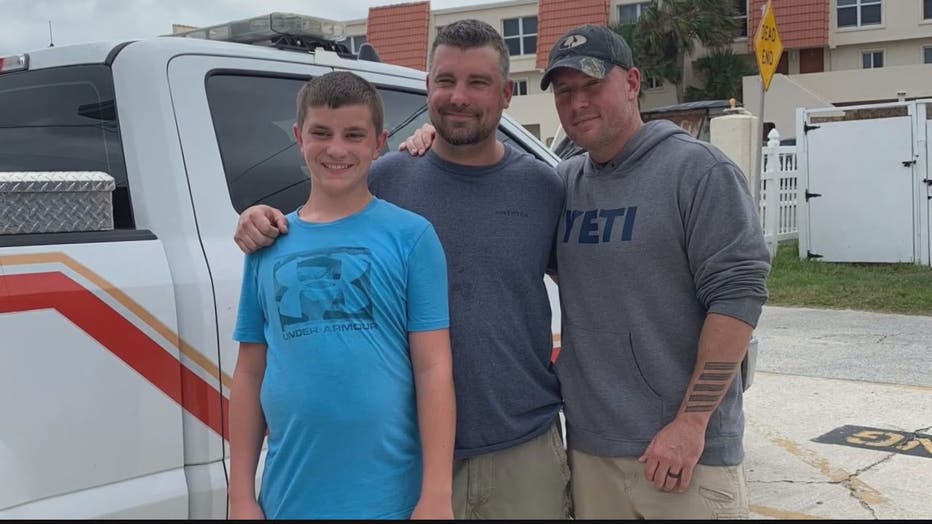 It might've been if not for Allen, who found a boogie board, fought the brutal surf, grabbed both father and son, and hung on with all three of their lives at risk.
"This current was pulling us further out. Waves were knocking us off the boogie board," Allen explained. "I was very scared."
But then, Allen said, a group of local first responders saved them all with a lightning-quick response.
"More than being scared, I was sad because my wife was out there with me, and she's not just my wife, she's my person and I'm her person, and when I was going out there like I was just sad that, you know, she might lose her person," Allen said.
Now though, with everything having gone as well as it possibly could have, the Allen's can finish their vacation – hopefully – in peace.
"In my mind, there were only two options: either all three of us were drowning or none of us were drowning," Allen said. "Those were the only options for me."