Prince George's cop pulls man from burning car in shocking cellphone video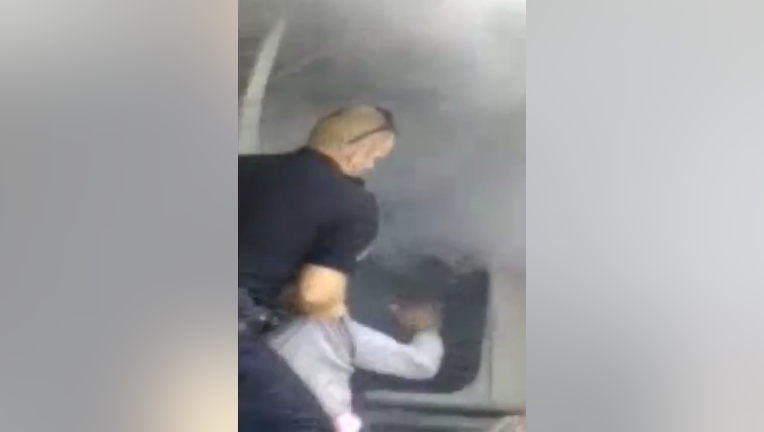 PALMER PARK, Md. - A quick thinking Prince George's County police officer saved a man's life after he crashed a U-Haul moving van into a building.
Download the FOX 5 DC News App for Local Breaking News and Weather
The fiery collision happened late Saturday afternoon at the Victory House Shopping Center in Hyattsville.
Cellphone video of the dramatic rescue shot by Hyattsville resident, Derrick Hall was exclusively shared with FOX 5.
Hall said, he didn't see the actual crash happen but was on the scene minutes after the van collided head on into a building, specifically into a section that houses the Boys and Girls Club.
Minutes later, flames could be seen around the van.
In the video, Hall is heard frantically yelling to the police officer that "somebody is in there."
The smoke from the fire extinguisher was so thick, Hall said, it's a miracle that the lone, yet quick thinking man in uniform managed to pull the driver out and drag him away from the fiery scene.
"He went and got him out that truck and that was a blessing," Hall said.
In an email statement, a spokesperson for the police department said that right before the officer was able to grab a hold of the driver, he noticed the man still had his foot on the gas pedal.
It wasn't immediately clear exactly how and why the person behind the wheel drove into the building but Hall said that he would have tried to rescue the driver himself if it wasn't for the officer whom he calls a hero.
"Oh yeah I was thinking about jumping into that truck and getting him out but it was too much smoke," Hall explained.
"The police officer, I don't know his name but hey that dude right there he got more heart than I do."
The department said there were no injuries during or after the incident.
A building inspector responded before the van was towed from the scene.
Watch the dramatic rescue below, courtesy of a FOX 5 viewer:
FOX 5 made several attempts to contact the rescuing officer via the department's spokesperson but we were told to wait for an update on Monday.
Another eyewitness video sent to FOX 5 captures more of the scene: