Parents push for Congress to address Snapchat drug dealers
WASHINGTON - Parents testified this week at a House hearing on Capitol Hill where they called on both Congress and tech companies to do more to fight the opioid crisis in this country.
With the rise of overdoses involving children, lawsuits are now being filed against social media companies, such as Snapchat, for putting children in danger.
Parents of some of these teens are putting increased pressure on lawmakers and these social media platforms to put better measures in place to stop online drug dealers from gaining access to kids. 
Amy Neville is just one of the thousands of parents across the country living life after a loved one died from an overdose.
"It always starts with how did I get here? I don't belong. I don't belong in these spaces," she said. "A lot of times, life just doesn't feel real. Like I'm living somebody else's life."
Neville testified on Capitol Hill this week to a House panel investigating big tech and the Fentanyl poisoning crisis.
Her 14-year-old son Alex died after taking Oxycodone laced with Fentanyl, a pill he got from a drug dealer on Snapchat.
"That night, sometime after nine o'clock, he took the pill that took his life," Neville said. "His time of death was 9:59 on June 23, 2020, and the treatment facility literally called me back four minutes later – 10:03 that call came through."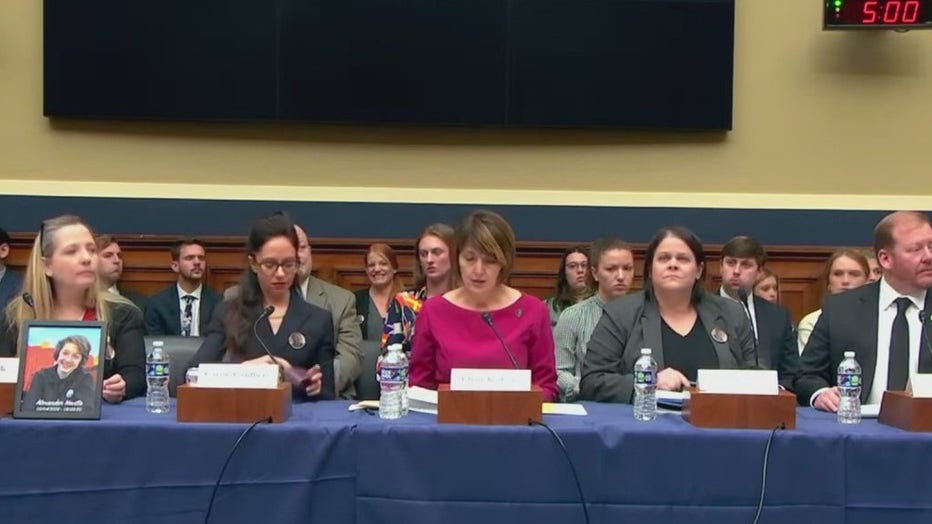 She and other moms, like Deena Loudon of Maryland, are calling for changes to federal laws to hold social media platforms accountable for the role they play in Fentanyl deaths.
"Sometimes, I feel like I'm fighting a losing battle because what we're up against and where these drugs are flooding in from, they're way bigger than we are," Loudon said.
Loudon found her son Matthew and his friend in the basement of her home in Olney, both taking what they thought was Xanax.
That pill was laced with Fentanyl.
"They think they went on the dark web and bought it," Loudon said. "According to his Snapchat story, it looks like they left and bought something local, and it was Fentanyl."
Snapchat's app, popular for its disappearing messages, is a haven for drug dealers, according to the Social Media Victims Law Center.
RELATED: Youth overdose deaths increased by 120% in Montgomery County
The group represents dozens of families affected by the deadly counterfeit drug crisis who are now suing the company in charge of Snapchat for its role in the drug trade.
"This is not a social media problem. This is a Snapchat problem," said Matthew Bergman, founding attorney of the Social Media Victims Law Center. "They say that they can't control what's going on their platforms, even though they know what they do. They say that they disapprove of drug dealing as all of us do. But what they're not saying is what they can do to change the design of their platform to make it safer."
A recent study found the rate of overdose deaths among U.S. teens nearly doubled in 2020 and rose another 20% in the first half of 2021.
That's a first in recorded history for teen drug death rates to see such an exponential rise.
For these moms, it's now their mission to prevent the next Fentanyl overdose from happening. 
"I take it really personally. It's like, how did we miss this kid? How do we miss them? How are we not getting the message through to them? What do we have to do differently?" Neville said. "I don't know where to start to stop it, but I feel like each time I do something like this or each time I go into the school, even if it's one person … one person then that's a win."
READ MORE: Nearly 107,000 US overdose deaths reported in 2021, CDC's final tally shows
There have been reports the Department of Justice and FBI are now investigating Snapchat's role in these overdose deaths.
The DOJ told FOX5 they can neither confirm nor deny the existence of any investigation and do not have any comment.
Snapchat has not responded to FOX 5. 
Here are a few resources for those struggling with addiction: 
https://www.hhs.gov/opioids/index.html
https://www.cdc.gov/opioids/overdoseprevention/help-resources.html
JAMA Network study on teen overdoses https://jamanetwork.com/journals/jama/fullarticle/2790949
Watch the full House roundtable on big tech and the Fentanyl crisis below: