Obama meets Detroit woman, 110, believed to be nation's oldest veteran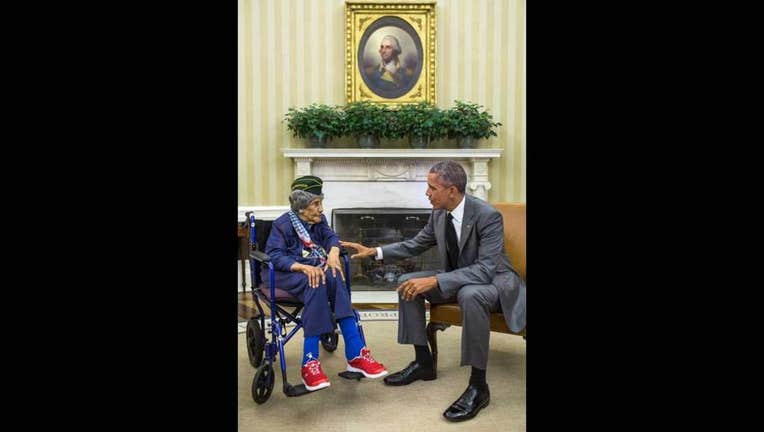 article
By DARLENE SUPERVILLE
Associated Press
WASHINGTON (AP) -- President Barack Obama opened the Oval Office to a 110-year-old Detroit woman believed to be the nation's oldest veteran.
Obama says Emma Didlake's service is a reminder of the sacrifices made by those who fought in World War II or supported those did.
Didlake was a 38-year-old wife and mother of five when she signed up for the Women's Army Auxiliary Corps in 1943.
She held the rank of private and served stateside for about seven months as a driver.
Didlake sat in her wheelchair in the same spot in the Oval Office where foreign leaders sit when they meet with Obama.
As a scrum of reporters and photographers rushed in, Obama told Didlake, "Don't worry about these folks."
Obama tweeted afterward that Didlake is a "true American hero."
Copyright 2015 The Associated Press. All rights reserved. This material may not be published, broadcast, rewritten or redistributed.
President Obama's remarks in visit with Emma Didlake:
"Just very briefly, I want to introduce everybody who have not had a chance to meet her. Ms. Emma Didlake is our oldest living veteran -- 110 years old, born in 1905, and served with distinction and honor, and received all sorts of commendations for her service during World War II.
"We are so grateful that she is here with us today. And it's a great reminder of not only the sacrifices that the Greatest Generation made on our behalf, but also the kind of trailblazing that our women veterans made, African American veterans who helped to integrate our Armed Services. We are very, very proud of them. That's why we got to make sure we do right by them.
"So it's a great honor to have her here."