North Carolina woman speaks out after toxic algae kills 3 dogs in less than a day
WASHINGTON (FOX 5 DC) - Four dogs are dead in two different states and toxic algae is believed to be the culprit.
Blue-green algae, known as Cyanobacteria, occurs across the country, including in the D.C. region, and has been plaguing a Virginia lake since last week.
A North Carolina woman who lost all three of her dogs recently says it's something pet owners need to be aware of.
Melissa Martin and her wife took their three dogs to a pond near their home in Wilmington Thursday, and the animals were dead by the end of the day.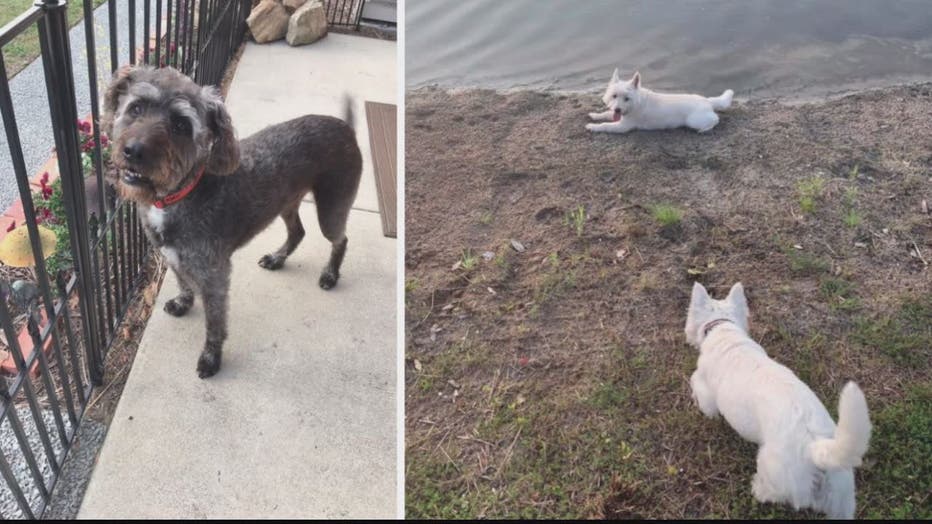 "The pond we were in was crystal clear," Martin said. "I would've walked in it. It did not look harmful by any means, and it didn't have an odor at all."
She said one of her dogs started getting sick 10 minutes after they had returned home. Then, a second dog started having seizures. They rushed all three to the vet where doctors told them blue-green algae was detected in one of the dog's vomit.
"They told us right from the beginning the odds were very small that they would make it," Martin said.
She says she and her wife were gutted and had to make the devastating decision to put their pets down when their suffering became too great.
"They all three passed away around midnight," she said.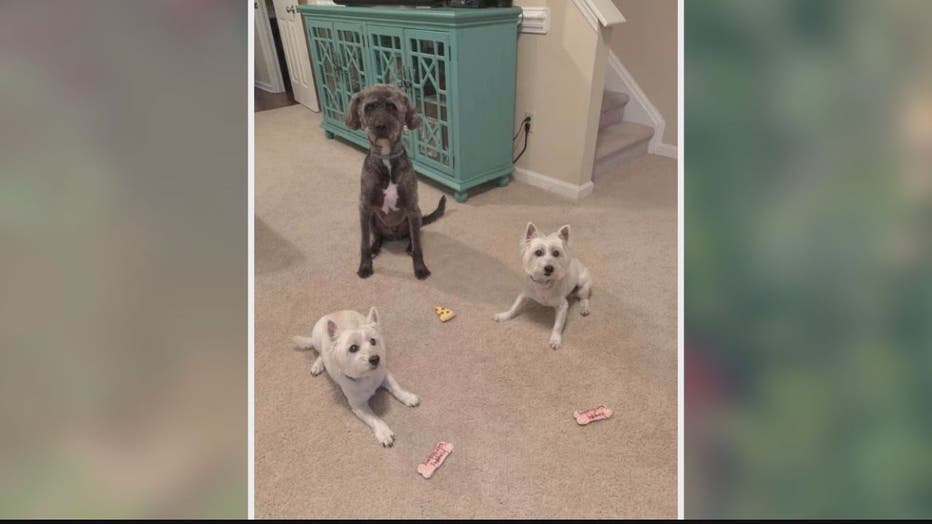 Dangerous algae blooms happen across the country, and the Environmental Protection Agency says climate change is making them occur more often. Algae isn't typically harmful in small quantities, but it's the larger blooms that can be dangerous to both animals and people. What's troubling — like in Martin's case, the algae can be difficult to detect.
According to the Virginia Department of Health, parts of Lake Anna in Orange, Louisa and Spotsylvania counties are currently experiencing a harmful algae bloom, and signs have been posted telling people and pets to stay out of the water.
"There are some pretty devastating cases of death that can occur with blue-green algae," said Dr. Lance Brody, a veterinarian at Pet Dominion in Rockville. "The clinical signs can often be brought on very quickly. It can cause neurologic issues where you might see some staggering, some central nervous system problems, and it can cause death pretty rapidly."
Brody said blue-green algae is rare, but pet owners need to be aware of that and other risks associated with letting pets in and around lakes and ponds.
"I usually recommend staying away from the ponds and lakes as much as possible because of the things that we see," he said. "There can be simple things as common as ear infections that happen, but, you know, those more deadly diseases- it's just not worth the risk."
Just a few days after Martin's dogs died, she saw a post on Facebook by a woman in Georgia who also lost her dog hours after a trip to the lake.
"I was like, 'You have got to be kidding me,'" said Martin. "She and I are talking tomorrow about some things we can do to push this. We're not letting this go."
She said she wants to continue to spread awareness.