More crime, more tourism in the District?
WASHINGTON - Despite the focus on crime in the District, many residents and tourists say they feel safe.
D.C. leaders are currently pushing two different messages: One focuses on the need to curb the city's crime, the other invites residents and tourists to enjoy all the District offers.
Thursday morning, Mayor Muriel Bowser and other city officials announced health and wellness facility Therme (therm-a) is coming to D.C. 
We don't know where Therme is going, but we do know there are plenty of options. We also know that there's mixed reaction from tourists on whether they feel safe — although those who spoke on camera say they do.

Kade Singleton told FOX 5 she feels safe walking down the streets of D.C. 
"Crime happens everywhere," she said.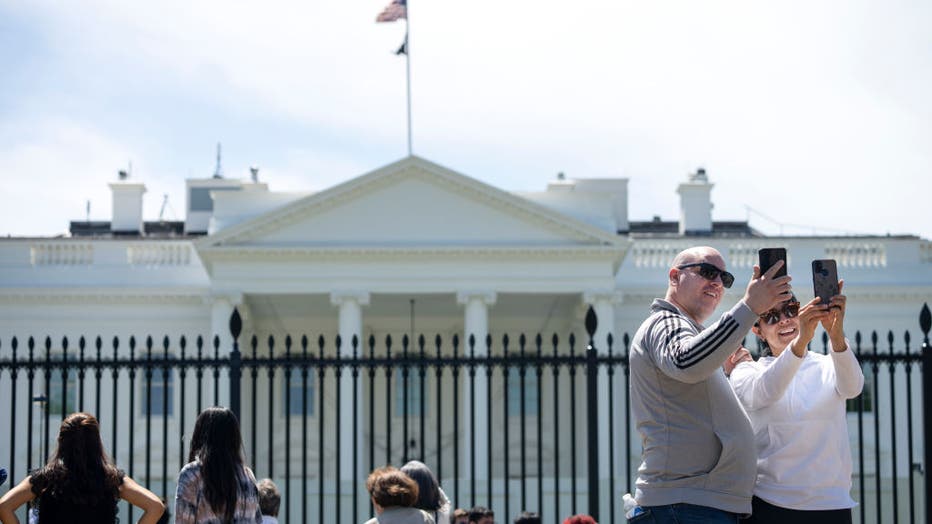 WASHINGTON, DC - APRIL 15: Tourists take photos in front of the White House April 15, 2022 in Washington, DC. Public tours of the White House are beginning to resume after being suspended during the COVID-19 pandemic. Requests for a White House tour
Christy Turner said she also feels safe in the District despite the crime. 

Enze Xie told FOX 5 that compared to other cities in the United States, he feels D.C. is safe. 
Mayor Bowser and Deputy Mayor Sharon Carney urged tourists Thursday to come to D.C., after securing the massive wellness facility that will bring jobs and opportunities to the District. They also mentioned the state-of-the-art health facility will reportedly include spas, saunas, and water activities.
D.C. leaders say despite the crime, tourism has recovered to pre-pandemic levels, with more than 20 million domestic tourists visiting in 2022.
Therme already has wellness facilities in Germany and Romania and the facility in D.C. would be an expansion to the U.S.
We asked D.C. leaders how they navigate very different messages — how to solve the rising crime while attracting tourists and ensuring safety.