Metro debuting cherry blossom trains, buses to celebrate the season
WASHINGTON (FOX 5 DC) - Metro is celebrating cherry blossom season with specially designed trains and buses that depict the famous blooms.
The trains and buses will debut on Friday. On Metrorail, the fully wrapped six-car cherry blossom trains will be on the tracks, running on different lines throughout cherry blossom season. The pink and white train is decorated inside and out, covered in pink blooms.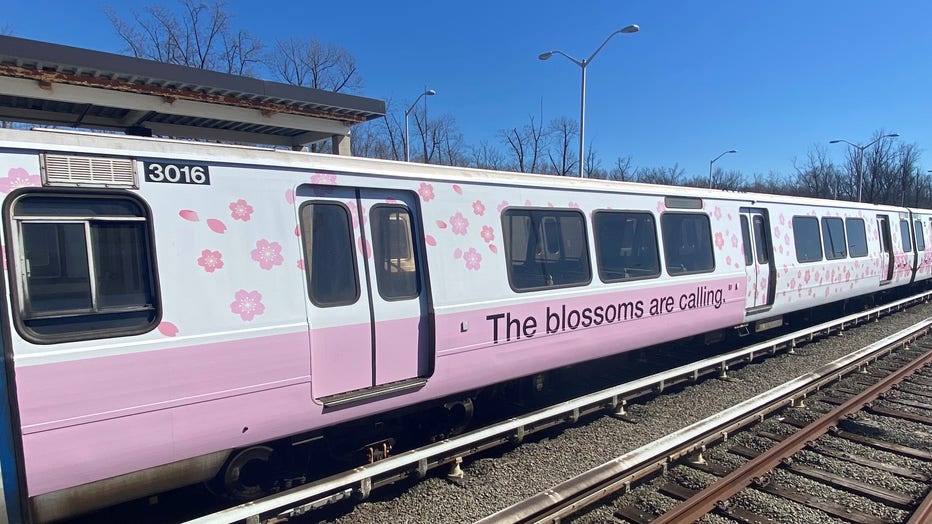 The two 40-foot Metrobuses are hard to miss with branches of cherry blossoms flowering on a white background and the words "The Blossoms are calling."
Metro has also cleared any maintenance and track work on Metrorail until late-night, including weekends, so residents and tourists alike can go see the blossoms without any scheduled disruptions.
Metro has designed a special tracker that allows customers to see exactly where the specially wrapped trains and buses are in the system. To follow the moving blooms, visit WMATA's website, click on the "special edition tab," and look for the cherry blossom icon on the map.
"The annual cherry blossom season is an iconic part of our region, and we are proud to be a part of that experience," said Metro General Manager and Chief Executive Officer Randy Clarke. "We want you to enjoy the ride to see the blooms and join us in celebrating the season on our cherry blossom buses and train."
Cherry blossom season is traditionally one of the highest ridership periods for Metro. They plan to have extra trains positioned throughout the system to help with crowds if needed, and extra buses will be strategically placed if additional capacity is needed on selected routes or a disruption occurs.
Any maintenance or track work will happen after 10 p.m. and overnight starting March 20, for four consecutive weeks.
Another fan favorite, the 2023 National Cherry Blossom Festival commemorative SmarTrip cards are now at selected stations – L'Enfant Plaza, Navy Yard and Metro Center.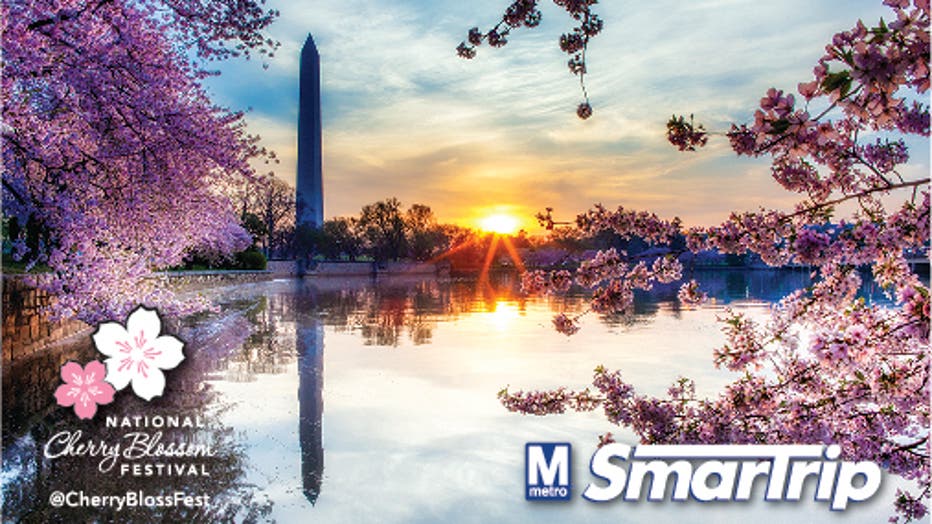 The limited-edition cards feature the Yoshino cherry trees in full bloom at sunrise encircling the Tidal Basin and Washington Monument in a cloud of pale pink flowers. The cards will be available while supplies last at specially marked fare vending machines.