Maryland seafood restaurant claps back at PETA in billboard feud before crab season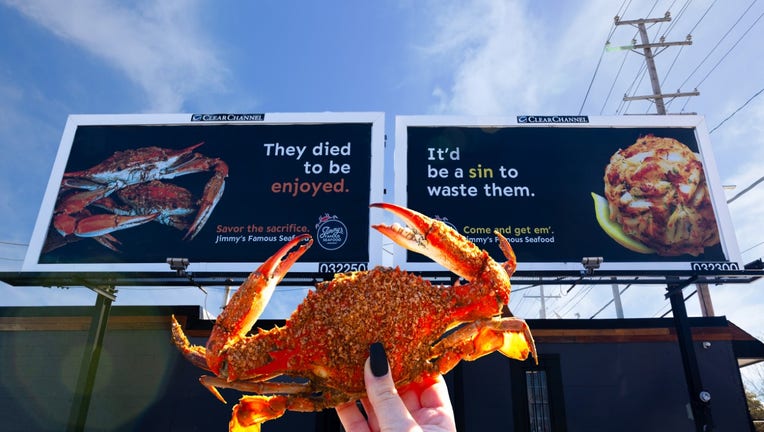 article
DUNDALK, Md. - Jimmy's Famous Seafood, a seafood restaurant in Maryland, hit back after the People for the Ethical Treatment of Animals (PETA) launched a billboard near the restaurant in February that encouraged people to "go vegan." 
PETA's Lent-themed billboard read, "I never lent you my flesh, go vegan," according to a video posted to Jimmy's Famous Seafood's Twitter page. The billboard included a picture of a cross and a fish. 
The seafood restaurant, located in Dundalk, Maryland, posted a photo of two billboards on Thursday advertising their restaurant in response. One said, "they died to be enjoyed" and the other read, "it'd be a sin to waste them."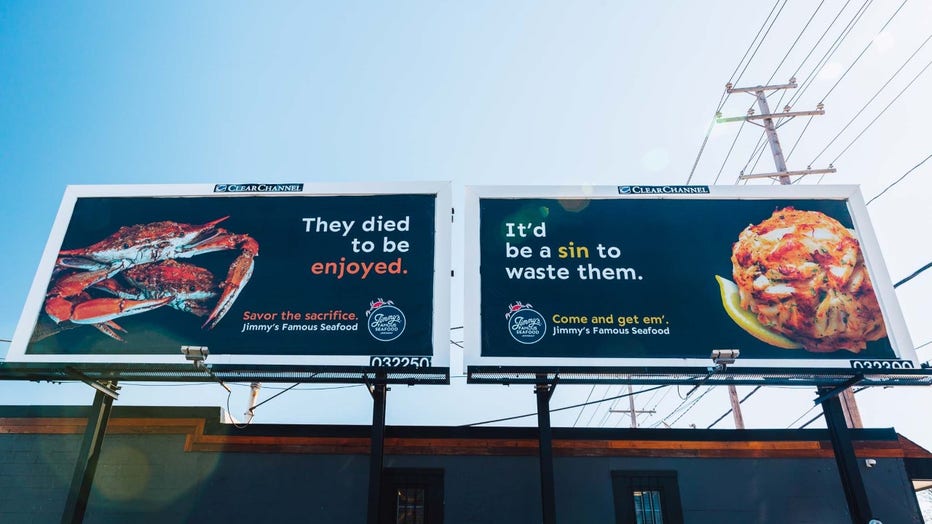 Photo Credit: Jimmy's Famous Seafood
"SteaMEd crabs. Here to stay. Get famous," their billboard read, referencing PETA's, which said, "I'm ME, Not MEAT. See the individual. Go vegan."
Jimmy's Famous Seafood is also selling t-shirts that say, "People eating tasty animals." According to their Twitter account, the proceeds will go to Saving Grace Animal Rescue of Maryland.  
PETA Executive Vice President Tracy Reiman released this statement in response to Jimmy's:
"The Jimmy's team seems to have a sense of humor, as do we, but they don't have a heart or the marketing wherewithal to realize that people are snapping up vegan vittles. Instead of getting their claws out, they could join PETA's appeal to show kindness to fish during Lent and year-round by adding a tasty vegan option to the menu."
Read more via FOX News.