Loudoun County supervisors' Ghana trip sparks debate over taxpayer-funded travel
LEESBURG, Va. - Residents in Loudoun County are outraged after learning some of their local leaders went on a lavish taxpayer-funded trip to Ghana.
Well, there was a mix of reactions Tuesday during the Board of Supervisors meeting as some people supported the sister cities trip while others believed it was a waste of taxpayer money and an abuse of power.
Back in June, the Loudoun County Board of Supervisors Chair Phyllis Randall, Vice Chair Koran Saines, and Supervisor Sylvia Glass flew to Ghana to sign a sister city agreement with the mayor of Tema.
Some in the county are upset that more than 60,000 taxpayer dollars were used for their first-class flights, five-star hotel, and nice meals, among other luxurious expenses.
"That extravagance is so incredibly a slap in the face and just completely tone-deaf when there are so many people struggling to pay their bills right here in Loudoun County," one resident said during the public comment portion of Tuesday's meeting. 
"To the six of you who didn't take these trips, every single one of you should have a pit in your stomach because you failed your constituents," another resident added. "You failed to check and balance those who take advantage of their position."
As a result of the backlash, Vice Chair Saines put forth a travel policy.
In a vote, it passed 8 to 1 to allow staff to research how many neighboring jurisdictions spend on meals, lodging, as well as air and ground transportation while traveling domestically and internationally.
That information will then be used to create their own set of guidelines.
Saines told FOX 5 that she feels the trip to Ghana was "justified." 
"We followed the current policies that we have in place, so I feel we did what we could do, and it was justified," she said. 
During public comment, some residents mentioned these types of business trips create educational opportunities, diversify the economy, and help build relationships around the world.
"Our three supervisors did us proud," one supporter in the crowd said.
"Sister cities are very important," another resident said. "I think it will benefit the county because they help to enable communities to realize and strengthen historical and cultural bonds."
Chair Phyllis Randall sent FOX 5 a statement via phone saying, "I don't travel on county taxpayer revenue and never have. It's a policy I put in place when I came to office in 2016."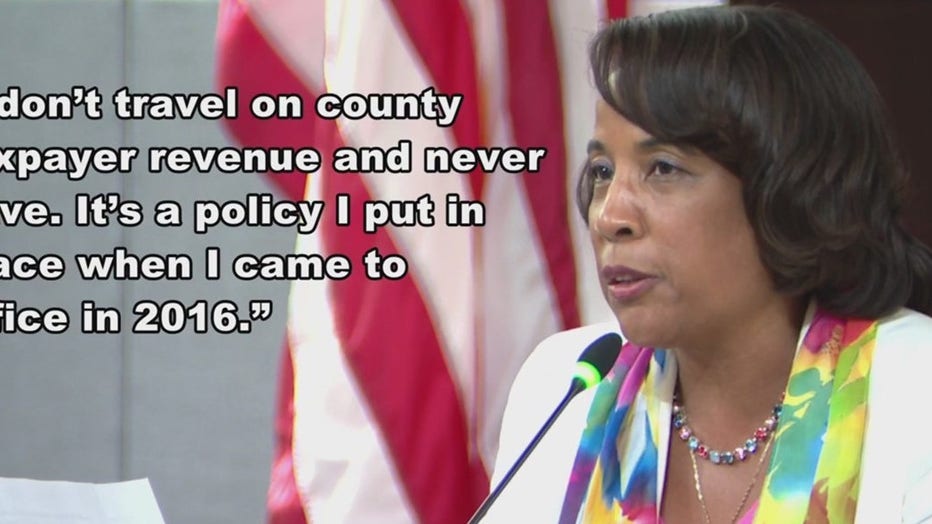 To clarify: the funds did not come out of her own pocket, instead, it came from the economic development authority transient occupancy tax that is typically paid for by visitors of Loudoun County – not residents.
"There are people who are rebelling in their ignorance while ignoring the truth because they don't want the answer, they want the issue," Randall said during the meeting Tuesday. 
Supervisor Kristen Umstattd voted against the travel policy because she is proposing her own strict rules for future trips.
Umstattd's guidelines will be reviewed in two weeks, during the Sept. 15 meeting.