Homebuilder sentiment plummets as mortgage rates surge again
Confidence among builders in the U.S. housing market unexpectedly plunged in August for the first time this year as a spike in mortgage rates dampened consumer demand for new homes.
The National Association of Home Builders/Wells Fargo Housing Market Index, which measures the pulse of the single-family housing market, fell six points to 50, a three-month low. 
Any reading above 50 is positive. 
Prior to this month, sentiment among builders had been steadily rising as limited resale inventory pushed would-be buyers to seek out new construction instead.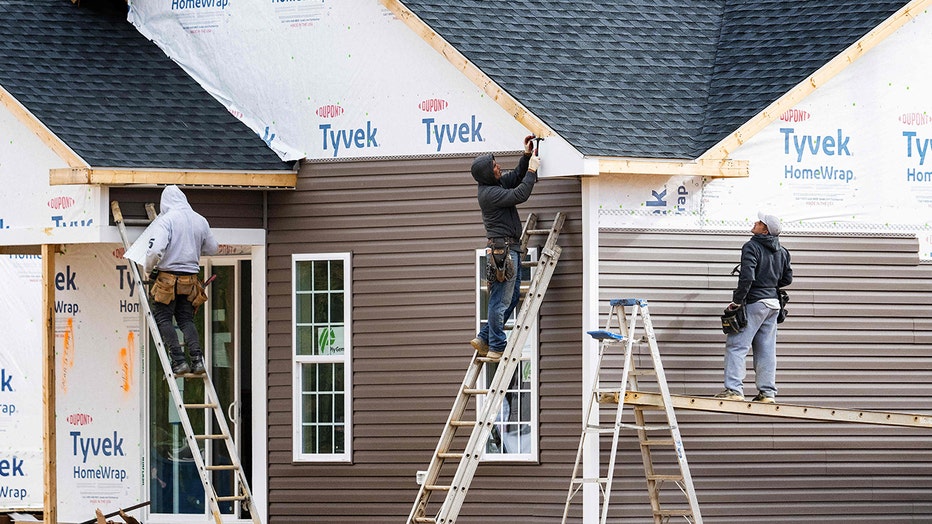 Workers attach siding to a house at a new home construction site in Trappe, Maryland, on October 28, 2022. (Credit: JIM WATSON/AFP via Getty Images)
The shortage of available homes began because sellers who locked in a low mortgage rate before the pandemic began have been reluctant to sell with rates continuing to hover near a two-decade-high, leaving few options for buyers.
A recent report from Realtor.com showed that the number of available homes on the market in June was down more than 47% from the typical amount before the COVID-19 pandemic began in early 2020.
However, the latest data suggests a recent spike in mortgage rates is weighing on that demand.
RELATED: These four US cities face the biggest housing shortages
"Rising mortgage rates and high construction costs stemming from a dearth of construction workers, a lack of buildable lots and ongoing shortages of distribution transformers put a chill on builder sentiment in August," said Alicia Huey, NAHB chair and a custom home builder and developer from Birmingham, Alabama.
MORTGAGE CALCULATOR: SEE HOW MUCH HIGHER RATES COULD COST YOU
The Federal Reserve's aggressive interest-rate hike campaign sent mortgage rates soaring above 7% last year, quickly cooling the once red-hot housing market. However, rates have been slow to retreat from the nearly two-decade high, forcing many potential buyers out of the market. 
Rates on the popular 30-year fixed mortgage are currently hovering around 6.96%, according to Freddie Mac, well above the 5.51% rate recorded one year ago and the pre-pandemic average of 3.9%. That is the highest level since November 2022.
Higher rates are also prompting more buyers to use sales incentives in order to woo buyers: About 55% of buyers indicated they are using all types of incentives, including buying down interest rates. 
Sentiment fell across the board in all four regions in the U.S.
"Declining customer traffic is a reminder of the larger challenge that shelter inflation is up 7.7% from a year ago and accounted for a striking 90% of the July Consumer Price Index reading of 3.2%," said Robert Dietz, chief economist at NAHB.
He added, "The best way to bring housing inflation down and ease the housing affordability crisis is to enact policies at all levels of government that will allow builders to construct more homes to address a nationwide shortfall of approximately 1.5 million housing units."