Harriet Tubman statue's staff recovered by police after stolen in December
ANNAPOLIS, Md. - A piece of a statue of Harriet Tubman that was stolen when the monument was defaced last December in Annapolis has been recovered by police.
Officials at the Banneker-Douglass Museum said officers returned the stolen vévé, or staff, on January 25 that had been stolen from the 'Araminta with Rifle and Vévé' monument that sits outside of the building on Franklin Street.
The statue is a 10-foot-tall piece composed of found objects, blown glass, and mixed media. It depicts Tubman, born Araminta Ross in Dorchester County, carrying a beaded rifle and staff. The rifle is adorned with flowers and the vévé features two birds.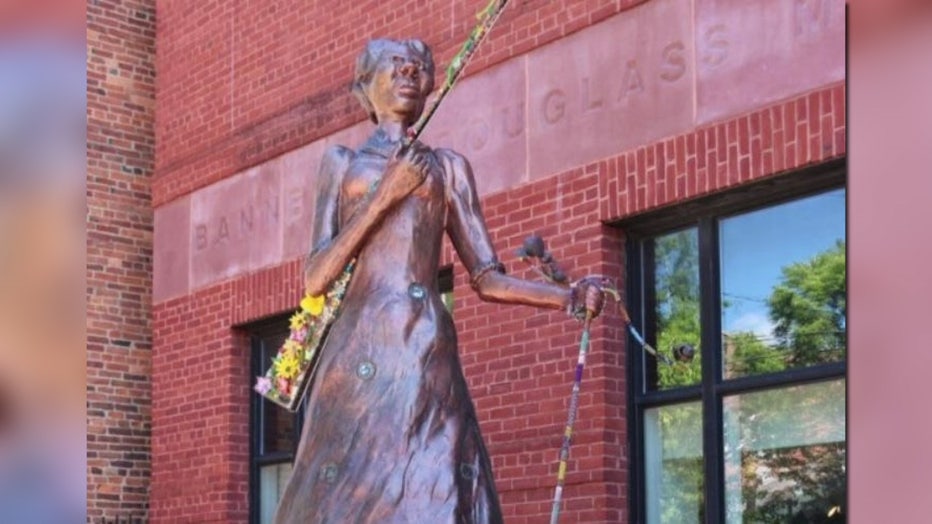 Harriet Tubman statue, Araminta with Rifle and Vévé 
Just before Christmas last year, staff noticed the staff was missing and contacted police.
"Words cannot describe how relieved we are to get back this precious artwork by Dr. Joyce J. Scott. I want to thank the Annapolis Police Department, Delegate Shaneka Henson, Dr. Scott, Goya Contemporary Gallery, museum staff, and the community-at-large for working together to get the missing work back to the museum," said Chanel C. Johnson, Executive Director of Banneker-Douglass Museum and the Maryland Commission on African American History and Culture.
The statue was installed in September 2022.