A look at Donald Trump's arraignment schedule ahead of Tuesday court appearance
Law enforcement officials have worked out the details of how former President Trump will be escorted to his alleged hush money scandal-related arraignment on Tuesday.
A source told Fox News that Trump is expected to arrive at the 100 Centre Street courthouse in New York City at around 11 a.m. on Tuesday morning. 
The arraignment – which is expected to last 15 to 30 minutes – is scheduled for 2:15 p.m. before Judge Juan Merchan. The security detail will be extensive, with officials expecting to magnetically search everyone in the courthouse twice.
No other business will be done at the courthouse until the arraignment concludes. The entire building will be cleared and inspected to ensure safety.
TRUMP INDICTED AFTER MANHATTAN DA PROBE FOR HUSH MONEY PAYMENTS
For security reasons, there is not expected to be a "perp walk" or public arrival by the former president. Trump will also likely not be arrested in handcuffs, as his legal team made an arrangement with the DA's office.
Judge Juan Merchan, who previously oversaw the case and trial of the Trump Organization and its former CFO Allen Weisselberg, is expected to read Trump's charges and ask him to enter his plea. Trump will be escorted out after.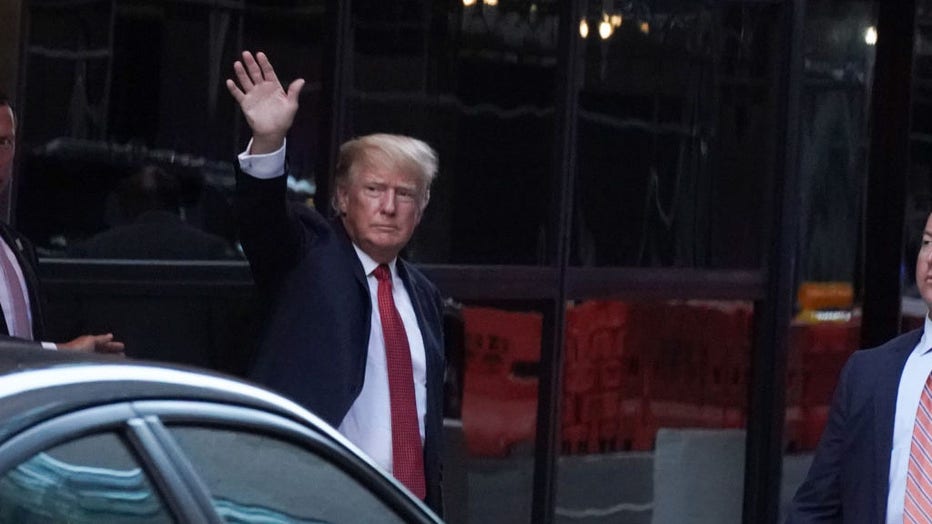 Former U.S. President Donald Trump leaves Trump Tower in Manhattan on August 16, 2021 in New York City. (Photo by David Dee Delgado/Getty Images)
The details of the indictment have not been released, as they typically remain under seal before the arraignment takes place. The charges are expected to relate to Trump's 2016 alleged hush money scandal, which the DA's office has been investigating for five years.
TRUMP TARGETED: A LOOK AT THE INVESTIGATIONS INVOLVING THE FORMER PRESIDENT; FROM RUSSIA TO MAR-A-LAGO
If the charges relate to the hush money scandal, prosecutors are expected to argue that the $130,000 sum given to Stormy Daniels and the $150,000 given to former Playboy model Karen McDougal were improper donations to the Trump campaign, which helped his candidacy during the 2016 election.
The former president has expressed his disapproval of the indictment by DA Alvin Bragg, saying it is politically motivated.
"This is Political Persecution and Election Interference at the highest level in history," Trump said in a statement. "From the time I came down the golden escalator at Trump Tower, and even before I was sworn in as your President of the United States, the Radical Left Democrats- the enemy of the hard-working men and women of this Country- have been engaged in a Witch-Hunt to destroy the Make America Great Again movement."