Cherry blossom drinks, boat tours and more fun ways to view the flowers
WASHINGTON - If you haven't been to downtown D.C. yet, it's getting very busy. 
Cherry Blossom season is here and there are many ways to participate.
A number of local restaurants across D.C. and surroundings areas are showing off their new springtime food and drink menus.
Over at The Jefferson on 16th Street in Northwest, the hotel's bar, The Quill is serving up some festive drinks.
"Springtime is all about florals," said bartender, Katie Dandridge.
The bar is offering two blossom-themed drinks, "In Full Bloom" if you're a vodka fan, and the other option – aptly titled the "Cherry Blossom" if a French 75 is your go-to drink.
"We wanted something that was designed to be elegant pretty and delicate just like a cherry blossom is," Dandridge explained.
The hotel is teaming up with local boat tour company, EmbarkDC to give people the full Cherry Blossom experience.
"They can enjoy a nice quiet picnic while we are going 5 miles an hour enjoying these beautiful trees," Captain Denny Clifford said.
Whether you're a guest at the hotel or just taking a stroll down at The Wharf, Captain Denny is giving boat tours up and down the Potomac River with a close-up view of the cherry trees.
"Right there is Hains Pointe, and a lot of people don't realize that a lot of the cherry blossoms and some of the best ones are right over there, on both the east side and the west side," Captain Denny said.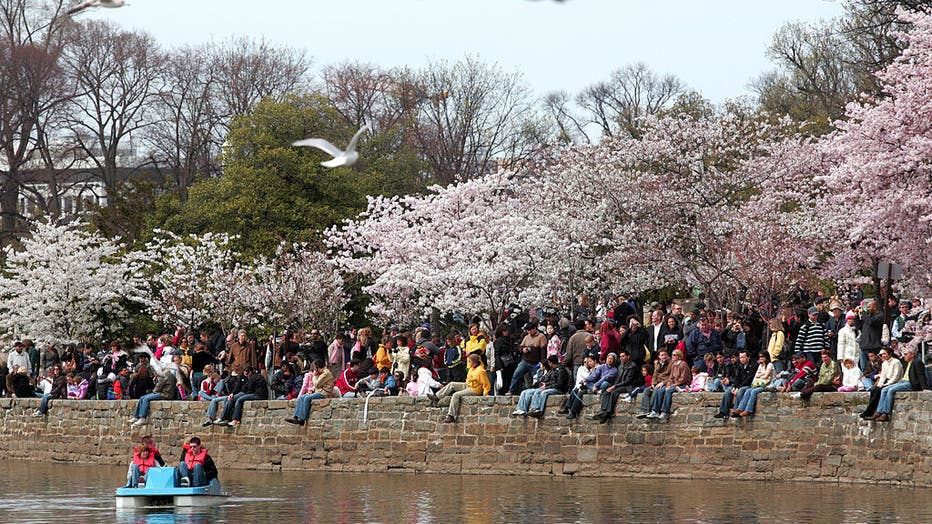 The captain doesn't only offer views when you board, he also provides some history for those experiencing the blossoms for the first time.
"The Japanese were nice enough in 1912 to give us another three thousand trees," he said.
From the crowds surrounding the river you can tell the blossoms are peaking. People are rushing downtown to see the flowers bloom. The sidewalks are packed, and the streets are congested. 
Some visitors are deciding to be their own captains and paddle along the Tidal Basin to be away from crowds.
"Being out there [the water] doesn't seem like there's even people here at all," said Ruchelle Buenaventura "Feels like we are in our own world."
Saptak Sarayia recommends everyone tries the paddle boats this season.
"When you are on the Tidal Basin, it's very serene, and you get to enjoy a private moment with your loved ones," Sarayia said.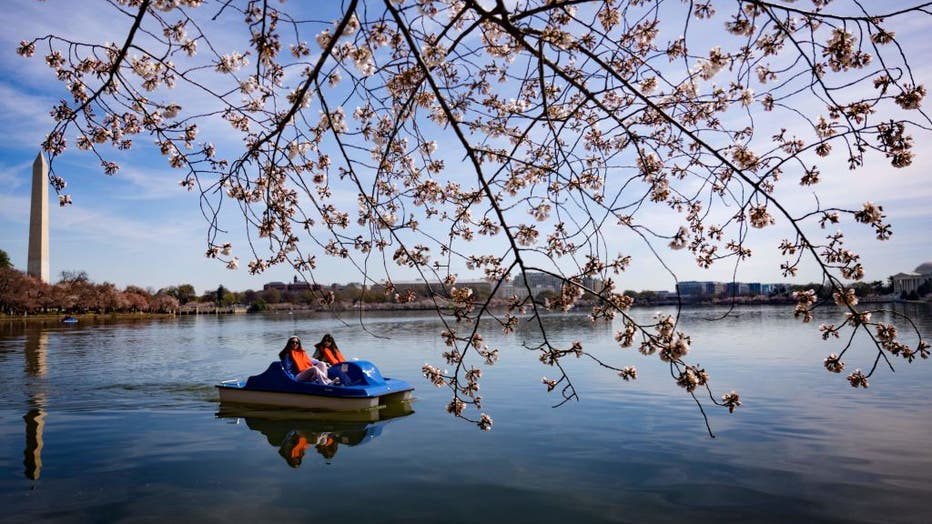 People ride in a paddle boat past blooming cherry blossoms at the Tidal Basin in Washington, DC, during the 2023 National Cherry Blossom Festival, on March 21, 2023. - The festival runs from March 18 through April 16, with the peak bloom expected fro
Theo and August are brothers in town from Annapolis.
August, who is 6-years-old, told FOX 5 that he's impressed with the blossoms.
"Nice flowers with little pink, and a splash of white," he said.
If you aren't able to make it out to the Tidal Basin to view the cherry blossoms, you can enjoy the views from your screen with the Bloom Cam on the National Cherry Blossom Festival website.
For people who are interested in sipping on a seasonal cocktail from the house, Dandridge says you can get creative and make a cherry blossom drink from home. 
All you need are three simple ingredients.
"Choose a liquor, choose a sugar, and choose an acid," Dandridge said. "Play around and the possibilities become endless. It's a really good framework to build upon."
For a full list of restaurants partaking in spring flavored drinks and cuisine click here. 
For more on The Jefferson's 'Springtime' experience with EmbarkDC, click here.