Building manager allegedly pepper sprays tenant in Adams Morgan apartment building
WASHINGTON - A woman in Adams Morgan was allegedly pepper sprayed by a manager at her own apartment building.  
Christine Corbin is now back home from the hospital after she says she spent hours showering the mace off and recovering from burns on her face and body.
She told FOX 5 that as far as she knows, the man who attacked her is still on the run.
Video shows the moment Corbin was pepper sprayed while trying to talk to a building manager at her Northwest D.C. apartment.
Those that live at 1841 Columbia Road Apartments say they have dealt with unexpected water shutoffs for months.
In the past 24 hours, they say the air conditioning also went out on the hottest day of the year in the District so far.
"We had no water, no plumbing, no air conditioning, no nothing," Corbin said.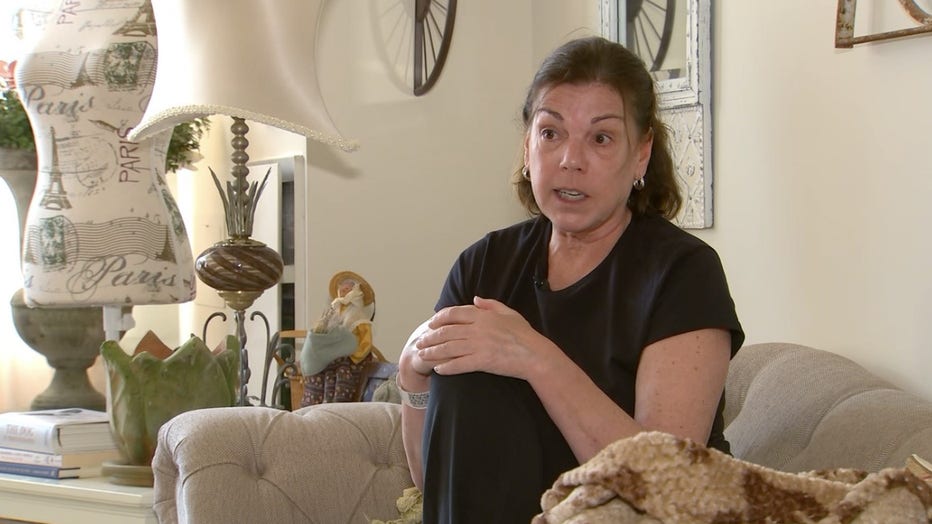 "They didn't offer us anything at all and there's a lot of elderly and disabled in this building that have lived here for 40–50 years," added resident Kylee Smith.
That's why several residents like Smith and Corbin have been working to form a tenant association.
Signs were put up around the building, but residents soon realized they were being taken down.   
When Corbin went to talk to management about why, she recorded the interaction.
"I walked into the office and I stated that I just wanted to document, not saying that UIP took them down, but we have a legal right to put up notices to form a tenant association," she said.
In the video, Corbin tells management she's emailed about the issue and she's told to leave. 
Then after Corbin says the manager's name, he grabs his keys and sprays her with mace.
"He went off on me," she recalled. "He grabbed his keys and I knew because he is a volatile person .. He's never physically done anything to me, but he's an angry man so when he reached, he put it right in my face."
A report from D.C. police shows officers were called shortly before 1 p.m. on Friday to look into the incident that sent Corbin to a local hospital.
"The police report says one squirt, my clothes were saturated. My forehead, my ears, my neck, right now my hands are burning," Corbin said. "I am wearing the clothes that Georgetown Hospital gave me. I went by ambulance, and couldn't open my eyes for an hour."
Police said the suspect ran off before they arrived.
"He took off. Got in his car," Corbin said. "We have no knowledge of where he is."
"If I thought he would do that, I never would've gone in," she added.
Corbin says she still has not heard anything from upper management at her apartment building and is scared for her safety now. 
"Knowing he's out there is distressing," she said. "I live by myself. I walk my dogs at night, and the sad thing is, I know I have friends looking out for me right now but if something happens to me people wouldn't know and that's a scary thing to realize … That you're vulnerable," Corbin said.
The manager, who FOX 5 is not sharing his name since he has not been arrested or named by police as a suspect, would face a simple assault charge if caught.
FOX 5 also reached out to the property management group of the apartment building, UIP, who provided this statement: 
"We are sorry to learn of the incident at one of our properties, and we are cooperating with authorities investigating. There has been, and is planned, noticed work ongoing at the property, to update the plumbing system. All residents have been noticed and have been cooperating. Announced, short, water shut offs will continue to be necessary to complete upgrades and modernize the plumbing system in the building. We are sad and disappointed by the behavior of individuals that somehow resulted in the incident at the property. We are and will continue to investigate and take appropriate action if necessary."