Broccoli City Festival reveals 2023 lineup
WASHINGTON - Broccoli City Festival has announced the performers who'll be gracing the stage this year at the RFK Festival Grounds in July.
The healthy lifestyle, homegrown, two-day live music event starts Saturday, July 15 with Ice Spice, City Girls, Saucy Santana and Mariah the Scientist, among others. Lil Uzi Vert and Jazmine Sullivan are slated to headline. 
Then on Sunday, July 16, Chloe Bailey, Coco Jones, Kodak Black, and Glorilla are scheduled to perform. 
Local artists Fat Trel, LARussel, and Tre' Amani are also on the bill, and Baltimore crooner Brent Faiyaz will close the show. 
Legendary go-go acts including Backyard Band, Uncalled For Band (UCB), Total Control Band (TCB), and more will also take part in a "Battle of the Bands" installment throughout the weekend.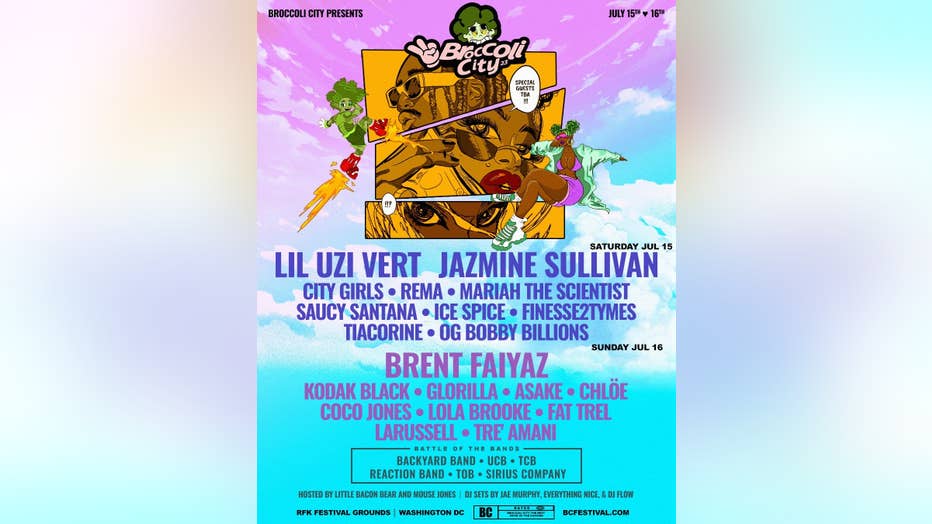 "This year's lineup continues our tradition of celebrating culture, both nationally and locally in the DMV, and those who continue to play a role in driving progress in Black communities," said Brandon McEachern, co-founder of Broccoli City Festival in a statement. "Our goal is to always create a dope cultural experience and highlight a diverse group of artists who are taking Black music to new heights, and I'm proud of how it's come together." 
Festivalgoers can also look forward to seamless entry, multiple stages, local food trucks, live art installations, and bars throughout the campus of RFK Stadium. 
Tickets go on sale Friday, March 3 at 10 a.m. Visit BCFestival.com/Tickets to get yours now.