Bay Area animal group pairs up dog and child, both with rare congenital disorder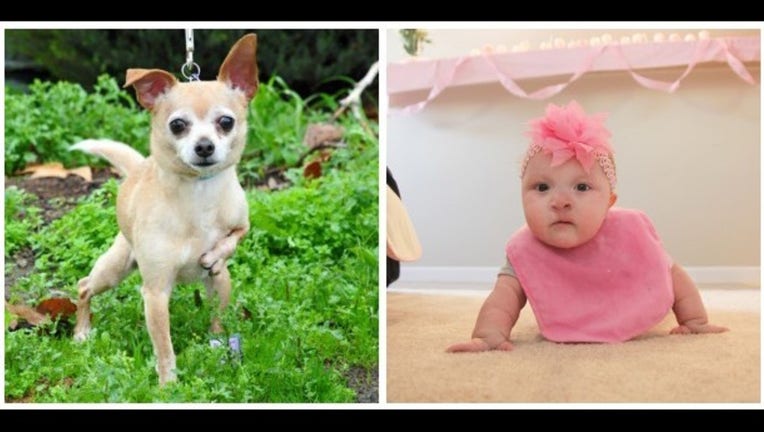 PITTSBURG, Calif. (KTVU) - A Bay Area animal rescue group is pairing up a very special girl with a very special dog.
Earlier this year, an 8-year-old Chihuahua named Fleetwood Mac was brought to the "Umbrella of Hope" shelter, after an extended stay at the Contra Costa Animal Services shelter in Martinez.
The dog was born with Ectrodactyly, a rare congenital bone abnormality.
He was put up for adoption but didn't get any local adoption requests.
So the rescue center came up with an idea: Shelter workers widened their search, hoping to match Fleetwood Mac with someone who would understand him best, someone with whom he could form a unique bond.
After an extensive search and a number of postings on social media, the shelter was able to locate a support group for families dealing with Ectrodactyly.
Through that group, Umbrella of Hope says it was introduced to a family in Indiana with an incredibly special child: Little Grace is a seven-month-old girl, who was also born with Ectrodactyly. The condition affects her hands and feet.
On Tuesday, Fleetwood Mac will get on a plane with an Umbrella of Hope volunteer and make the journey from San Francisco to Chicago and then the drive to Indiana.
In Indiana, Fleetwood Mac will meet his new family.
Grace is described as a strong and happy girl who won't let anything hold her back.
She already has a canine companion named Charlie, who she follows around everywhere.
Her parents were looking to expand their pack and luckily Fleetwood is a perfect match, according to Umbrella of Hope officials.
The animal rescue group says, "At the heart of this all, is love and dedication-- The love and dedication of a special family, meeting the love and dedication of a special animal rescue group."
If this story sounds familiar, last year the group brought together a Chihuahua who had suffered third-degree chemical burns and a 12-year-old girl who is a burn survivor.
Umbrella of Hope says the Chihuahua named Fireman became a wonderful companion to his new owner Chloe, who understands the dog's unique struggles and needs.
The group says it hopes to inspire many other similar matches, in which people are helping animals and animals are helping people.