Attorneys general in DC and Maryland want Hyundai and Kias recalled after surge in thefts
WASHINGTON - Attorneys general in Maryland and D.C. are part of a group demanding a federal recall of easily-stolen Kia and Hyundai vehicles.
In a letter sent to the head of the National Highway Traffic Safety Administration Thursday, the officials said, "We are writing to ask that the NHTSA to use its authority to institute a recall of unsafe Hyundai and Kia vehicles manufactured between 2011 and 2022 whose easily-bypassed ignition switches and lack of engine immobilizers make them particularly vulnerable to theft."
"It's a real public safety issue and one that we believe can only be resolved by taking these unsafe and unprotected vehicles off of the street," explained Adam Teitelbaum, who directs the Office of Consumer Protection for D.C. Attorney General Brian Schwalb.
The issue has been going on for months with thieves using USB charging cords to steal certain vehicles. Authorities have said the trend started online and is referred to as "The Kia Challenge" by some.
"We are certainly aware of the challenge," Fairfax County police officials told FOX 5 earlier this year.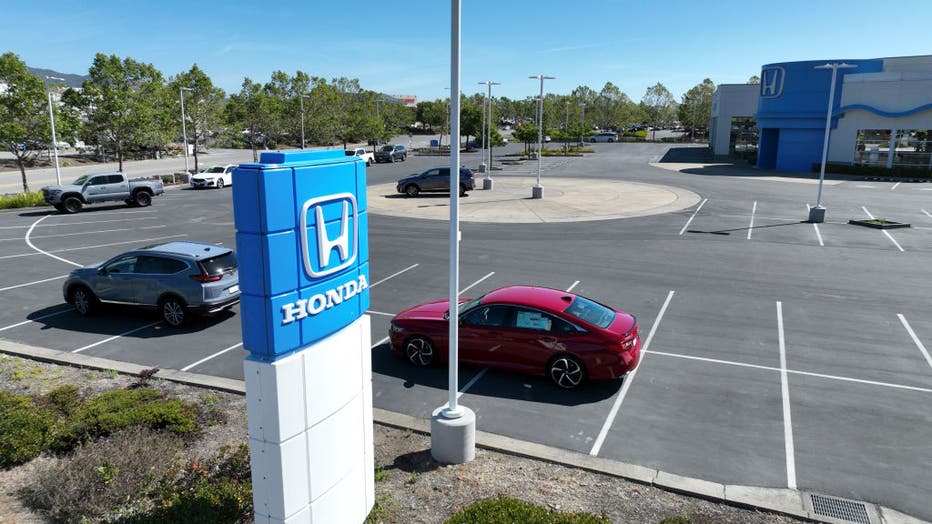 SAN RAFAEL, CALIFORNIA - JUNE 09: In an aerial view, the sales lot at Marin Honda sits nearly empty on June 09, 2022 in San Rafael, California. As supply chain issues continue, foreign auto manufacturers like Honda, Toyota and KIA all have below aver
In a statement, the NHTSA said in part, "This particular matter involves intentional criminal conduct under the purview of law enforcement authorities. However, since last year, NHTSA has repeatedly met with Hyundai and Kia to discuss the causes contributing to the theft vulnerability, review the scope of differing software and hardware in the affected models, and receive regular updates on the companies' action plans." 
A spokesperson added that the agency will continue to monitor the issue.
As for the car companies, both told FOX 5 that they've taken actions to address concerns raised by the attorneys general, including providing software upgrades and steering wheel locks for affected drivers.
Still, officials in Maryland, D.C., and beyond, say they believe more needs to be done.
"We think the right next step is for the agency to oversee a nationwide recall," Teitelbaum said.
To read the AG's full letter to the NHTSA, you can click here.