3 teens arrested for Kia theft: police
WASHINGTON - Three teens were arrested in Prince George's County late Tuesday night. They're accused of using a USB chord to steal a car.
The suspects are two 14-year-old boys and one 15-year-old boy who all live in Bowie, according to police. They said the teens were stopped in a stolen Kia at about 10:45 pm in Temple Hills. 
Investigators said they found a USB charging cord, which they believe was used to start the stolen vehicle.
"This method of using a USB cord to steal certain Kias and Hyundais is a trend that's been shared on social media nationwide," Prince George's County police said in a press release. They added that drivers should remove charging cords from their vehicles, or at least hide them.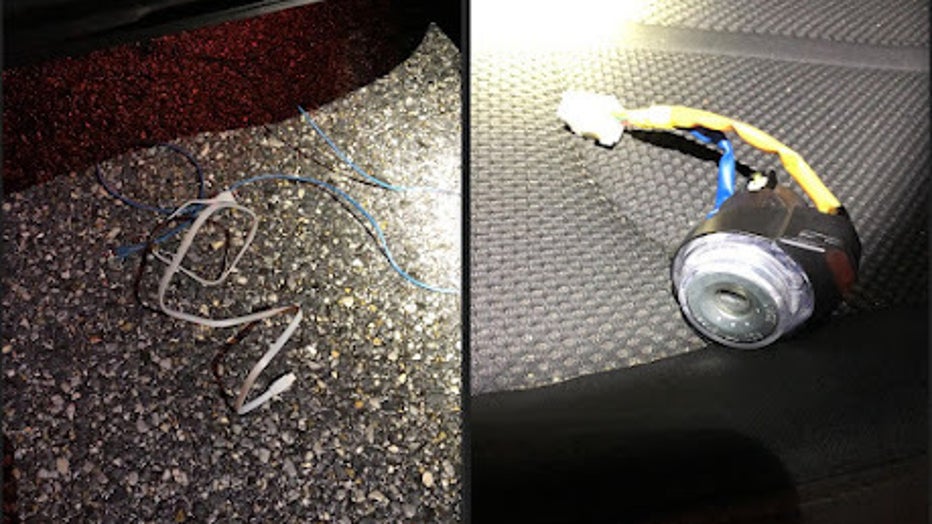 A USB charger was found in the stolen Kia. Photo via Prince George's Police Department. 
Apparently, Kia and Hyundai models made between 2010 and 2021 without a push button to start can be hot-wired with only a USB cable and a screwdriver,
FOX 5 DC heard from Kia and Hyundai Wednesday night. Representatives of both companies said they're making steering-wheel locks available to customers for free, and they added that newer models of their cars don't have the same problem.
Still, some Kia and Hyundai drivers said they're concerned.
"It makes me honestly not even [want to] get that brand of car if it's that easy to just finesse it with a car charger," said Jamie Pierre.
READ MORE: Prince George's County teen uses USB charger to steal car, police say
The teens arrested in Prince George's County face multiple charges, including theft, unlawful removal of a motor vehicle, and unlawful taking of a vehicle.
You can read the full statements provided by Kia and Hyundai below.
Kia Statement:
"Kia remains concerned about the recent trend among youth in some areas, encouraged by social media, to target certain Kia cars with a steel key and "turn-to-start" ignition systems. In many cases, the vehicles are stolen solely for the purpose of operating in a reckless manner. Such criminal conduct endangers our local communities and violates property rights. While no car can be made completely theft-proof, Kia continues to make steering wheel locks available to customers through interested local law enforcement agencies, subject to available supply, at no cost to concerned owners of these vehicles. Kia also continues its efforts to develop additional solutions for vehicles not originally equipped with an immobilizer, including the development and testing of enhanced security software. All 2022 models and trims have an immobilizer applied either at the beginning of the year or as a running change, and all Kia vehicles meet or exceed Federal Motor Vehicle Safety Standards. Kia customers with questions regarding their Kia vehicle should contact the Kia Consumer Assistance Center directly at 1-800-333-4542 (Kia)."
Hyundai Statement:
"In response to increasing thefts targeting our vehicles without push-button ignitions and immobilizing anti-theft devices in the United States, Hyundai Motor America has made engine immobilizers standard on all vehicles produced as of November 2021.  Additionally, Hyundai has taken a series of actions to deter thefts of affected vehicles, including an upcoming software update scheduled to be available beginning in March and provided at no cost to customers.  
In the interim, Hyundai is also providing free steering wheel locks, as available, to select law enforcement agencies across the country for distribution to local residents who own or lease affected models. We apologize for the inconvenience to affected customers.  Owners may also bring their vehicles to a local Hyundai dealer for the purchase and installation of a customized security kit.
Hyundai is committed to ensuring the quality and integrity of all our products through continuous improvement.  Hyundai quality is among the best in the industry, ranking third among all brands in the 2022 U.S. Vehicle Dependability Study (VDS) and historically above the industry average in J.D. Power's U.S. Initial Quality Study (IQS)."