24-hour transit lanes could be added to H Street Corridor in Northeast DC
WASHINGTON (FOX 5 DC) - Changes could be coming to the H Street Corridor.  
District Department of Transportation (DDOT) leaders want to create 24-hour transit lanes, on the right side, in both directions of traffic.
DDOT says this will improve bus operations and add pedestrian safety infrastructure. 
Business owners in the area say this is a concern, especially if DDOT has plans to get rid of parking.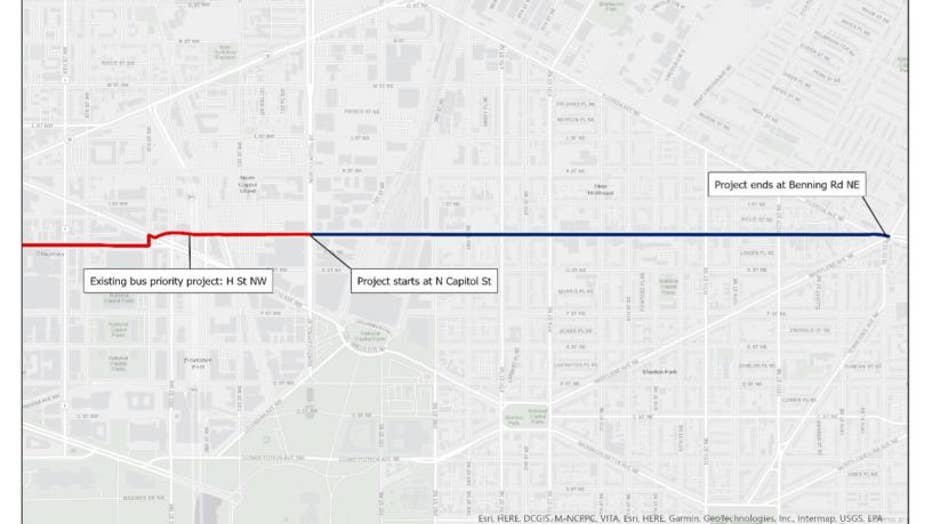 "It takes the few parking spots that are out there, away. Meaning you're depending strongly on just foot traffic," said Anthony Cannady, the owner of Rita's Italian Ice on H Street. "Small businesses can't survive with just the foot traffic. We have to have some place for people that use automobiles coming in and coming out. And that wouldn't work for us."
Other businesses nearby including a beauty supply store shared the same sentiments. 
Residents who live in the area have mixed feelings. 
READ MORE: DDOT denies driver's I-295 tar claim reimbursement
"That is already a really congested stretch of area during traffic hours, so to take away a commuter lane I think it's only going to create more congestion and traffic particularly during rush hour. And as a consumer, if I need to run into a business it's going to take a lot more time to do short errands," said a woman who lives in the Trinidad neighborhood. 
D.C. native, Mysiki Valentine, who frequents the metro station says there are some positive aspects in this proposal.  
"I think it's going to cause some congestion. I think it's going to take some people time to get used to that new lane being closed down. There is going to be concerns about parking on H Street. Specifically, for people coming to do business. I see the promise in promoting for transit options for most, and hopefully it will get more people on the bus where they can traverse the city using public transit." 
Valentine also hopes the city will look into expanding the 24-hour lanes if it gets approved. 
READ MORE: Details released on DC area highway projects designed to relieve soul-crushing traffic
"My biggest setback is that D.C. oftentimes when they do this, stop right at the buck of Black and brown communities," Valentine said. "We see it with the streetcar. It stops right at Oklahoma and Benning Road right before it hits Ward 7, where we know one of our largest Black communities live and where many of the transportation inequities lie in transportation. I think the city is thinking about things the correct way but where they are putting their resources hasn't been effective."
In a statement to FOX 5, DDOT says: 
"DDOT has heard clearly from local residents and businesses that these types of improvements are desired for H Street NE. This concept is being presented to the community over the next few months, and DDOT will begin collecting feedback via the project webpage within the coming days." 
The agency plans to confirm the final design in 2023 and begin construction on the project in 2024.
For more on the H Street project visit DDOT's website.