2 accidents, 1 assault reported as pack of dirt bike and ATV riders swarm DC streets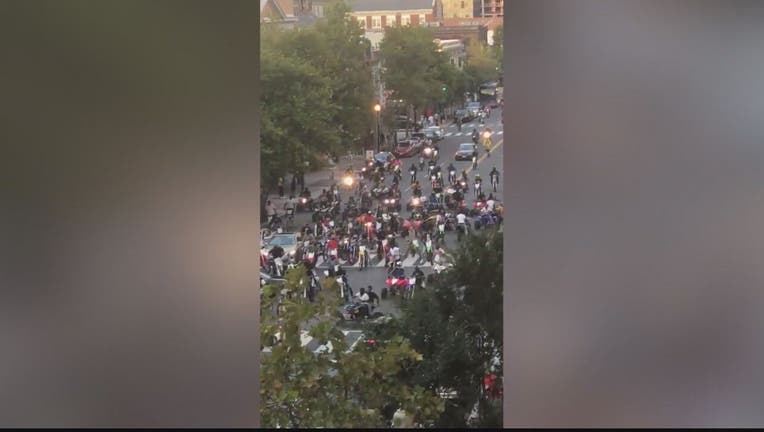 WASHINGTON - Social media lit up with video of a pack of ATV and dirt bike riders in DC and Arlington Sunday night.
The footage shows riders ignoring traffic laws and popping wheelies.
One pedestrian was injured after being hit by a dirt bike rider who left the scene. D.C. Fire and EMS says the collision happened at 18th and Massachusetts at around 7:45. The victim was transported to a nearby hospital.
Video that surfaced on the internet shows two riders involved in an accident near 14th and Madison Northwest. One rider hit the pavement while the other hit an SUV and flew over the car before hitting the pavement. DC Fire and EMS says they were called to the scene but no one was transported.
The third incident took place at 14th and U when--according to a police report--a man waded into the crowd of riders and pushed one off his bike. The report says the rider then retaliated with another man and punched the man who did the pushing. He was also transported to a hospital.
D.C. Mayor Muriel Bowser says police need help in getting the illegal riders off the street.
"Well it's maddening and I don't know why adults think it's fun to terrorize the streets and people," said Mayor Bowser.
"It's so careless and foolish to be flaunting the law and putting pedestrians and other vehicles in danger."
Videos posted to the internet show a large pack of riders traveling westbound on U Street while other videos show the riders on Sherman Avenue Northwest, Dupont Circle, Arlington, and on the Beltway in Prince George's County.
It's against police policy to chase the riders so Mayor Bowser says the police need help.
 "We are calling on our commercial business owners who may be helping folks by maybe fueling there or congregating there to give us an alert, said Bowser, but we are reviewing footage now to see if we can get out some of these images that show the people breaking the law," she said.
There were no arrests, but in Arlington police say officers in marked cruisers activated their emergency equipment in an effort to keep the pack from going up onto the sidewalks. 
One person recording the riders said on Twitter it took six minutes for all of them to go by. 
D.C. Police have a program called Bonus to Phone Us in which they offer rewards up to $250 for identifying the riders to the department.