12-year-old accused of attempted carjacking in Southeast; victim tells all
WASHINGTON - A 12-year-old boy is accused of carjacking a woman at gunpoint in Southeast. 
The victim is speaking to FOX 5 for the first time after D.C. police arrested the suspect. 
That woman told us she parked her car, took off her seatbelt, and got out to go to a restaurant near the intersection of Martin Luther King Jr. Avenue and U Street on Sunday.
That's when she says the 12-year-old tried to carjack her with a gun.
The victim said that this all transpired in broad daylight — around 1 o'clock in the afternoon.
She says the 12-year-old suspect demanded she give him her key while allegedly holding an object in his waistband – that she believed was a gun.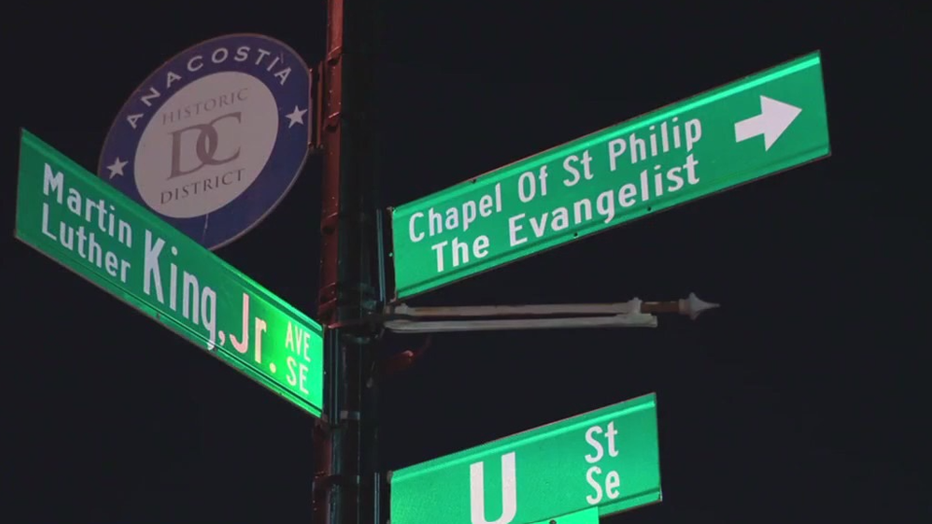 The intersection where a woman says a 12-year-old boy tried to steal her vehicle on Sunday. 
The woman refused to hand over her keys, and says the boy got startled and ran away.
Police found the 12-year-old soon after, and arrested him.
Detectives confirmed with FOX 5 they found a gun on him.
The woman he's accused of trying to carjack doesn't want us to reveal her identify out of fear of retaliation.
"I was just shaken up by it," the victim said. "I didn't really know how to feel. I was frozen."
"[Youth violence] is horrible," she added. "It's gotten so bad and the age limit is just going younger and younger."
The 12-year-old is charged with armed carjacking and carrying a pistol without a license.
Police have not released the suspect's name since he is a juvenile.
D.C. Mayor Muriel Bowser announced the Juvenile Curfew Enforcement Pilot, which enforces curfews for anyone under 17 years old.
Curfew in D.C. is from 11 p.m. to 6 a.m. during the week. And midnight to 6 a.m. on weekends.
Critics say a curfew would not apply to this case because the alleged attempted carjacking happened Sunday afternoon.