Suspects hold victim at knifepoint, steal 'significant amount' of jewelry during Sterling armed robbery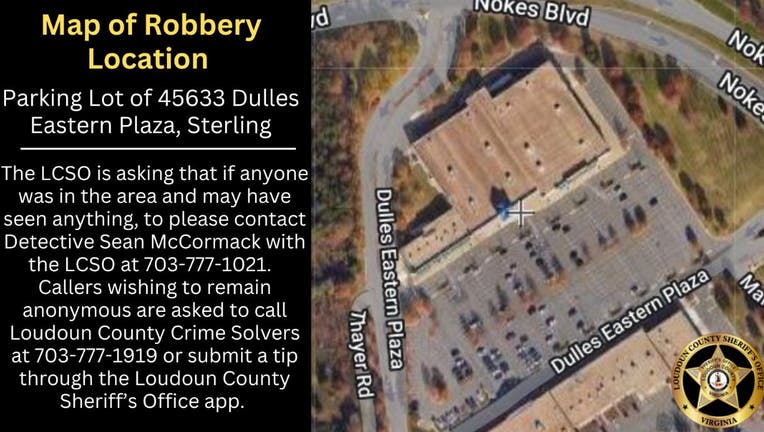 article
LOUDOUN COUNTY, Va. (FOX 5 DC) - A victim was held at knifepoint during an armed robbery in Sterling on Saturday night and a "significant amount" of jewelry was stolen.
The Loudoun County Sheriff's Office says the armed robbery occurred Saturday evening around 9:10 p.m. at Dulles Town Crossing in Sterling.
READ MORE: Porsche carjacked at gunpoint in Dupont Circle: DC Police
The victims reported that while parked in a vehicle, multiple subjects ran up, broke the windows, and removed numerous cases containing a significant amount of jewelry imported from India.
During the robbery, one of the suspects held a knife to one of the victim's throats.
It was reported that there were at least three suspects involved.  One of the suspects is described as a white male, wearing a green ski mask, gloves and a black hooded jacket.
The suspects fled the area in a grey or white SUV driving towards Nokes Boulevard.
READ MORE: Woman escapes kidnappers by driving off in their truck with hands still bound, police say
One of the victims sustained minor injuries and was treated at the scene.
The LCSO is asking that if anyone was in the area and may have seen anything, to please contact Detective Sean McCormack with the Loudoun County Sheriff's Office at 703-777-1021. Callers wishing to remain anonymous are asked to call Loudoun County Crime Solvers at 703-777-1919.