Silver Spring apartment fire leaves 1 dead, 19 injured; More than 400 residents displaced
SILVER SPRING, Md. - A three-alarm fire early Saturday morning at a high rise apartment building in Silver Spring, Maryland left one person dead, 19 others, including three firefighters, injured, and more than 400 residents displaced.
Montgomery County Fire and Rescue (MCFRS) officials said the fire broke out around 6 a.m. at the Arrive Silver Spring apartment building located at 8750 Georgia Avenue.
Once at the scene, fire crews noticed heavy flames in the back of the building, which they learned were coming from an apartment on the building's seventh floor.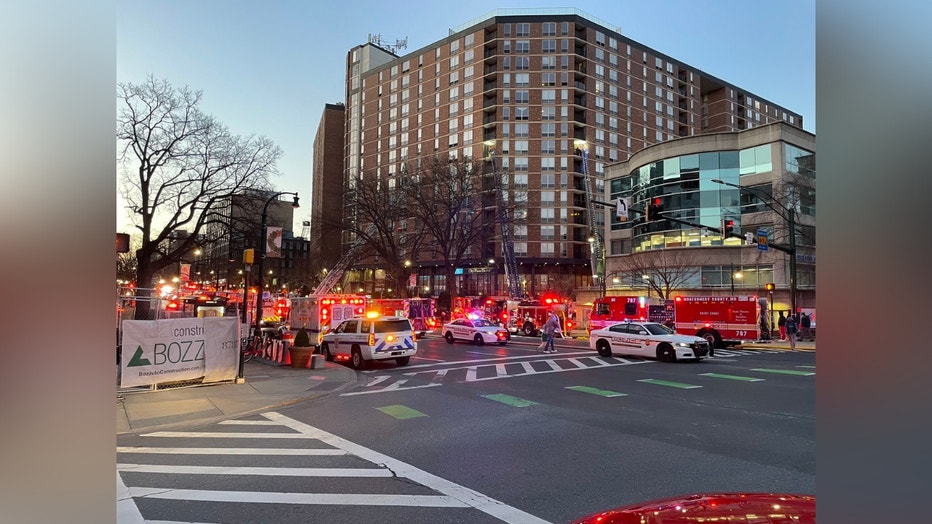 PHOTO: Montgomery County Fire & Rescue Service
Crews quickly rushed into the building to battle the flames and evacuate residents.
During the fire, officials said they received several 9-1-1 calls about residents who were trapped in their apartments.
Crews were able to evacuate the people inside the building.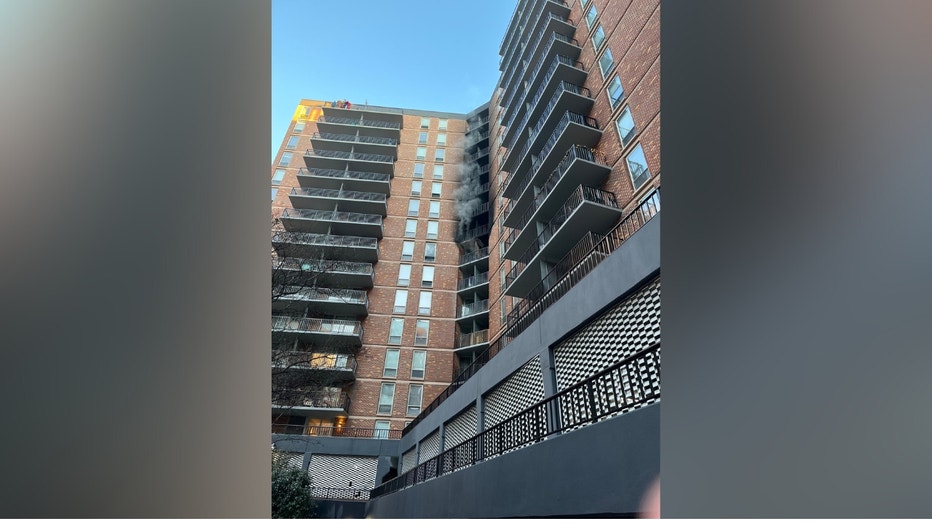 PHOTO: Montgomery County Fire & Rescue Service
17 of those people were hospitalized with a wide variety of injuries, ranging from critical to non-life-threatening injuries. Officials said 10 were transported from the scene, while seven others later self reported to hospitals.
On Saturday afternoon, MCFRS officials announced that one of the residents, an adult woman, died from her injuries.
Officials also confirmed that three pets, two dog and one cat, also died as a result of the fire.
Three firefighters were also injured battling the fire. They were all taken to area hospitals with minor injuries and later released, according to MCFRS officials.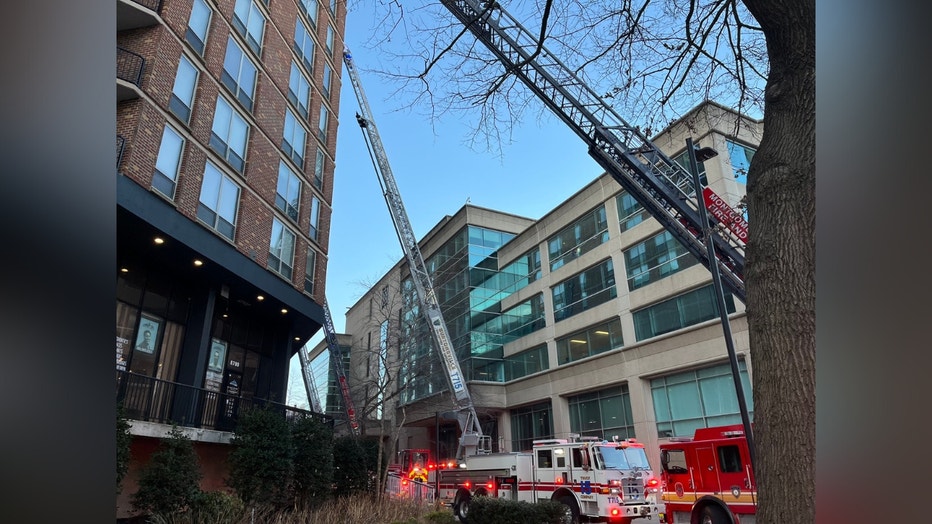 PHOTO: Montgomery County Fire & Rescue Service
Officials said an investigation is underway into what caused the fire.
According to investigators, the building had no sprinklers, and a manual pull fire alarm system. FOX 5 spoke with some residents of the building who credited Joe Tresh, the man who pulled the alarm, with saving their lives.
"I heard a little commotion outside," Tresh tells FOX 5 describing the moment he woke up and realized there was a fire in the apartment next to his.
"I was aware enough to hear something going on, and I happened to look out that peephole. And I am terrified to think of what would have happened if I hadn't," Tresh explained. 
He said after learning of the fire he told his partner that they needed to leave, and then turned his attention to alerting others to get out of the building.
"My number 1 priority was to get that fire alarm to go off," Tresh explained. "We walked out of the stairwell that we were in on the 6th floor. I found the fire alarm, pulled the fire alarm, then we walked to the main stairwell and made our way out."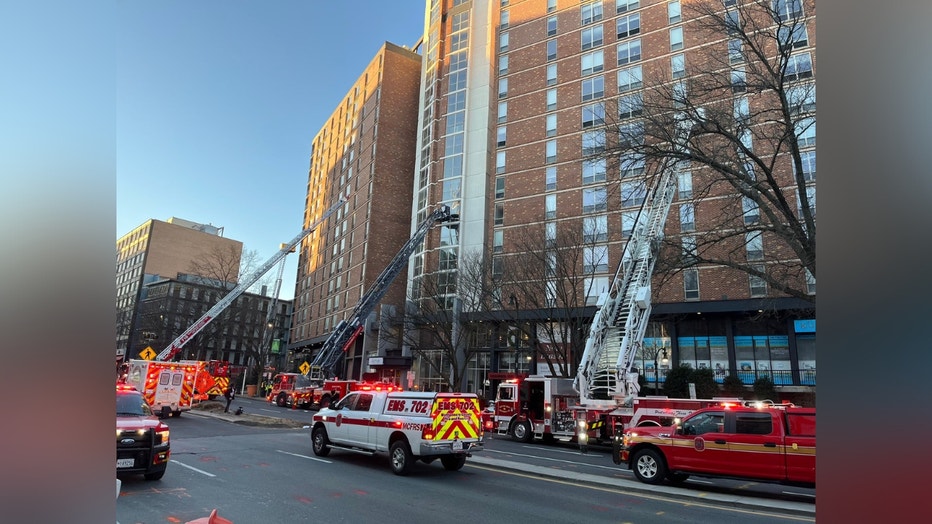 PHOTO: Montgomery County Fire & Rescue Service
Residents tell FOX 5 that the building recently passed a fire inspection, but they were frustrated that building codes allow for older structures to have manual pull fire alarms.
On Saturday evening, officials announced that more than 400 residents from 208 apartments in the building are displaced.
Officials said residents were temporarily placed in the Double Tree Hotel, which is across the street from the building, after the fire. They added that those who cannot return to their apartments Saturday, can go to the Coffield Recreational Center, located at 2450 Lyttonsville Road, for assistance.
Officials did not indicate a timeline for when the displaced residents can return to the building.
Several Montgomery County agencies, as well as the Red Cross, will be helping the residents.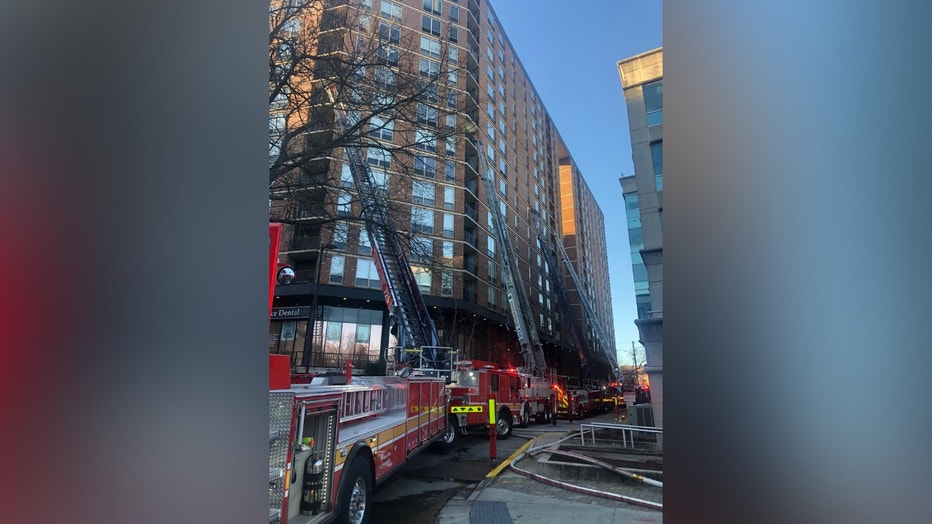 PHOTO: Montgomery County Fire & Rescue Service
According to MCFRS, the building suffered about $1.5 million in damage as a result of the fire.