Response to fatal Prince George's County fire raises questions from local firefighters
NEW CARROLLTON, Md. (FOX 5 DC) - "It's just so unfortunate that people weren't available," says a family member of the woman killed in Saturday's New Carrollton fire. 
On Monday, two women placed red roses at a tree in front of the 6400 block of Inlet St. to remember the woman killed in an intense New Carrollton house fire Saturday evening. Family members tell FOX 5 the victim was 57-year-old Anita Ellis. 
"Anita was a beautiful soul. A beautiful soul. I mean, she was just perfect in every way. It's just so hard to even talk about her. I'm sorry," Michelle Mwenye said before turning to wipe tears from her eyes. Mwenye said her husband was also inside when flames broke out inside a two-story Inlet St. home in Prince George's County. 
Video from the Bladensburg Volunteer Fire Department showed heavy flames pouring from the house. The Prince George's County Fire Department believes the fire started in the basement area. That is where officials say two people were trapped. Firefighters pulled the two from the home. Ellis was one of the two. The other was her boyfriend of six years, according to his family.
Those family members tell FOX 5 Ellis was at the Inlet St. home visiting her boyfriend, who is also Michael Mwenye's brother. 
"I'm done. They took everything away from me," said Michael Mwenye, "Anita was my family. She is my family. My brother's in the hospital, she's gone. I could've died in this house too. I thank God I woke up in time to try and get everybody out." 
Over the weekend, the county's professional fire fighters' association raised a red flag on staffing concerns. IAFF Local 1619 President Andrew Pantelis claimed crews were delayed in responding to the Saturday night fire because the closest three firehouses were out of service due to no staffing. Pantelis noted the three closest fire houses are all volunteer fire departments. 
"I mean we can't say that with certainty," said Pantelis. "If our first due engine companies were adequately staffed with fire firefighters and paramedics around the clock, you know we may be talking about a different situation here and a better outcome."
"It's unacceptable that we don't provide an adequate number of first responders to respond to these types of emergencies in a timely fashion," he added.
The Fire Department disputed Pantelis' claims that there was a delay to the response. PGFD Deputy Chief Brian Frankel said the 9-1-1 call came in at around 6:03 p.m. and that units were on scene by 6:10:56. 
"Our goal was to have 15 fire fighters on the scene of a call within 12 minutes and we were able to accomplish that on this incident," said Frankel, who added, "it's common to have three volunteer stations within the county out of service at a particular moment in time…" 
Frankel told reporters they are reviewing the response and staffing.
The volunteer fire fighters association also responded to the fatal fire, claiming that PGFD removal of career staffers at volunteer stations has made it more difficult on volunteers to cover service hours. View their full statement here.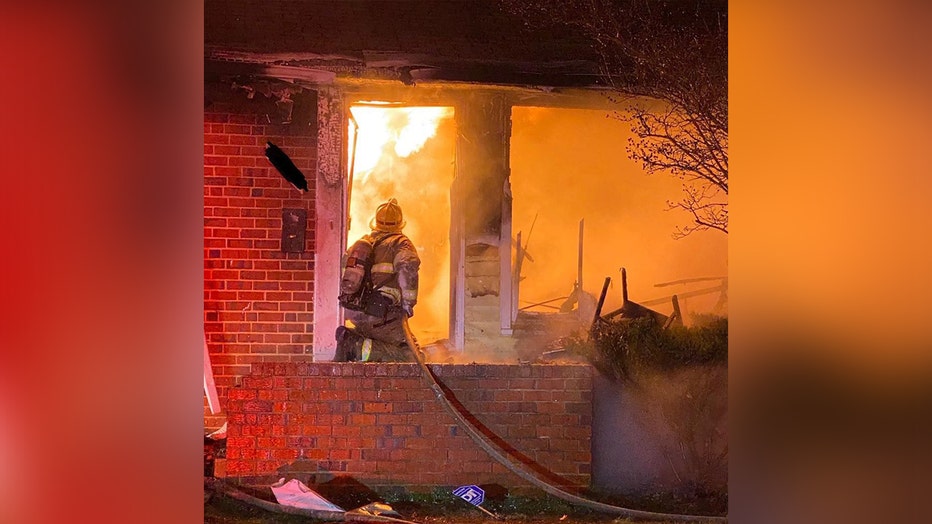 One is dead after a fire Saturday night in Prince George's County. (Courtesy: Bladensburg Volunteer Fire Dept.)
The Bladensburg Volunteer Fire Department, one of the first units to respond to the Saturday night fire, posted video of the fire and a message to the victims:
"Our thoughts and prayers are with the victims and [their] family. A few firefighters sustained Burns over the course of the incident but they are all very minor in nature. Exterior crews were able to provide ventilation ladders and everything necessary to support the interior crews while working through this incident. Units remained on scene for approximately four hours before returning to service. This was the fourth working fire for a company nine in three days," part of the Bladensburg VFD's Facebook post read.
The family of both Ellis and her boyfriend are aware of the back-and-forth as they mourn Ellis' loss. 
"It's just so unfortunate that people weren't available," said Michelle Mwenye, "And thankfully, neighbors across the street is what I heard, were the ones who saw the flames. And so I'm very gracious that people did get involved in the neighborhood as quickly as they did because there were six people in that house."